We've started a new tradition - although just a small scale, Saturday teatime, chez Makey-Cakey tradition.

Unsurprisingly it involves cake. Sponge pudding to be precise.

We've decided that Saturday tea time is sponge pudding time, and we get to take it in turns to choose what additional flavourings go into it.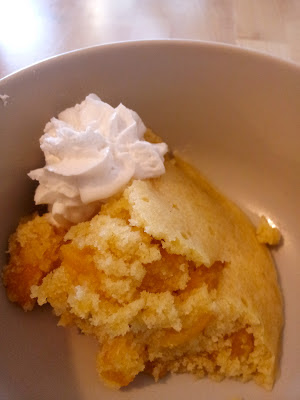 Microwave sponge pudding with squirty cream - I'm feeling an 80s vibe...

It's a multi-purpose sort of tradition - it means that requests for pudding and cake from Mini-M can be diverted to Saturday tea time, and yoghurt and fruit can prevail throughout the rest of the week. I like the idea of there being a recipe that Mini-M knows how to make back to front, inside out, no recipe books required. And it adds and element of both making choices and taking turns.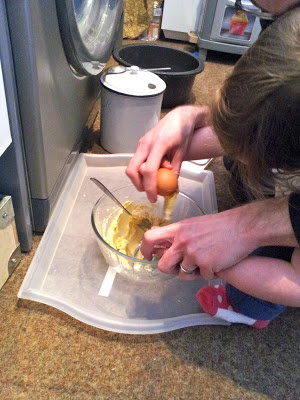 Egg cracking - not sure who's helping who here! (Save that I'm obviously not helping at all, and taking photos instead!)

I wanted a base recipe to use that was easy and preferably oven free, so after a bit of research, decided to put my trust in the Microwave Technologies Association 'Essential Steamed Pudding'. I figured that f anyone knew anything about a successful microwave sponge, it would be them!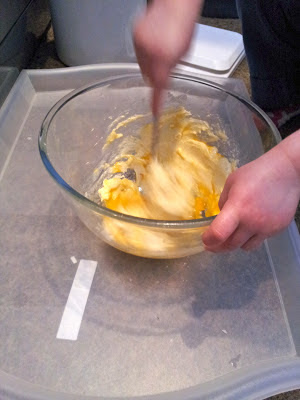 Super high speed mixing - most remained in the bowl

As usual I de-dairied it, and we've been halving it which has still made plenty for Saturday pud with leftovers for Sunday. You can find the original recipe here.

Special Saturday Steamed Sponge (Serves 4)


65g dairy free margarine
75g caster sugar
1 egg
100g SR flour
30ml non-dairy milk
Added flavours of your choice!

Measure the butter and sugar into a microwave proof bowl.
Cream together until well mixed, then beat in the egg.
Add the flour - beating extra hard if you can't be bothered to sieve!
Stir in your chosen flavours and level the top of the mix in the bowl. Give the sides a wee wipe with a cloth if you're feeling keen.
Cover with clingfilm, poke a couple of holes in it, and microwave - 8 mins at 80% of our category E microwave did the trick. I'd go with dropping the power a little below 100%, and going for 4 mins straight off, checking and then zapping it for an additional minute at a time until it is firm to the touch.

Enjoy! (We seem to be favouring it served with milk - if only to cool it down to a safe eating temperature faster - after the mixing and anticipation, sometimes waiting for cooling down is a bit too much for Mini-M).

We've put our newfangled tradition into practice for a month now, and the taking turns to choose flavours has been a little biased... Mini-M has had 3 choices, and Mr E 1 - perhaps this Saturday will be my day!

First up we went with chopped up tinned apricots (the picture at the top of the post) - Mini-M got stuck into the chopping. They're soft enough to yield easily to a butter knife, so she could be safely let loose without too much worry.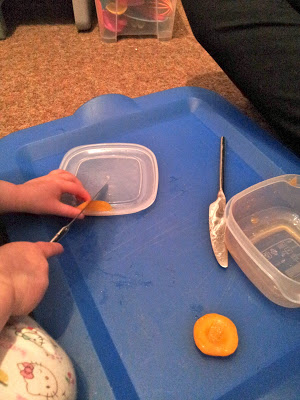 No small fingers were harmed in the making of this pudding

Next we had raspberry flavour which Mr E and Mini-M made in Granny S' kitchen.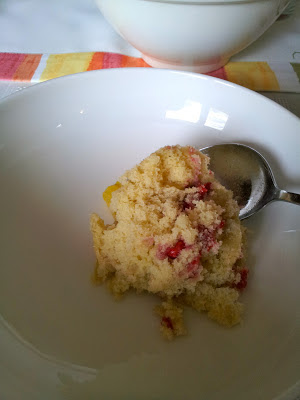 Raspberries and bad lighting

Then it all went slightly odd, when Mini-M decided she wanted to put cereal in - so we did - Rice Crispies and Cheerios - which go slightly weird and chewy when microwaved. Take it on good advice that whilst not unpleasant, it's not really an experiment worth trying!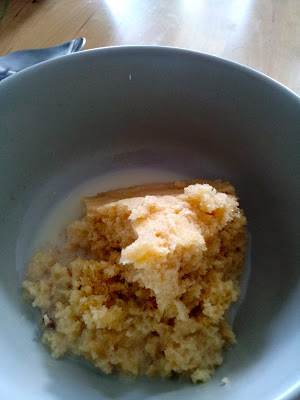 You can't see the cereal, but it's in there, being weird and chewy

And last week, Mr E chose syrup and sultana, which was absolutely amazing after spending the afternoon doing an almost-20-mile cycle ride, having not been on a bike in 15 years.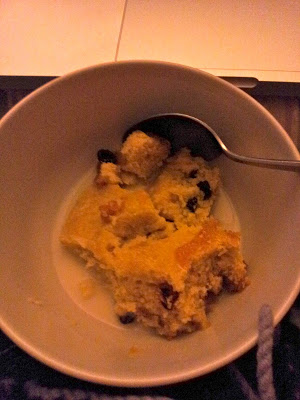 Pudding with added travelling rug tassels - and laptop - a dead giveaway that by this point I was slumped on the sofa after my cycling exertions!