A Towering Tall Tale: Cake Fest Edinburgh
What did you get up to at the weekend? Making two replica high-rise tower blocks from cake? What? You didn't? That must just have been me then (and my lovely family and inlaws who I roped in to help…)


I was in good company though, with 52 other baking teams around Edinburgh who were also busy madly constructing feats of cake and fondant engineering as part of the

Cake Fest Edinburgh

Cake Map.




I'm not joking. Such a thing did exist and it was awesome.




Sunday afternoon saw the Royal Botanic Garden Edinburgh overrun with cake enthusiasts (so much so that it broke the record for the highest ever visitor numbers, with almost 16,000 people through the garden gates!). Not only that - the sun shone :-)




Bakers were invited to volunteer to recreate iconic Edinburgh landmarks as part of the Cake Map - a 70m2 representation of our beautiful city in all it's cake-y glory. And since I'm a sucker for ridiculous challenges and cake, of course I was quick to sign up.




My chosen 'icon' was the pair of yellow and blue high-rise tower blocks in Leith: Persevere Court and Citadel court. I can see them from my living room window. They are visible from pretty much anywhere in Leith - in fact they're visible from most places in Edinburgh, (and the Proclaimers 'Sunshine on Leith' album cover, but I digress…). I think of them affectionately as "my" tower blocks - so I bagged them a spot on the map, and in doing so set myself off on what was by far and a long way my most extreme cake to date.




Before I launch into photographic overload, I have to confess (although it's hardly secret): there was a teeny little structural issue. As in, one of the tower blocks - Persevere Court to be precise - fell over. Catastrophic failure - into the Docks and almost took out the Royal Yacht Britannia. Probably this is the point that I should keep quiet about my civil engineering degree, right….?! (In my defence, it wasn't structural engineering, and cake wasn't on the materials syllabus). I'm looking on it as a community service to all of the other bakers. Someone had to be the baker whose building collapsed - and since it was me, everyone else could therefore feel relieved (and probably just a little bit smug) that it wasn't them.




I missed the actual moment of collapse itself. The event was so busy and 4 year olds are only compatible for 6-deep crowds for a very limited time, so after a while we found a sunny spot on the grass and settled down to enjoy the atmosphere and some ice lollies. With 35 mins to go before cutting (by which time it had been listing for about 2hrs) I started to think that it might actually manage to remain upright-ish to the bitter end. However the collective intake of breath, audible groan and flurry of photo taking a few minutes later indicated otherwise. It wasn't without a little bit of pride that I thought "that's my cake!";o)




And yes, a little part of me was very glad to arrive back home after the event to see both tower blocks still very much upright in real life!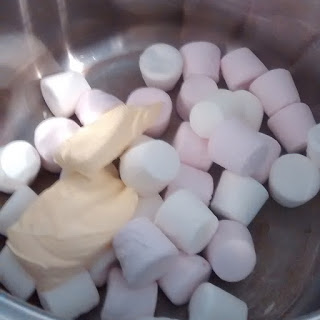 The first of very many batches of marshmallow crispy cake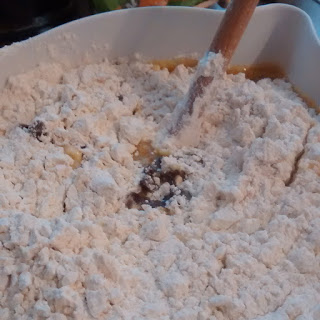 Probably should have used a bigger mixing bowl...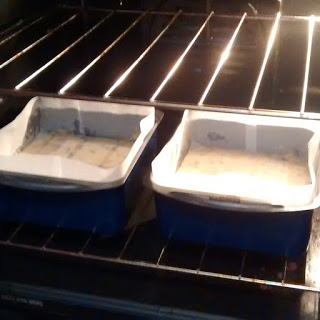 Let the fruitcake baking begin...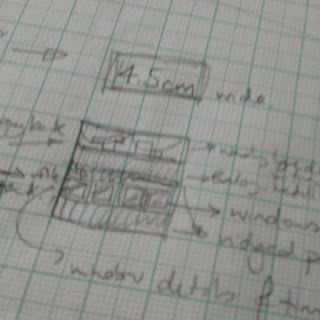 Highly technical plans (ahem)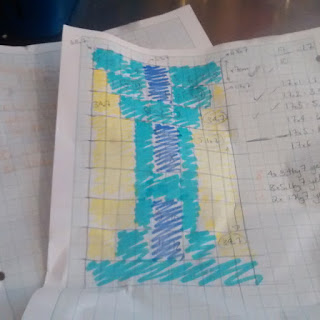 Detailed architectural plans (aka "Mummy, why do you need my blue and yellow pens?"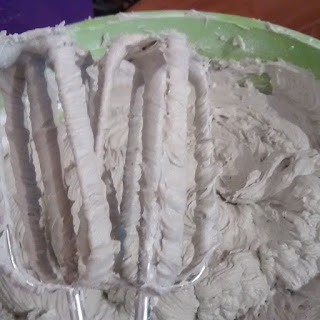 Mmmm - concrete coloured icing. Both unappetising and structurally useless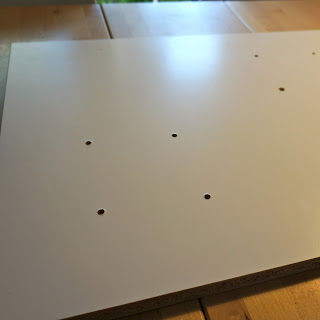 IKEA shelves - for when regular cake boards just aren't big enough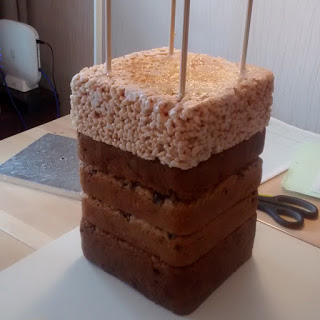 Proof that there were structural supports
Halfway up and still level. I was so proud - but it still fell over!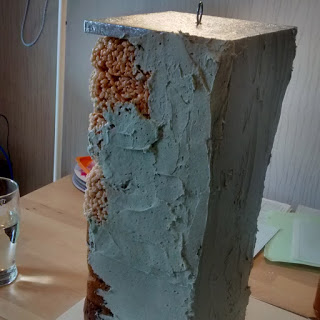 Probably not got a future career as a plasterer ahead of me either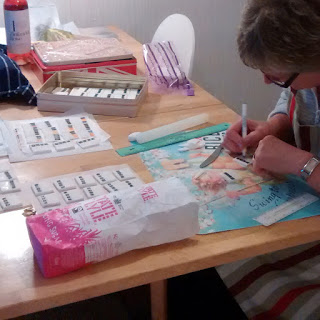 "Yes, of course you can come and stay for the weekend" / "Now that you're here can you just make a hundred fondant windows - thanks!"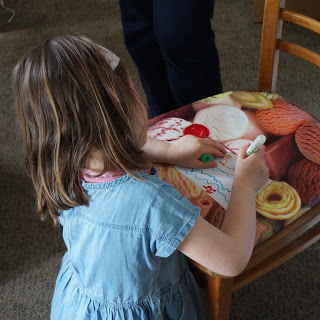 A family effort - fondant rose maker and flag designer extraordinnaire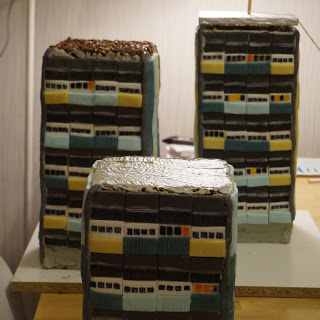 Modular construction, and 2:30am - bedtime!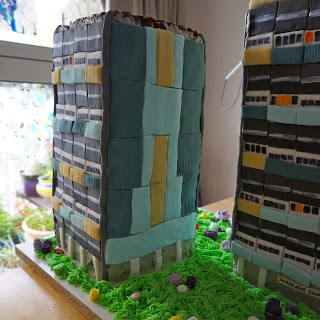 Ready to go...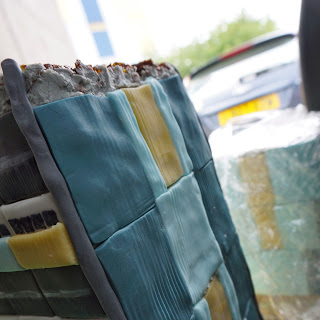 The tower blocks - with the real thing in the background (you'll have to take my word for it!)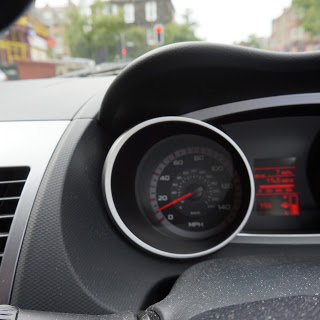 Careful cake transport speed - 7mph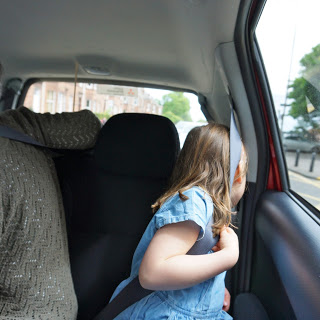 Cake supervision duty for the backseat passengers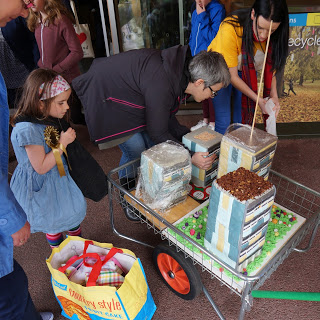 Loading up...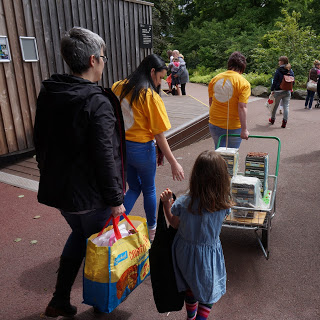 And we're off, with the fabulous volunteers, on the nervewracking journey to the marquee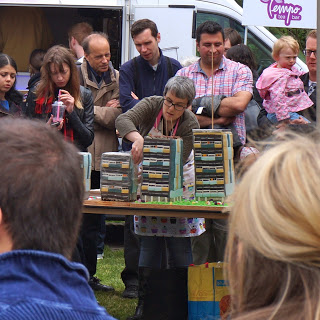 Cake assembly in front of an audience - guaranteed to give you wobbly hands!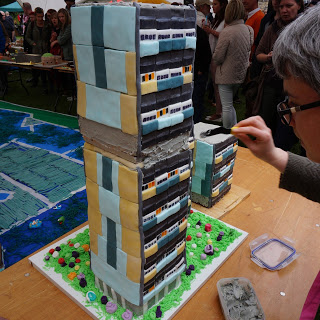 Assembly in situ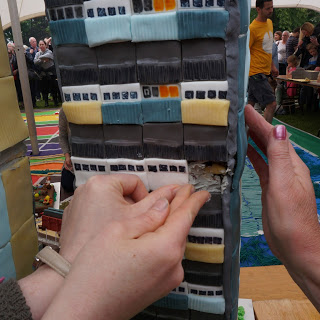 Ready for the last window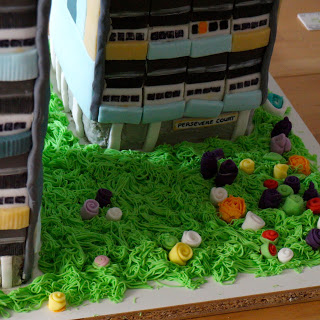 If only outside really was covered with squiggly grass and multi coloured roses...
Oh dear. Even the hastily rigged twine / screwdriver support mechanism wasn't enough to stop the slide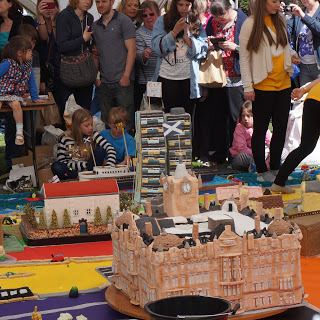 Pick your angle - looks fine from here!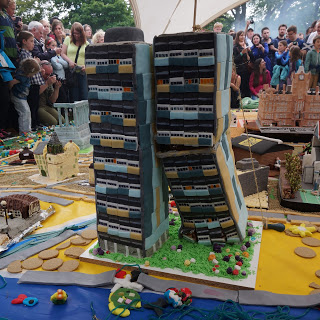 Behold, the Leaning Tower of Leith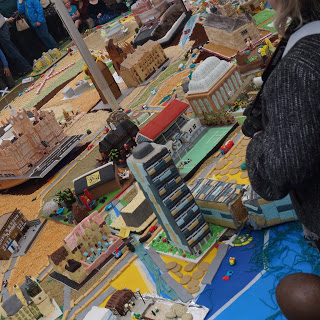 And then, unsurprisingly, this happened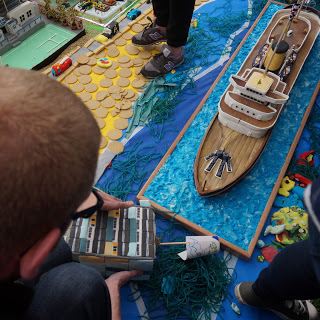 Missed Brtiannia by a whisker (after some earlier judicious repositioning) - phew!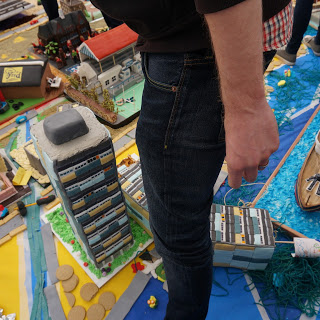 Mr E having a Godzilla moment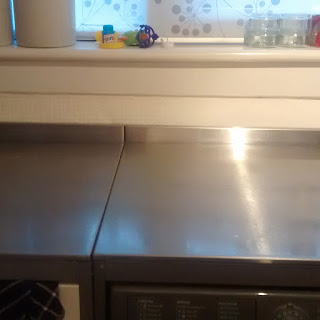 Kitchen worktops - all vestiges of icing sugar finally gone
I've never had a cake in the news before...
Not to mention the photo in Monday's metro with yours truly's collapsed cake right in the foreground!

This might be my favourite photo of the day though - Mini M proudly displaying her "Hero Baker" rosette for participation. It was proudly worn to pre-school today for show and tell, along with the flag, which was salvaged from the wreckage!

And, and, and - before I finish and go to bed… I'm especially proud that both tower blocks had no dairy ingredients in them, and one was also made without any gluten ingredients. Plus the DF fruitcake and GF chocolate crispy were vegan. So not only where they structural cake behemoths, they were inclusive into the bargain. :o)