Apple and Rhubarb Crumble, Nakd Style
It may be almost April, but it's most definitely still winter outside - although by all intents, we've so far got off very lightly in Edinburgh, with very little snow disruption.

But freezing cold weather is a good excuse for a warming pudding - the culinary equivalent of turning the thermostat up a degree or two on the central heating!

Puddings are a little more complicated with a 2yr old to feed too - I want Mini-M to try lots of things, enjoy her food and eat what we're having, and puddings are part of that - but I don't want her to eat vast quantities of unnecessary sugar for the sake of it - so over the past couple of years I've made a fair few 'healthier than your average dessert' puds. The most successful of these have unequivocally been crumbles with Super Crumble and Crushed Pineapple Crumble featuring previously.

This time it's rhubarb and apple's turn, and it's crumble with a twist...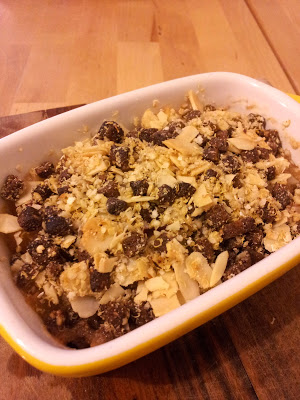 What's the twist?

After writing an unsolicited post about baking using Nakd bars, Natural Balance Foods sent me some more flavours to experiment with, as well as some infused raisins. I've a few quirky recipes up my sleeve for some of the other flavours, but to kick off, I decided to use the Rhubarb and Custard bar as the basis of the crumble topping.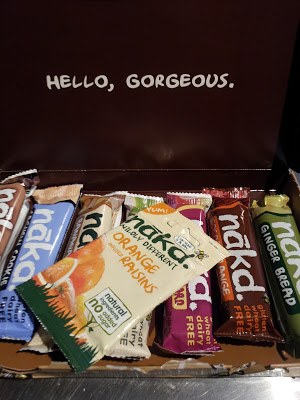 A box of inspiring goodies!

The resulting pudding was awesome (more about that in a minute!) and was low in added sugar and fat - I added only 1 tsp honey, 1 tsp brown sugar and 1 tsp olive oil.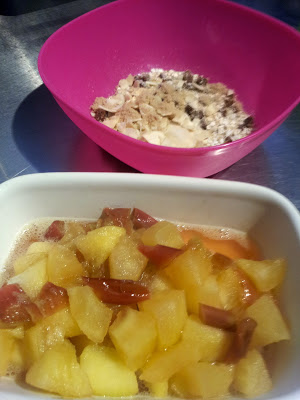 Fruit, meet crumble - crumble, meet fruit :o)

Before I share the recipe and give my verdict, here's a summary of Mini-M's review:

After about 1 minute of silent and concentrated eating...
"Mummy I need some of your rhubarb I don't have any left"
About halfway through...
"Maybe having this again tomorrow?" I replied no. "Maybe another day soon. Uh huh."
With only a spoonful left...
"You have any left Daddy? I have some of yours?" (Mr E similarly only had a spoonful left which definitely wasn't being shared)
And on finishing the last mouthful...
"Mmmm nummy scrummy"

Nakd Apple and Rhubarb Crumble (Serves 2.5!)


2 small eating apples
1 medium stalk of rhubarb
1 tsp honey
1 tbsp water
1 Nakd Rhubarb and Custard bar
1 tbsp quinoa flakes
1 tsp soft brown sugar
1 tbsp flaked almonds
1 tsp olive oil

Preheat the oven to 190C (170C fan)
Chop the rhubarb, then peel, core and chop the apples into chunks and put both in a microwaveable bowl.
Add the water and honey.
Microwave on full for 1 minute, stir, then zap for another minute.
Tip into a small casserole dish.
Chop the Nakd bar into small pieces and separate carefully into a small bowl (they will want to stick together!).
Gently mix in the quinoa flakes.
Before adding the flaked almonds, give then a squeeze in your fist to crush them up a little bit.
Add the sugar and olive oil then mix well and sprinkle the topping over the fruit.
Bake for about 15 minutes until the almonds start to toast and turn golden.
Enjoy!

Now for the grown-up verdict: Nummy Scrummy! It was comforting, sweet and puddingy without being too sweet or heavy or guilt inducing - particularly if enjoy it 'naked' like we did (Don't worry - we were very much clothed - extra layers and woolly jumpers all round!) - without cream, custard, ice cream or milk of any variety. Apparently I am an oddity in the world for choosing to eat my puds unadorned, but since ending up dairy free, it's been a blessing, as it's one area where I've not felt too deprived. I'd go as far as saying I hate custard with a passion - it should be outlawed!

But I digress - back to the crumble. The big question is... does the Nakd bar work in the topping - it certainly does! It adds extra chewy chunks that when warmed in the oven are almost fudgy, and the rhubarb and custard flavour goes really well with the fruity base. It adds sweetness meaning you can get away with just 1tsp sugar, just to help the topping caramelise a little. Try it and broaden your crumble horizons!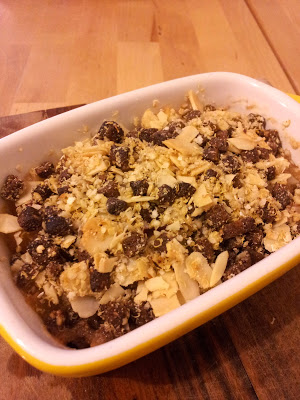 Get a spoon and dig in! (Blow on it first, it's hot...)