At opposite ends of the cupcake spectrum…
I made two batches of cupcakes at the weekend. One was a very child friendly blueberry, orange and yoghurt variety. The other was a slightly more grown up attempt at capturing sloe gin and lemonade in cake format - a lemon cupcake with sloe gin icing. It has potential but needs more work. The kid friendly one however tasted great without any further tweaking required.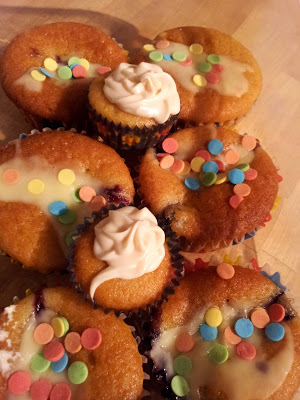 Toddler-tastic vs cocktail sophistication (and wonky piping!)

As usual, I made it with soya yoghurt and oil instead of normal yoghurt or butter. If you're not having to cook dairy free, then I'd recommend using regular plain yoghurt - it will have a nicer tang to it that soya yoghurt which always seems a bit insipid and overly sweet to me. But I'd still use the oil - it keeps them moist.

Blueberry Orange and Yoghurt Cupcakes (Makes 12)

150g Self Raising Flour
150g Caster Sugar
150g Plain Soya Yoghurt
1 Egg
6 tbsp Sunflower Oil
Grated rind of 1 small orange
1 tbsp orange juice
100g fresh blueberries
Preheat the oven to 180C (160C fan) and line a 12 hole bun tin with paper cases.
Beat together the oil, egg, yoghurt and orange juice.
Stir in the sugar and orange rind.
Sieve in the flour and mix until well combined then stir through the blueberries.
Spoon into the prepared cases and bake for about 20 mins until risen, golden and springy to the touch.

Once cooled, let your mini sous-chef loose with the sprinkles! At Mini-M's request we decorated them with Mr Tumble spots.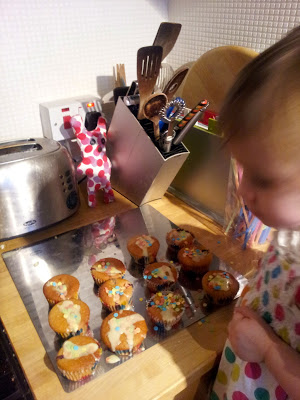 Being supervised by her spotty bear friend

It's a little-uns TV thing - for the uninitiated click here to be enlightened! I mixed up a bit of icing sugar and orange juice to give them something to stick to.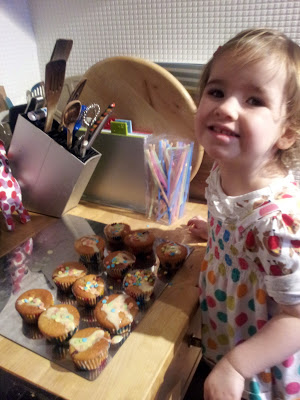 Proud of her handiwork - wearing a horribly clashing spotty dress in honour of the activity!

First up she very seriously drizzled it (everywhere, but that was to be expected really). Next came the sprinkling and Mini-M tested any different approaches... shaking the tub, putting them on one at a time, tipping lots into hand then dropping onto the cakes, 'accidentally' eating a handful etc.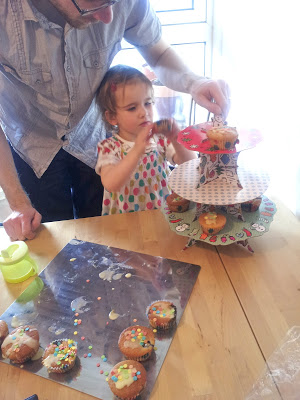 Stacking the cupcakes carefully onto the stand (after asking about 17 million times, 'are they dry yet?')

I'm entering these into the January Tea Time Treats challenge - masterminded by Lavender and Lovage and What Kate Baked, this month it's hosted by Lavender and Lovage and the theme is Citrus Fruits.