Bake in a Bag - toddler style
Mini-M is super keen to bake and cook, which is probably not that surprising since Mr E and I both spend a lot of time experimenting with new recipes, trying new dishes and most of the time putting tasty food on the table for all three of us.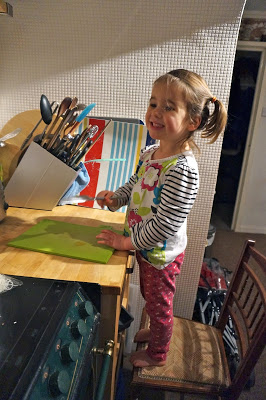 Ready and raring to go

I'm happy to encourage her, since knowing your way around a kitchen is a useful skill to have - however I'm definitely more keen on the cooking rather than the baking, since there really is a limit to how many batches of toddler decorated cupcakes and dodgy scones you really need in your life!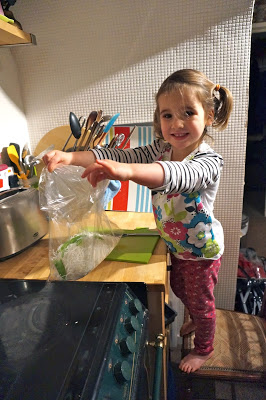 3 mangetout quote added

Tonight's tea was definitely cooking, definitely achievable - Mini-m did most of it herself under supervision - and most of all, definitely tasty.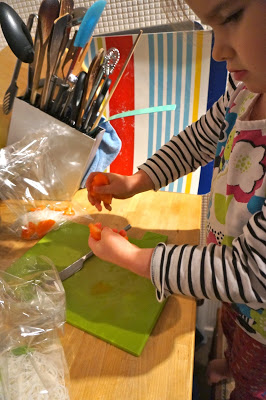 Pepper dissection in process

The secret to its success was using multipurpose bake/microwave/roast bags. Attempting to fold neat little packets, under toddler supervision, with toddler patience levels whilst preventing raw fish being eaten, sharp knives picked up or chairs fallen off would have been challenging…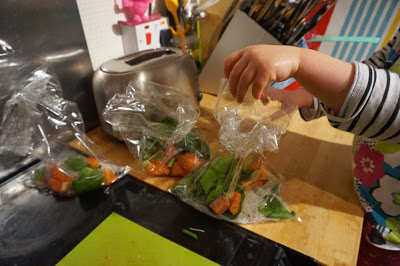 Adding the salmon

There are infinite variations on this theme that would work, depending on your tastes and the age of your kitchen pixie. Here's what we did:

Salmon & Noodles Baked in a Bag (Serves 2 adults & 1 child)


3 multi purpose oven baking bags with ties
1x 360g bag fresh stir fry rice noodles
2 salmon fillets
1/2 a red pepper
1 spring onion
9 mangetouts (Mini-M decided we needed 3 each)
A handful of fresh spinach leaves
Lemon juice
Soy sauce
Sesame oil
Sweet chili sauce (or ketchup if you're Mini-M)
Salt
Pepper

Divide the noodles into your chosen serving size proportions between the three bags.
Let you kitchen pixie loose on preparing the veg. We couldn't find Mini-M's scissors so instead she snapped the mange touts and hacked at the pepper with a butter knife!
I sliced the spring onion, since I didn't think the butter knife could handle them.
Share the veg out between the bags - we got equal shares of peppers and mangetout, and Mini-M gave herself more of a token gesture of spinach, and no spring onions.
I took the salmon off the fillets with a sharp knife and chopped it into chunks, then Mini-M did the sharing out. (She was keen to try the fish raw too, but I'm not convinced that's a good habit to start - not really a problem with raw salmon, not so great with raw chicken).
Onto the fun part - sprinkling in the sauces and seasonings to taste, before sealing the bags with the tiers and giving them each a very good shake, then put the bags in a casserole dish for baking.
If you're cooking with a toddler, put into a cold oven in an elaborate four-handed casserole dish holding manoeuvre, whilst they tell you they can do it on their own, whilst simultaneously not being able to lift the weight of the dish unaided. If you're cooking on your own as a grown up, you might want to preheat the oven first!
Either way, bake for 20-25 mins at 180C.
Allow to cool for a few minutes, then carefully snip the bags open.
Enjoy.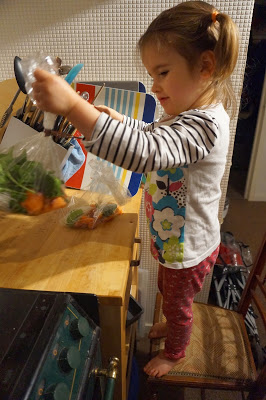 Shake well (and carefully if you are standing on the very edge of a chair…)

In our case we enjoyed ours whilst being prompted at about 2 minute intervals by Mini-M to thank her for making yummy tea. She's not yet learned that compliments don't really count if you ask for them!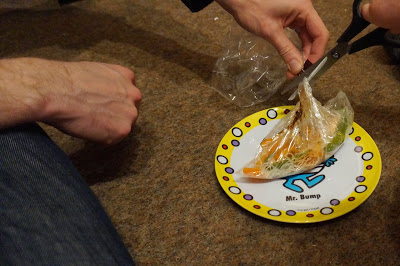 Cut open carefully

This would work with any fish, with just a selection of veggies, probably with pre-cooked tofu pieces, with chicken, with noodles, with rice - anything you can think of really, as long as the pulse/grain/starch that you use is at least part cooked first to keep the cooking time the same as the fish/chicken.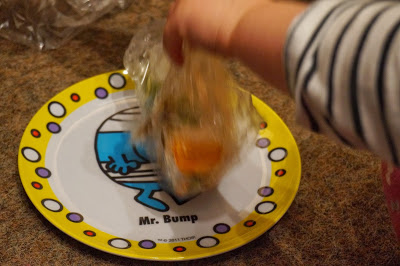 Tip out

We're going to try a rice one next.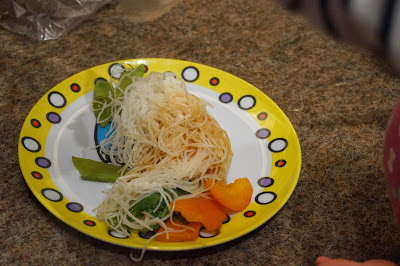 10 points for presentation

Mini-M wants to make one with fruit. Further questioning is needed to work out if it is a fruity savoury one, or whether she is imagining some sort of crazy sweet noodle bake. The former sounds good - am less convinced by the latter!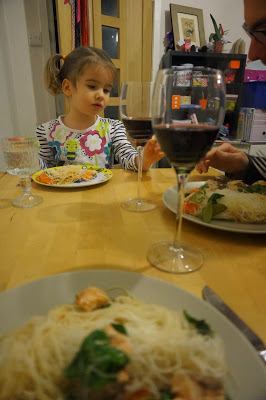 There was also much 'cheers'-ing since we had wine glasses out.