Breakfast Club January Detox - Baked Banana Breakfasts
January. A time that everyone makes resolutions to eat healthily, whilst still having a house full of left over Christmas chocolate, and then due to the foibles of human nature, suddenly can only think of chocolate, cake and all things forbidden.





I have to say that one of the few benefits of being dairy free during Christmas is that my chocolate count was virtually nil, desserts were largely fruit based, and although there is a chocolate stash in the house I can't eat any of it! Trying to see the silver lining here...




Anyway, since healthy eating is a hot topic at this time of year, the theme for the January

Breakfast Club

was appropriately detox. It was hosted by

Food, Je t'Aimee

, who kicked things off with some delicious sounding smoothies.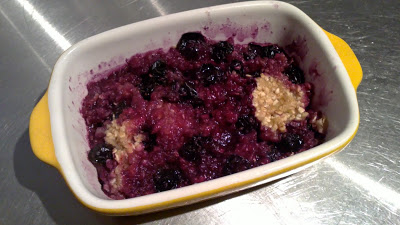 I opted for a super quick microwave 'baked' oaty cake with banana and blueberry, which I found at
Love Veggies and Yoga
. It packs in lots of slow release energy, antioxidants and no refined sugar. Oh yeah - and is ready in 5 mins, so really is a viable breakfast option! Think of it like portable porridge.
Banana and Blueberry Oaty Cake (breakfast for 1 hungry person!)
1 medium banana
1/2 cup of porridge oats
1 tsp honey
1 pinch of ground cinnamon
1/4 -1/2 a cup of blueberries
Mash the banana in a bowl with the honey and cinnamon.
Add the oats and keep mashing until well combined, then mix in the blueberries as gently as you can.
Lightly grease a bowl (or cute mini casserole dish!) then tip in the mixture and squash it down a little.
Cover with cling film and poke a hole for steam.
Microwave for 3.5 minutes (for a 900Watt microwave).
Allow to rest for a minute and a half - then it's ready to eat.
Eat it from the dish, or turn out onto a plate - it's up to you!
I had blueberries needing used up, so chucked in the full half cup - which made it lovely and juicy, but reduced the easy portability slightly! If you wanted to take this with you and eat it on the bus to work (for example!) where blueberry juice running down your chin isn't socially acceptably, then I'd reduce it to 1/4 of a cup. If you're at home, with a spoon, then throw them all in!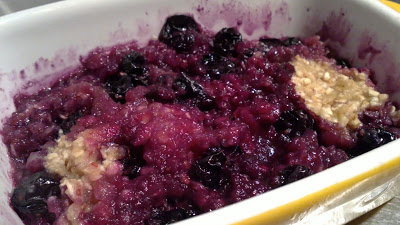 I had high hopes Mini-M would eat this. She loves banana. She loves blueberries. She loves oat cereal bars. I was soooooooo wrong! She studiously picked out and ate the blueberries (saying bloob, bloob as she gouged each one out!) and threw the rest swiftly off her plate, creating a lovely oaty, blueberry, sticky mess on the floor.
Inspired by my success, I decided to try another banana microwave bake - this time using quinoa flakes for extra detox healthiness.
Quinoa Banana Microwave Bake (Serves 1 hungry person for breakfast)
1 medium banana mashed
not quite 1/2 a cup of quinoa flakes
1 tsp honey
2 tsp dessicated coconut
Mash the banana well in a bowl along with the honey, then mix in the coconut and quinoa flakes and keep mixing until well combined.
Grease a bowl (or mini casserole dish) then tip in the mix and flatten out a little.
Cover with clingfilm, then poke a hole in the top to let it the steam out, and microwave for 3.5mins (for a 900Watt microwave), and stand for a minute and a half.
Tip out onto a plate, and you're ready to top it with what ever you like and enjoy.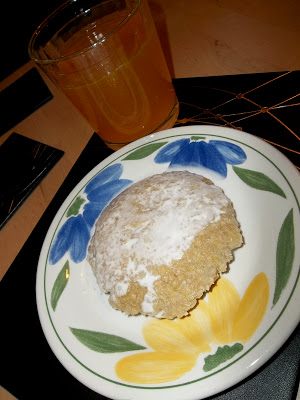 Yet another awful photo! I am starting 2012 badly...
I opted for a spoonful of coconut milk, and that classic detox breakfast accompaniment... a fizzy vitamin to chase away the winter sniffles!
And if you're intrigued to see what detox delights other Breakfast Club bloggers have come up with, well the good new is... you can!