Cake doesn't have to be fancy…
... sometimes simple cake just hits the spot.

This cake did just that!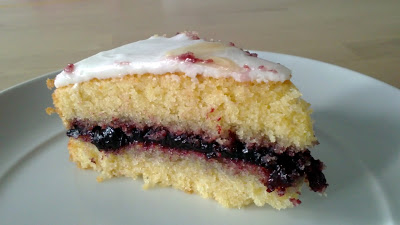 Almond sponge cake with a thick layer of black cherry jam, topped with some no-frills water icing sprinkled with flaked almonds - Bakewell Cake!

Bakewell Cake (Serves 10)


185g dairy free margarine
150g flaked almonds (plus an extra tbsp for decoration)
200g granulated sugar
100g self raising flour
1tsp baking powder
4 medium eggs
1/2 a jar black cherry jam
175g icing sugar
1 tsp lemon juice
a splash of water

Preheat the oven to 180C (160C fan), grease 2 8in cake tins and line the bases with baking parchment.
Take the 150g flaked almonds, and blitz in the food processor until they are ground. This will give you coarser and more moist ground almonds than commercially ground ones, and improve the texture of the cake.
Then add the margarine, sugar, SR flour, baking powder and eggs to the food processor on top of the almonds and blitz it all together until well combined.
Pour into the prepared tins and bake for about 30 mins until golden, springy to the touch and a skewer inserted into the centre comes out clean.
Turn out of the tins and allow to cool until cold on a wire rack.
Put one layer on your serving plate, spread the cherry jam on top, then top with the other layer.
Sieve the icing sugar into a small bowl, add 1tsp lemon juice and 1 tsp cold water and gently start to mix together. Keep adding tsp of water gradually until you get a thick pouring consistency.
Pour into the centre of the cake, spread out very slightly then allow it to find its own way to the edges.
Sprinkle with the flaked almonds and the set to the side to allow the icing to set.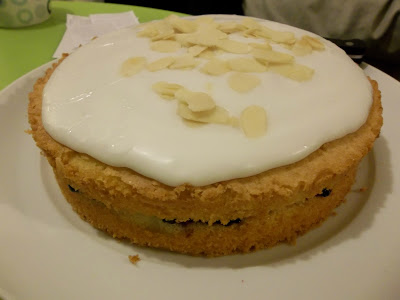 Yes, yes, yes, I know, another awfully lit photograph! Scotland in the winter, and food photography are not natural allies!

The bonus of this cake is also that the ground almonds keep it nice and moist, so it stays delicious for several days. The slice photo wasn't taken until day three, and it was still just as good as day one. That's a very useful attribute in a cake!