At the weekend just past, I had a lovely time down in Brighton catching up with friends from uni who have left the frozen wastes of Scotland and are now based beside the seaside. Amongst much gin, gossip, ice-creams on the beach and cups of tea there was time for some stupendous cake. We went to 'Bill's' - a south coast institution that is a cafe, deli and restaurant all rolled into one in a converted warehouse - check out their website HERE if you want more info (I thoroughly recommend a visit if you're in the area). And whilst generally being totally in awe at the place, I did remember to snap a couple of photos of the cakes - and oh my goodness what cakes they were!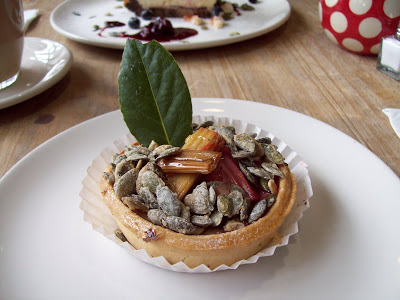 I indulged in the roasted rhubarb cheesecake tartlet topped with caramelised pumpkin seeds - it was gorgeous. Light lemony cheesecake and sticky rhubarb with the crunchy seeds on top was a winning combination.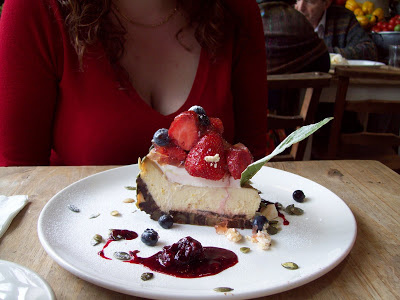 Meanwhile my friend went for orange cheesecake with a chocolate hazelnut crust topped with a veritable mountain of fresh strawberries and blueberries and by the look on her face it was every bit as delicious as mine.

Needless to say we didn't really feel in the mood for dinner that night...!