Celery Rose Cake Stamping
I have no idea how best to describe this post. Well, actually I do - and it's the title I've chosen: Celery Rose Cake Stamping, but I can't help feeling that just sounds like a random selection of words, or involves a small child (admittedly with a weird name, but parents are a funny bunch - it could happen) stamping on a Victoria Sponge.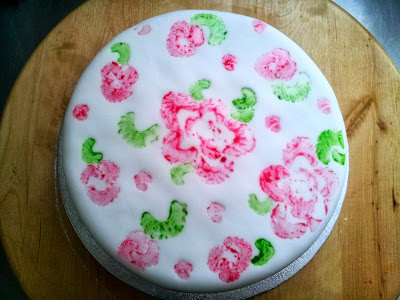 But actually, it's a really easy and quick way to decorate a cake, that is also suitable for little kitchen pixies to help with. I can assure you that the finished result doesn't taste of celery either - honest!

It's super easy to do - all you need is...


a cake
jam
fondant icing
a head of celery
a rubber band
gel food colouring
a small clean paint brush
I made a
coconut and blueberry cake from the BBC Good Food website
- no modifications required since it is dairy free to begin with. It did cause a weird phenomenon... when I put the batter in the tin, all the blueberries were evenly spread across the cake (I put half the batter in, scattered over the blueberries, topped with the remaining batter) - so why is it that during baking they all decided to form a little circle around the edges?! I've heard of fruit sinking to the bottom before many time, but the blueberries stayed in the vertical middle and just rearranged themselves on their plane.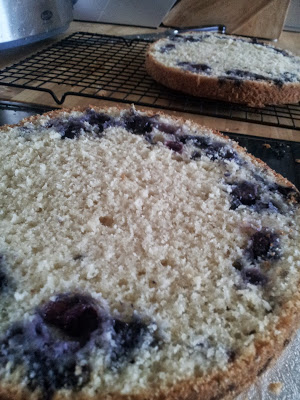 The great centrifugal blueberry mystery
Once it was cooled I cut it in half and filled it with raspberry jam, then brushed the outsides with jam too, before covering with plain white fondant.
Bring on the celery. Cut the head in half - this forms the large rose head. Take a few of the cut stalks that are now unattached and rubber-band them together to make a small rosebud. Lastly pick a couple of single stalks to be the leaves.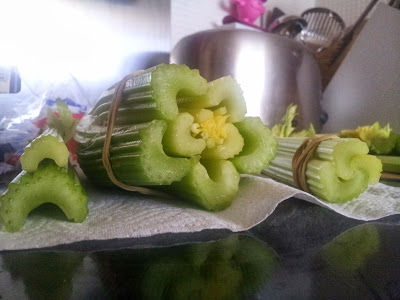 Celery stamps at the ready!
Squeeze some pink and green food colouring gel into two separate shallow bowls. Use the paint brush to paint the cut sides of the celery with the gel. If the celery seems quite wet, stamp it a few times first of all on a piece of kitchen roll before painting.
I did a little practice on a spare piece of icing - and Mini-M did some practices too.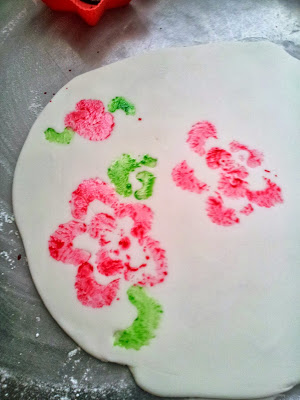 Practice makes perfect (or sort of passable)
Then taking a deep breath we got stuck in and started stamping the real cake. It was easy and quite to come together, so it was a very satisfying activity for Mini-M. We did almost start with disaster as she was fairly forceful with her first stamp, and if I hadn't intervened very quickly, the decoration may have ended up being a cake, impaled with a stick of celery through to the base.
I like to think the end result is heading towards Cath Kidston-esque - that was certainly the intention, since the recipient is a big fan of all things suitably floral, however I'm not sure any cake decorating involving a 3 year old is every really going to achieve elegance and sophistication! It'll make up for it with enthusiasm and sticky fingerprints around the rest of the house though...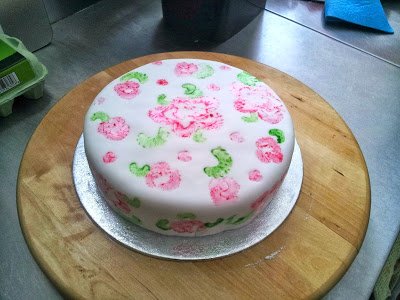 You can't beat an egg box and blue cloth as appetising styling props...
As for where I saw the celery stamping idea first, I have to confess I can't remember. There are lots of folk out there in the internet ether who have tried it (with much more beautiful results) but despite having another browse this evening before posting, I've not managed to find one that looked in any way familiar as my source. But to my anonymous inspiration - thank you - it's a great idea.