Cheerio Chocolate Peanut Butter Crunch
I'm stealing Mini-M's food again for kitchen experimentation purposes. It's happened in the past, when I've purloined pots of fruit puree to chuck into cakes, bakes, and on one occasion even sausage casserole!

This time it was breakfast cereal. Mr E and I both felt that the evening required some sort of chocolate post-toddler-bedtime treat. I toyed with making chocolate cupcakes but couldn't really be bothered with waiting for them to cook. So instead I decided to give some Cheerios a bit of a grown up makeover, inspired by a bag of open marshmallows that were starting to go a bit sticky!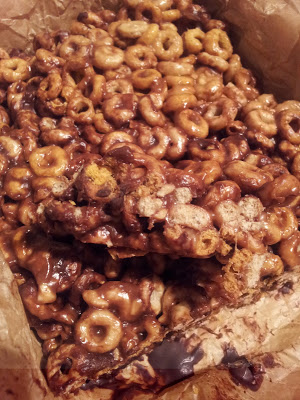 Hence Cheerio Chocolate Peanut Butter Crunch was born - a not too distant relative of Sticky Crispie, it's plainer, peanut butter and chocolate-less cousin.

Cheerio Chocolate Peanut Butter Crunch (makes 1 small tray)


1 tbsp coconut oil
2 tbsp crunchy peanut butter
90g marshmallows
2 cups cheerios
30g 70% dark chocolate chopped

First line a small traybake tin or roasting dish with greaseproof paper.
Next melt the coconut oil and peanut butter together in a large saucepan. Once they are runny, add the marshmallows and continue to melt over a low heat until the mixture is smooth.
Add the Cheerios and mix quickly.
Tip in the chopped chocolate and give a quick stir, then tip into the prepared tin.
Allow to cool in the fridge before slicing.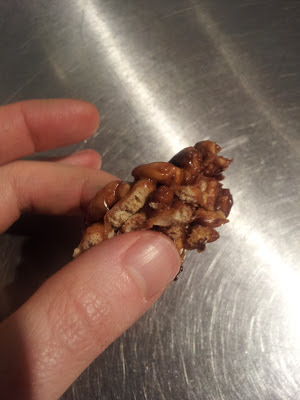 The last bite - going, going, gone! (Don't worry, we didn't eat the whole tray - just a very restrained slice each)

This would work with any breakfast cereal (although you might need to alter the volume a bit). You could also use butter instead of the coconut oil, and that will be absolutely fine too (although not dairy free any more). You could add raisins instead of the chocolate. Or nuts. If you've want to use a whole bag of marshmallows, then just double the quantities.