Chicken and Broccoli Bake - Tastes like being 8 again!
If there is one dish that reminds me of my childhood, it is this Chicken and Broccoli Bake. It's not that we had it that often, probably more the fact that we didn't, but I really liked it, so the times when we did stood out. And that sometimes Mum made it when we were having a house full of visitors, so it has a whole caboodle of associated happy memories of gaggles of children running riot around the house and garden, doing summersaults onto piles of sofa cushions over the chin-up bar which was fixed up at waist height, dressing up, performing 'plays', treasure hunts and general chaos.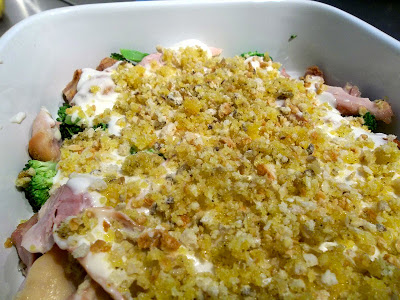 Times that we were lucky to enjoy in abundance growing up (thanks Mum and Dad!!!). Which is why I thought I would submit it into The Pink Whisk Save the Children Recipe Challenge. Ruth at the Pink Whisk is creating a digital recipe book of 'family favourites' which will later be sold to raise money and awareness for the Name A Day campaign which urges the PM "to lead a big push to end hunger by naming a day when he'll host a global hunger summit".

Save the Children want to see changes made to the global food system so that it can be a positive force in ending the daily hunger that affects millions of children (and adults) worldwide every day.

I think the recipe came originally from an old St Michael Christmas recipe book, where it went under the title of "Turkey Hollandaise" but to me it has always been Chicken and Broccoli Bake. Made with that 1980s kitchen staple... a tin of condensed chicken soup. Which is most definitely not dairy free. But not to worry, I made some substitutions and there was actually no observable taste difference to what I remember growing up. But if you fancy making it, and are able to eat dairy, then I'd just go with the tin - it's a lot less hassle!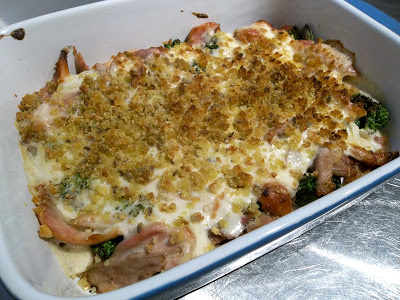 Chicken and Broccoli Bake (Serves 4)

8oz Broccoli
4 large cooked chicken drumsticks (or thighs)
250ml dairy free 'condensed chicken soup' (see recipe below) or a 10oz can of actual condensed chicken soup
2 tbsp lemon juice
2-3 tbsp white wine
4 tbsp mayonnaise
pepper
1oz fresh breadcrumbs
a splash of olive oil (mine was infused with lemon - you don't need this if you're using cheese)
1oz cheese (optional, if you're not trying to be dairy free)
Preheat the oven to 180C.
Take the meat off the cooked chicken drumsticks.
Cut the broccoli into florets and microwave it for a couple of minutes to soften it slightly, then place the pieces evenly over the bottom of a casserole dish.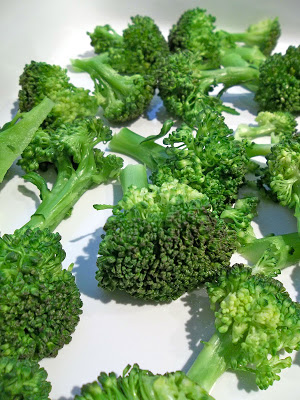 Fill the gaps left by the broccoli with the chicken pieces.
In a bowl, whisk together the soup, mayo, lemon juice, wine and pepper, then pour it over the chicken and broccoli.
Mix the breadcrumbs with the oil (or cheese) and sprinkle over the top.
Bake for 30 minutes until the breadcrumbs turn golden and crispy.
Enjoy with salad and potatoes.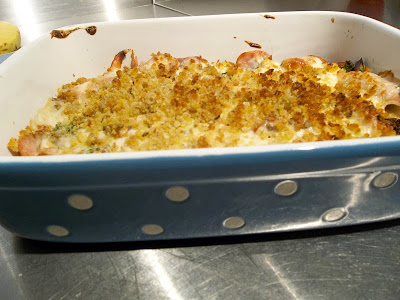 And if you're cooking the dairy free version, then you'll also need to make this recipe up first...

Dairy Free 'Condensed Chicken Soup' substitute (makes 500ml)

2 tbsp oil (I used rapeseed)
2 tbsp plain flour
1 tbsp corn flour
500ml chicken stock
Heat the oil in a saucepan, then add the flours and stir until well combined, then cook over a low heat for a few minutes.
Add the stock a little by little, whisking after each addition, then simmer until it thickens to the desired consistency - it took me about 5 mins, bearing in mind it thickens more when it cools.

This makes twice as much as you need for the recipe, but was the amount of stock I had - if you're just needing it for this recipe, feel free to half it!

So there you go - a taste of my childhood!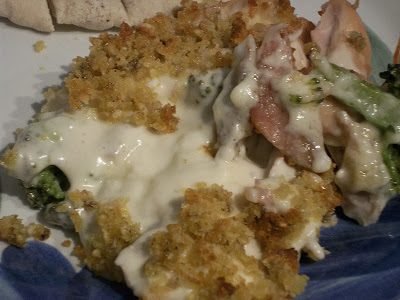 Creamy... but dairy free!