Christmas Decoration Survey
A quick blog post, whilst I should probably be doing other more festive things! Or useful thing. Or a combination of both.

Holidays are finally here - woop. I finished today at lunchtime, and then went to the nursery carol concert in the afternoon. I was expecting total carnage but to be honest, I think the kids were better behaved than the parents! (Collectively, rather than us specifically…)

Yesterday evening seemed to be a rare lull in the current wet and windy weather, so we took the opportunity to have a post tea walk - complete with clipboard - to undertake a survey of the Christmas decorations in our neighbourhood.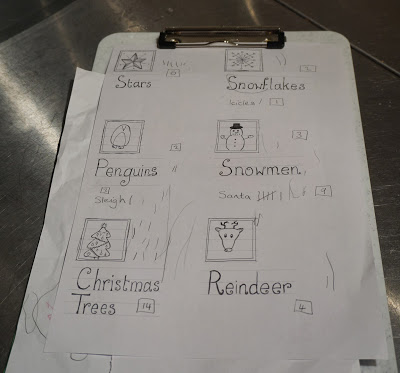 Survey sheet - filled in and back home and warm

Mini-M's not one for aimless walking for the sake of having a walk, but if you give her a purpose she'll go much further than without. In order to achieve our purpose - of getting her nicely tired out for bed and out of the tea-time strop - I'd drawn a few pictures for her to spot. So cue 30 mins of us pretty much snooping in our neighbour's living room windows.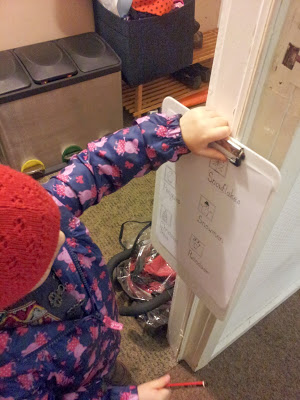 Pencil - check. Clipboard - check. Ready to go out

We had to encourage her at one point to fill in her clipboard not quite so directly in front of someone's patio doors as to disturb their TV watching, since they were in their living room with curtains open - great for decoration spotting, but also probably slightly puzzling for them, wondering what on earth the 3 year old with the clipboard was doing outside.

She also now thinks that (and I quote) "the real Santa" lives in the next block along, in a disabled access flat on the ground floor in Leith, quite possibly on benefits - austerity measures are clearly kicking in!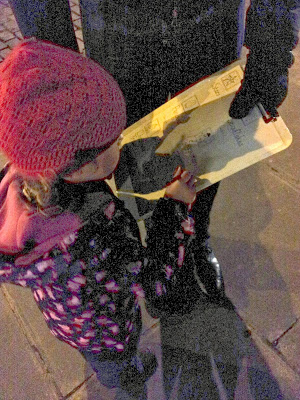 Some on-street surveying

Anyway, if anyone else has small children to entertain over the festivities, I thoroughly recommend letting their inner bureaucrat out, arming with them clipboard, pencil and setting them off to catalogue something.

My only advice is that if you're doing Christmas decorations like us, I'd probably add Santa - a fairly major omission on my part!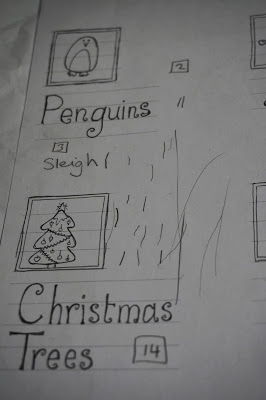 And the scores - Christmas trees beat penguins 14:2