Coconut and Honey Pancakes
A quick post, since this isn't the one I was planning to write and it sneaking in there - jumping the queue because I made these this evening for after tea, they were delicious, I didn't write the recipe down, so I'd better get on to it quick before I forget...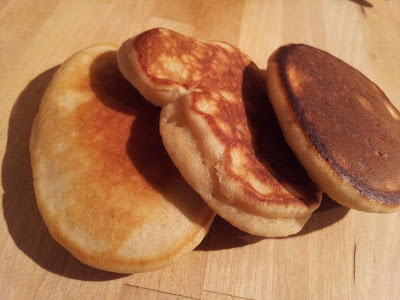 Coconut and Honey Pancakes (makes 6 small pancakes)


1 small sachet creamed coconut
50ml boiling water
1 egg
4 tbsp self raising flour
Tiny pinch ground cloves
2 tbsp honey
1 tsp sunflower oil for frying

Put the creamed coconut in your mixing bowl and immediately add the boiling water. Break the coconut up with a fork and keep working until you have a smooth, thick liquid. Add the honey, then the egg and beat well. Mix in your flour - if you're lazy like me and couldn't be bothered to sieve it, then beat it hard!!!! Stir in the ground cloves (or another spice of your choosing).
Heat 1 tsp of oil in a small non-stick frying pan over a medium heat. Drop spoonfuls of the batter into the pan and allow to cook for a few minutes, until bubbles start to rise to the surface, then flip over and cook for another minute or two. Cool inside a folded over teatowel on a wire rack.





These were really lovely, hence the blog post. They don't look any different to regular pancakes, but they taste a bit more special. The honey is a great natural sweetener, so they're sweet but not cloying, and they got the toddler seal of approval - Mini-M polished off two after tea. They're dairy free, refined sugar free and there's no soya milk in sight - woop!