Daring Bakers - Going Crackers
Before reading any further I warn you this is a bit of a disaster post. Firstly, it is 3 minutes to 11 at night, and I have to get up in too few hours for work to really be contemplating starting blogging - but since today is the Daring Bakers challenge posting day and I only just realised, I'm doing just that.
Secondly, I took awful photos of my challenge bake.
Thirdly, I can't find the blog that I used as my recipe inspiration, and the internet is a big place. Yes, I know it's in my history, but I can't bring myself to trawl that far back!

So the end result is some really bad pictures of some mystery crackers.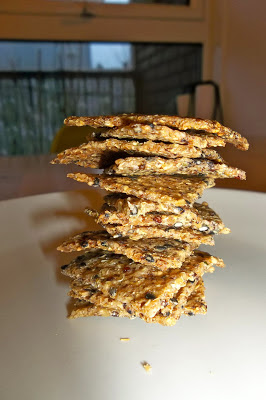 Leaning tower of mystery crackers in the spotlight...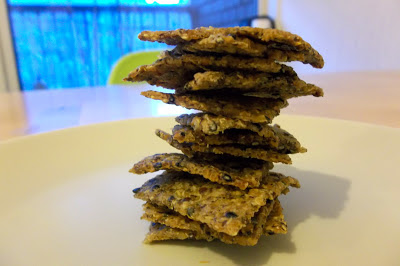 Leaning tower of mystery crackers in the gloom...

But enough virtual moping. The crackers themselves were really good. Properly crunchy with a real cracker snap. Even when cold (miracle). Even after 4 days in a plastic box (even bigger miracle). So I do slightly wish I'd bookmarked the recipe - oops!

They were made without flour, but with cooked quinoa, bulghur wheat and rice couscous that was blended along with ground flaxseed, water, soy sauce, ginger infused oil, and a Japanese sprinkle mix including seaweed and sesame seeds.

Thanks for a really tasty challenge - and here's hoping I stumble across the recipe at some point again in the future ;o)

Sarah from All Our Fingers in the Pie was our February Daring Bakers' host and she challenges us to use our creativity in making our own Crisp Flatbreads and Crackers!