Daring Bakers - Lets go Nuts for Donuts
The October 2010 Daring Bakers challenge was hosted by Lori of Butter Me Up. Lori chose to challenge

DBers

to make doughnuts. She used several sources for her recipes including Alton Brown, Nancy

Silverton

, Kate

Neumann

and

Epicurious

.

I was really organised this month, and completing the Daring Bakers challenge was not a last minute affair. I'm even writing this post a couple of hours in advance - what is the world coming to!

Since all the donut recipes made 20+ donuts/holes, and they are most definitely best eaten fresh, we decided to have a donut party, and invited a bunch of our friends around on 10/10/10 to celebrate the funky date, and to eat many donuts. A ridiculous amount in fact,

because

in the morning, my better half was concerned that we'd not have enough - so I made up another batch of dough - and all in all fried about 60 donuts and holes. Which was quite epic, but after it all, there were only 2 left. Our friends have an amazing capacity for demolishing cake!

I went for the Alton Brown recipe for the filled yeast donuts, and they were filled with...


Blackberry and Apple Compote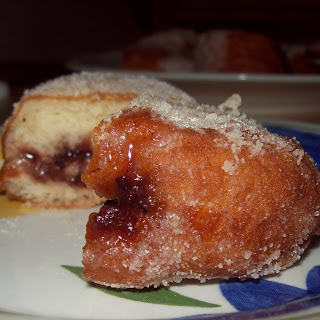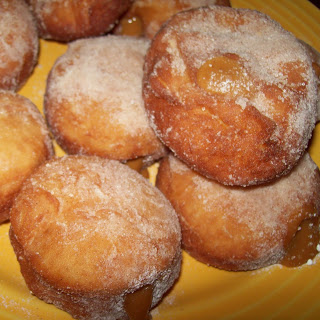 and Lemon Curd (not

pictured

but you can imagine it)


I then used the buttermilk donut which I massively corrupted due to my lack of correct ingredients... I subbed regular milk and lemon juice for buttermilk, peach

yoghurt

for soured cream, and added a finely grated pear.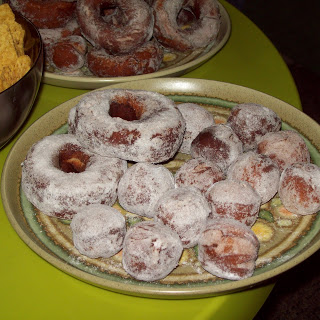 Both doughs were ridiculously sticky to work with,

particularly

early on in the 'kneading' process which started off a lot more like swirling your hands around in super goop. But with a wee bit of extra flour added, they both came together fine.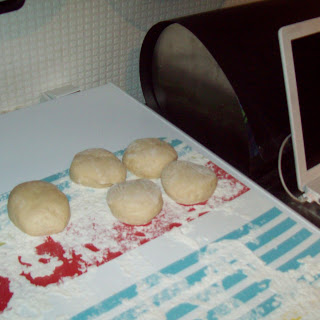 The end result were achieved through a serious tag team effort - the prep of the dough was done on rotation between me and my other half, as we both took turns to feed/wind/change baby Martha too. And once I started frying, Terri, Claire and Emma were a dream team on the filling and sugaring.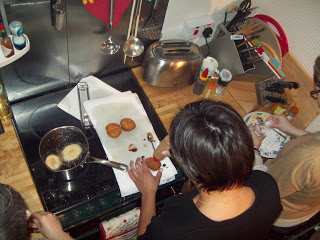 All types were dusted with a mix of caster sugar, icing sugar and cinnamon, and all tasted yum; I can vouch for this by the fact that I only got 1!

Frying the donuts was nowhere near as scary as I thought it would be, and thankfully all went without mishap - and given that they literally spent seconds in the hot oil, we all managed to convince ourselves that they weren't actually that unhealthy...