Daring Bakers' May 2013 - A poor and distant relation of Swedish Princesstarta!
Late again, but hopefully still better than never! Yep - it's Daring Bakers' posting time again, where I generally blog something that bears only a very tenuous resemblance to the challenge recipe, after having substituted here and there to make it dairy free, and often turned the ambition factor down a little in the name of actually getting it made at all. And this month is no exception...

Korena of Korena in the Kitchen was our May Daring Bakers' host and she delighted us with this beautiful Swedish Pricesstarta!

Here's her description... "Layers of light sponge cake, raspberry jam, and a vanilla custard/pastry cream, topped with a mound of fluffy whipped cream, covered in green marzipan, and garnished with a marzipan rose"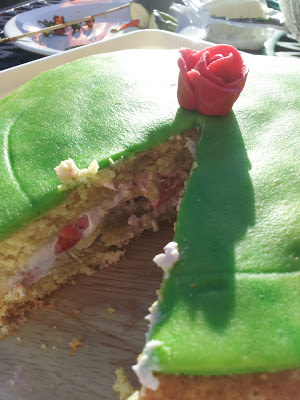 Messy cross-section - food styling is not my forte - but you get the idea!

Shall we go through that list?


Light sponge cake - nope (mine was rather dense due to completely winging the recipe, and only having one egg, so not bothering whisking!)
Raspberry jam - nope - I've only just realised that I forgot this. The only blooming bit that was actually dairy-free to begin with, and I missed it out - oops!
Vanilla custard/pastry cream - nope although I did use soya custard in the sponge to make up for the lack of eggs.... that's got to count for something, right?
A mound of fluffy whipped cream - nope - no mound and no whipped cream. I did mix thick coconut cream with strawberries and stick it in the middle, so there was at least a slightly creamy element.
Covered in green marzipan - nope - I didn't have enough, so it was most definitely not covered, rather perched on the top
Garnished with a marzipan rose - Check!!!!
So basically, I made an entirely different cake, and stuck a rose on top. Princesstarta in disguise, or the opposite, whatever that is called!
But the resulting cake was tasty and pretty - and that's really the key competencies in any cake's job description, with the former generally taking precedence over the latter.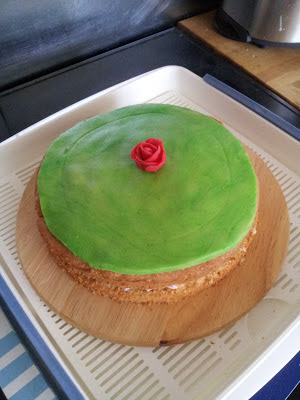 Trying to look hard like a Princesstarta
No recipe today - my cake was a bit of an ad-hoc experiment, however I shall attempt to repeat, improve and record it, because a cake you can make with a box of ready made custard rather than fresh eggs is always useful... you know, for all of those frequent occasions where you find yourself with an abundance of one and none of the other (it could happen?!).
Although I have to say my favourite thing about this cake was that we ate it outside, in the garden, post BBQ and paddling pool session - which makes any food immediately taste a million times better than it would indoors. Particularly in Scotland when such days are rare - especially in May!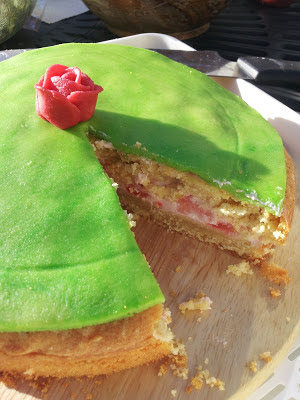 Cake - in sunlight!!! (This may be the only post this year where the two coincide)