Date Stuffed Porridge Muffins - Pantry Party!
A very quick post - my alarm is set for 05:50am tomorrow, and it's already 9:30pm - I need to get to bed sharpish, otherwise tomorrow is going to get off to a very groggy and grumpy start...




But I also wanted to write down the recipe for these before I forget, since they are a result of the 'chucking things in as you go' variety of baking.


I've made porridge muffins a few times recently because they're healthy, filling, and great for mid morning snack at work when breakfast and lunch seem equally far off in different directions, or for the always hungry Mini-M.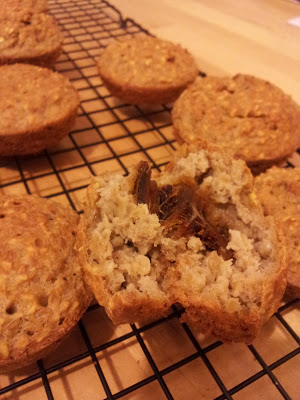 Porridge as portable finger food!

In honour of the Pantry Party blog challenge, hosted at The Law Student's Cookbook I've jazzed them up a bit (and made them slightly more random...) The idea is to make something on a theme (which for may is 'Stuffed') that uses one of the ingredients lurking at the back of your pantry.

My chosen ingredient is Grape Nuts - I've had a box open forever and we're all too scared to eat them for fear of our fillings - they are seriously crunchy! So I thought they would be ideal candidates to add to the oat mix, since it soaks for an hour before baking. And to tie in with the 'Stuffed' theme, I stuffed with with dates, by adding half a stoned date to the middle of each muffin.

Date Stuffed Porridge Muffins (makes 12 small muffins)


1 cup pinhead oatmeal
1/4 cup Grape Nuts cereal
1 cup almond milk (I used unsweetened)
1/3 cup fruit puree (I used a pot of baby food - apple banana and peach flavour this time!)
1 egg
2 tbsp self raising flour
6 stoned dates, halved

Mix together the oatmeal, Grape Nuts, almond milk and fruit puree then leave to soak for around an hour.
After the soaking is finished, preheat the oven to 180C (160C fan) and grease a 12 hole bun tin.
Add the egg and the flour to the oat mixture and beat well to combined.
Dollop a tsp of mixture into the bottom of each but tin, then add half a date. Cover with the remaining mixture.
Bake for around 25 mins until slightly risen, golden brown and firm to the touch.
Prise carefully from the tins and cool on a wire rack.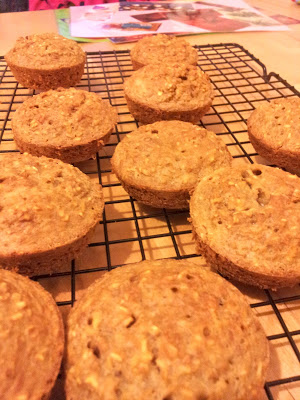 Looking unassuming, keeping their date centres secret

These keep well in an air tight tin - although we generally get through a batch in 3 days, so I can't comment on longer than that!

I'm looking forward to my early breakfast now... I suspect I'll be grabbing one of these as I rush out the door.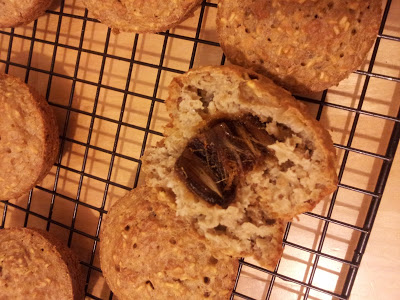 Hello breakfast - you'd probably go well with a coffee - I'll probably not have time to drink one!