Embutido - Filipino Gala Pie!
Mr E is on a mission to eat food from 30 different countries in the year before he turns 30. We seem to have been covering Spain and Poland repeatedly, and struggling a bit on other fronts, so I decided to be a little adventurous to help out.
Embutido is a Filipino Meatloaf that is stuffed with hard boiled egg - a little like Gala Pie is in the UK, but without the lardy pastry outer. I found my
recipe inspiration here
, but as usual didn't have quite the right things, so I'm posting my much less authentic version too! It is supposed to be made with minced pork, but our nearest ASDA (which sometimes seems to be a strong contender for the worst stocked supermarket in Edinburgh...) had no minced pork, so I used turkey.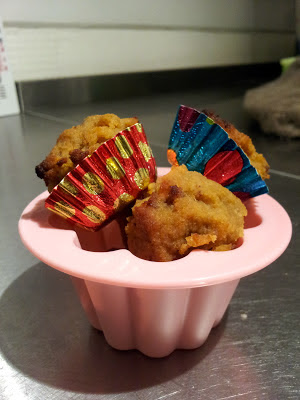 Meatloaf - hard to photograph beautifully, on your phone, as you're about to eat...
The dish is apparently traditionally served around Christmas time in the Phillipines - slices of it would make a pretty awesome Christmas morning breakfast!
Embutido (makes 2 meatloaves, each serving 4-6)
800g turkey mince
1 slice fresh white bread
2 tbsp Oatly oat milk
2 eggs
1.5 small cooking chorizo (about 100g) chopped
2 heaped tbsp fruity chutney (I used some M&S Windfall chutney)
1/4 tsp ground white pepper
1 onion chopped
1 tsp salt
2 tbsp raisins
2 hard boiled eggs
2 tbsp dairy free sunflower margarine
Shell the boiled eggs and quarter.
Preheat the oven to 180C (170C fan)
Put all the ingredients apart from the margarine and hard boiled eggs into a food processor and blitz until well combined.
Take a sheet of aluminium foil and use 1 tbsp of the margarine to grease it well.
Pile half of the mixture across the sheet, leaving space to fold in the ends, in a rectangle.
Place 4 slices of egg down the middle, then gently pull the sides of the mixture over to cover the egg.
Wrap the foil all around and make sure the ends are well sealed.
Repeat with the other half of the mixture, margarine and boiled egg.
Bake for around 1hr - unwrap and check carefully to see if the juices run clear - if not, rewrap and allow to cook for another 15 mins.
Rest in the foil for 15 mins before unwrapping and slicing.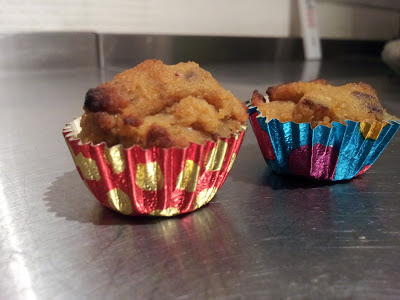 The impatient bit... waiting for it to be ready to open!
I made the whole mix, and froze one complete cooked meatloaf. This was a really tasty tea and it also made a delicious sandwich filling sliced thinly, because the turkey mince I used was very lean, so even when cold, it didn't feel too fatty.
Once we persuaded Mini-M it was just like sausages she was a fan. She's also going through an egg-loving phase at the moment, so as long as we made sure her slice had a big, obvious bit of egg in it, she was happy!
I have to say I was slightly skeptical at the inclusion of chutney and raising, but they add a really lovely sweetness and tang to it, which is offset by the pepper and chorizo. The moral of the story is - don't be daunted by the odd ingredients!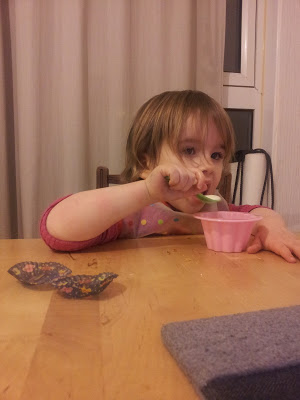 In the name of using things up, we ate it with baked beans, green beans, plain noodles and cauliflower! Take that tradition!