French Macaroons - my nemesis no more!
It's that time again - Daring Bakers' posting time.

This month, in a "celebration" of past Daring Baker and Daring Cook challenges, Lisa challenged all of us to search through the Daring Kitchen archives and pick any one we'd like! The REAL challenge was picking which delicious recipe(s) to try!

Once the challenge was announced, I did contemplate browsing the archives to find one that really appealed, however on the other hand, I've now participated in 31 Daring Bakers' challenges (this is number 32) and only one of those has been a complete disaster. Now don't get me wrong, others have had some unexpected results and massive deviations of the original recipe to make them dairy free, but they've generally been successful in their own way. Only one has been a complete fail entirely through my own actions, since it was a dairy free recipe to begin with, so I knew that was the challenge I had to re-visit to attempt to conquer it again: French Macaroons from October 2009. In fact, it was also my first ever Daring Bakers challenge - I'm glad I didn't get too disheartened and kept going!



This time I used a different recipe - by Ed Kimber from the BBC Good Food website. AND THEY WORKED BEAUTIFULLY! I was so nervous putting them in the oven, and so happy when they behaved like expected, and rose up with shiny tops and a little frilly foot around the bottom. My baking nemesis is no more :-)

So here are my re-visited success variety.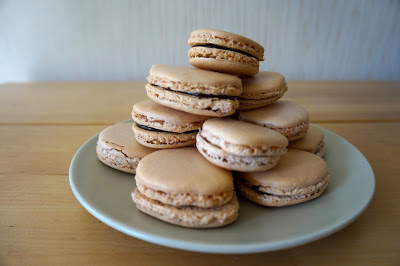 I followed the recipe to the letter, wanting to eliminate as many sources of errror as possible - I'm well aware that my fails are usually because I never seem to follow a recipe as it it written. I added a little vanilla and strawberry flavour to the mix, then filled them with a dark chocolate ganache made with dark chocolate drops and soya cream.

And for comparison, my first-time around fails can be found here.