Fudgy Fruitcake - gluten, wheat, dairy, egg and refined sugar free!
But what is in it then? This is a questions I'm fairly frequently asked at work when I bring in cake and say "It's gluten and dairy free". The answer to that is in general lots of lovely fruit and nuts - and this cake is no exception to that rule. In fact, it takes it one step further, and is also free from egg (making it vegan) and with not added refined sugar. However, some magical fruit alchemy goes on so that somehow it really does taste like cake. If a piece of this doesn't count as one of your five a day, then I don't know what does!
I developed this Fudgy Fruitcake as a recipe for
Natural Balance Foods
- who make the very delicious nakd bars and nakd infused raisins that I have used here.
Fudgy Fruit Cake (makes 1x 8in square cake)
250g pitted dates
6 tbsp fresh orange juice
1 large (or 2 small) ripe bananas
25g ground flaxseed
3 tbsp cold water
12 dried apricots
2x 30g bags Nakd cherry infused raisins
2x 30g bags Nakd orange infused raisins
75g Nakd cocoa delight bites
4 tbsp brown rice flour
Grease a 8 inch square cake tin and preheat the oven to 160C (150C fan)
Roughly chop the dates and make sure there are no stones.
Put them into a medium saucepan along with the orange juice and simmer over a low heat for around 15 minutes until the dates are soft and starting to break down.
In a small bowl, whisk the cold water and flaxseed together and allow to rest for 15 minutes during which time it will develop into a jelly-like consistency.
Break the banana into chunks, add to the pan and use a potato masher to mash until there are no big lumps of either date or banana left.
Quarter the apricots and half the Nakd cocoa bites, then add to the date and banana mixture along with the infused raisins and the soaked flaxseeds.
Mix well, then finally stir in the rice flour and pour into the prepared tin and spread out to the corners - it will be thick and sticky.
Bake for around 45 minutes, until the top is no longer sticky and the cake feels firm.
Allow to cool in the tin for 10 mins, then turn out onto a cooling rack.
This is lovely cold - great for mid-morning snack (which I have to confess is often consumed at about 9:30am, since the day generally starts much earlier that I'd really like at 6am!). It is also very lovely hot with custard of your choice - it could easily pass off as a quick and healthy Christmas pud.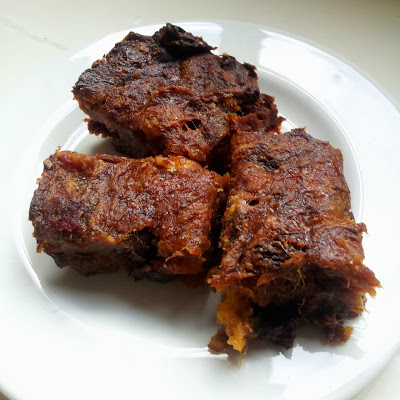 As sticky and fudgy as it looks - but even tastier
It's a flexible recipe too - don't mess with the banana, dates and flax-seed, but beyond that, any liquid, dried fruit or flour would work, so you can tailor your fruit cake to suit your exact tastes. Some extra nuts wouldn't go a miss either!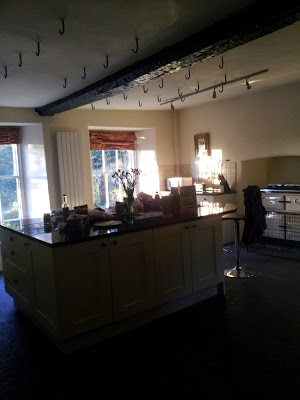 I had to include a photo of the kitchen I baked this in - holiday rentals rule!
And if you want to see more of my cooking adventures, head to the
nakd website
where each month the team will upload one of my scrummy vegan-friendly recipes :-) There's a new one coming soon