Geeky Stats Cooking - Cameroon
I am very, very slowly working my way around the culinary globe, cooking recipes from each of the countries that I've not had a blog visitor from (according to my Google Analytics stats).

So far I've ticked off Samoa, Albania, Azerbaijan, Aruba, Monaco, The Isle of Man, Georgia and Gibraltar.

And now I can add Cameroon to that list.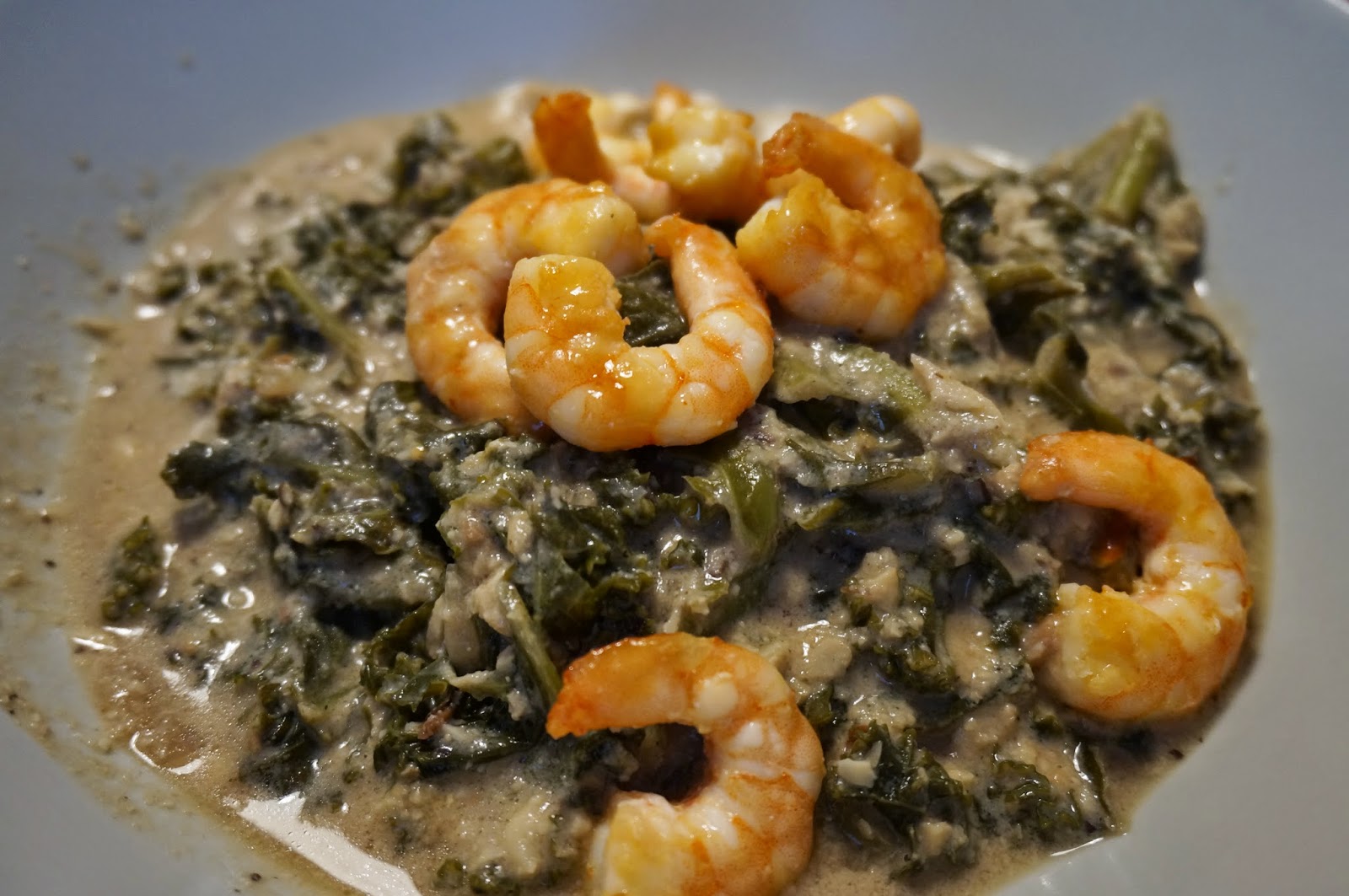 Last week for dinner one evening I made Ndole which is a stew of bitter leaf and peanuts. Since Bittterleaf isn't something you come across shopping in ASDA in Leith, a bit of googling suggested that kale might be a suitable substitution, and kale you most certainly get hold of in Scotland!

In fact, I'm dedicating this recipe to all veg-box customers who are regularly faced with mini kale mountains to get through. It really is a tasty way to use up a fair amount of kale in a single meal.

Ndole style Kale and Nut Stew with Prawns (Serves 3 with crusty bread or crackers)







200g kale chopped kale (prepared weight)
125g mixed nuts
1 tbsp peanut butter
1 tbsp Worcester Sauce
1 veg stock cube
1 onion
2 tbsp olive oil
1 inch fresh ginger
2 garlic cloves
150-200g raw prawns
3 tbsp sweet chili sauce

First steam / boil the kale for about 5 minutes until softened a little.
Next whizz the nuts in a food processor until roughly chopped.
Finely chop the onion and sautee it in a large pan with 1 tbsp of the olive oil.
After a few minutes, grate in the ginger and crush the garlic and add, then cook for a few minutes more.
Next add the nuts, kale, peanut butter, Worcester Sauce, stock cube and enough boiling water to cover.
Stir well to combine, then simmer for around 30-40 minutes, topping up with water as necessary, until the kale is tender and the sauce has started to thicken up.
Remove from the heat whilst the prawns cook quickly.
Heat the other tablespoon of oil and add the prawns and sizzle for a few minutes on each side until pink and no longer translucent. Pour over the sweet chili sauce and stir to coat, then serve on top of the kale and peanut stew.
Great with some crusty bread or crackers to mop up the juice - although probably not traditional!

Mini-M was almost convinced to eat kale by this recipe - so there's a recommendation! She obviously liked the taste and tried a forkful several times, but I think in the end it was still too kale-y. Cabbage is generally similarly rejected. She did love the prawns, and dipping breadsticks in the sauce.