Going Dutch with the Daring Bakers: Gevulde Speculaas
I'm feeling proud of myself that I have a) made the challenge b) remembered to post it on the right day this month for the Daring Bakers. Woop - hopefully that's me starting the New Year as I plan to continue (although probably it's mainly luck and a reasonably easy recipe!).


Francijn of Koken in de Brouwerij was our January 2013 Daring Bakers' Hostess and she challenged us to make the traditional Dutch pastry, Gevulde Speculaas from scratch! That includes making our own spice mix, almond paste and dough! Delicious!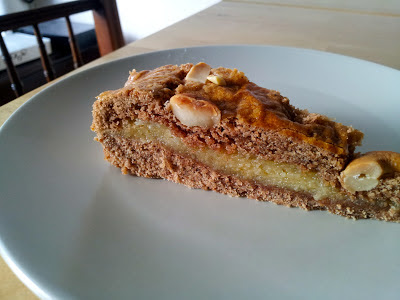 I made the cake and let Mini-M decorate it, so needless to say the end result we produced doesn't have quite the same understated elegance as the traditional version. Instead it's been randomly pebble dashed with almonds, cashews and macadamias, since Mini-M got a bit excited looking for nuts in the cupboard. But at least we managed to avoid sprinkles...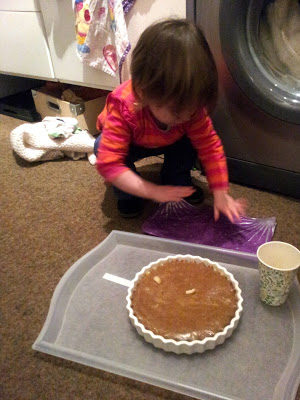 Getting the all important napkin properly place on the floor...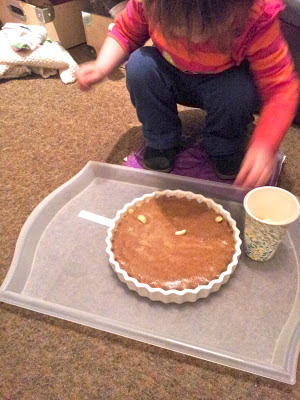 Crouching on said napkin, whilst sprinkling nuts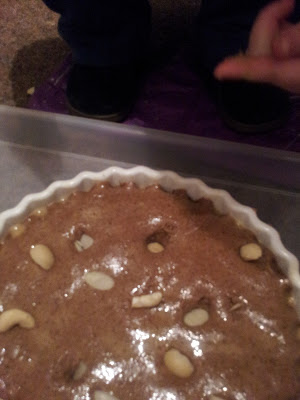 Unable to resist finding out what happens when you push an almond all the way in - sticky fingers!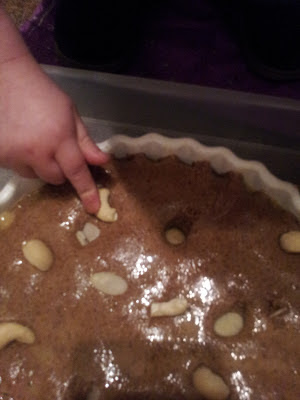 One more (non traditional) cashew to finish it off

I altered the recipe a little from the original - firstly to make it dairy free, and secondly because I didn't actually have all of the right spices to make up the speculaas mix. I'm not sure how that is possible, since my spice rack is pack to the gunnels, however I was missing mace, cardamon, anise and coriander. I didn't think that cumin, fennugreek, kafir lime leaves, dill or garlic (among others) would make particularly amazing substitutions (and in fact would most likely be fairly disgusting) so I just went with what I had.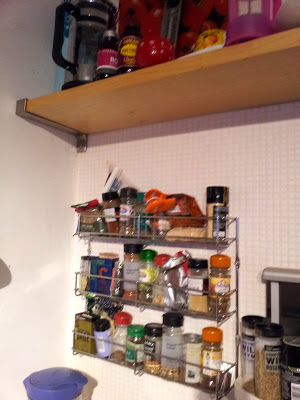 Unhelpful spice rack!

So here's my recipe for dairy free Gevulde Speculaas with a rather pared down spice mix!

Gevulde Speculaas (Makes 1 9" cake)

Spice mix

1 tsp ground cloves
1 tsp ground ginger
1/2 tsp ground white pepper
1 tsp grated nutmeg
Equal weight of ground cinnamon
Mix together the first 4 ingredients of the spice mix, and weigh them, then add the same weight of cinnamon

Almond Paste

125g ground almonds
1 egg
1 tsp grated lemon zest
125g caster sugar
1 tbsp lemon juice
Mix all the ingredients apart from the lemon juice together. You're looking for the consistency of slightly too wet marzipan. My egg wasn't that big, and the mixture was quite dry, so I added a tbsp of lemon juice to loosen it up a little. Once mixed, cover with clingfilm and chill until ready.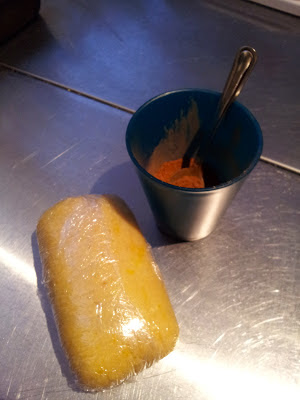 Spice mix and almond paste ready to go
Dough
250g plain flour
1 tsp baking powder
50g demerara sugar
100g soft brown sugar
pinch salt
2 tbsp of the spice mix above (i.e. pretty much all of it)
150g dairy free margarine (If you're using butter, up the quantity to 175g)
2 tbsp almond milk
In a large bowl, mix together the flour, sugars, spices, baking powder and salt.
Cut the margarine into small pieces and rub in - it will become crumbly and then a dough will start to form.
Add 1 tbsp of almond milk, and work it in - if the dough still doesn't seem coherent add another.
Wrap in clingfilm and chill - ideally in the fridge for 2hrs but I went with 15mins in the freezer!

Assembly

Prepared Dough as above
Prepared Almond Paste as above
1 egg, beaten
Nuts for decoration
Preheat the oven to 180C (160 fan).
Grease a 9" round flan dish.
Flour a work surface and rolling pin.
Divide the dough in two, roll out half and put into the bottom of the prepared dish.
Spread over 1/3 of the beaten egg.
Next roll out the almond paste and put on top of the bottom dough, then spread another 1/3 of the beaten egg on top of that.
Roll out the remaining 1/2 of the dough and cover with the remaining 1/2 of the beaten egg.
Decorate with nuts.
Bake for around 40mins until slightly risen, and glossy brown on top.
Allow to cool completely in the tin before cutting.

Enjoy with a cuppa!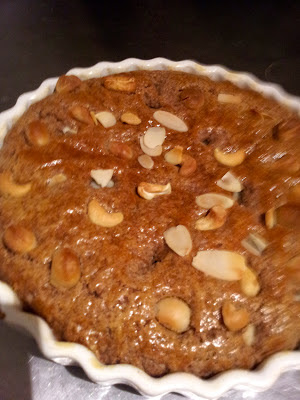 Just out of the oven - cool in the tin!

Thanks for a lovely challenge Francijn - and as always I'm looking forward to seeing what next month has in store.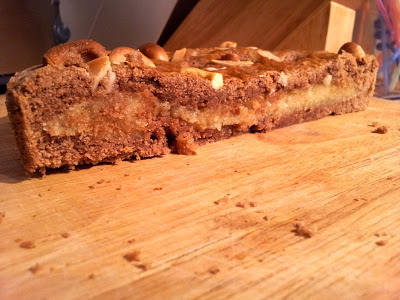 Chopped in half to show off the almond paste layer