Golden Snitch Cake Truffles
One of the reasons I went along was to do some baking, and since the camp was Harry Potter themed, I racked my brains before hand to come up with a suitable activity. And thankfully a few weeks before hand, at about midnight just before I drifted off to sleep, it came to me - Golden Snitch cake truffles. I'm pretty sure my other half thought I had lost the plot completely when I woke him up with an exclamation to that effect.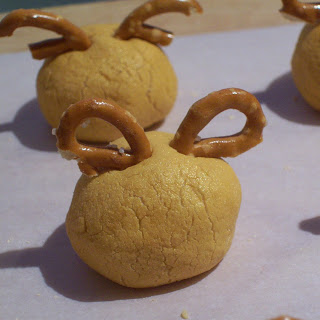 I made a batch before hand, to check that the idea worked - so these pictures are of the prototypes. They were made using lemon sponge cake, as I had some to hand that needed using. The ones the Brownies made were with plain Madeira cake. We also had some giant pretzels, so some of the girls made one big golden snitch, whilst others made 3 or 4 smaller ones.
Golden Snitch Cake Truffles (makes 3 or 4)
1 medium slice of plain Madeira loaf cake
1 very generous tsp of butter icing
1 tbsp icing sugar
1/2 tsp edible gold lustre dust
approx 6 small salted pretzels (this allows for some breakages!)
Firstly, crumble the cake up with your fingers in a bowl.
Add the icing and mix until well combined. You are looking for a doughy consistency that holds together well without being too crumbly or sticky. Add a little more icing if needed.
Mix the icing sugar and gold lustre together well on a saucer or shallow bowl.
Shape the mixture into 3 or 4 ball shaped truffles.
Roll each one in the golden icing sugar until coated all over.
Cut pretzels in half carefully, to create wings, and push them into the sides of each truffle.
Allow to harden slightly before transporting or eating.
As the icing sugar is absorbed into the truffle, the gold colour will darken.
Easy, and definitely achievable fun for kids (or adults!).