Hybrid Valentines Pancakes
I'm combining both of this week's significant celebrations into one. Although I'm not sure exactly what to call it - Shrove Valentines? Valentines Cake Day?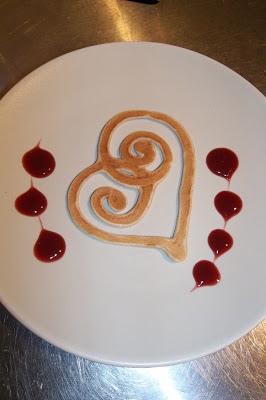 Whatever title best fits, we enjoyed the hybrid Valentines Pancakes for pudding!

I was inspired by this recipe for Orange Buttermilk Lace Pancakes by Iron Whisk. But since I had to make them dairy free, didn't have oranges, etc etc etc what I actually ended up making was Dairy Free Cherry Yoghurt Lace Pancakes. If you're in the market for orange and buttermilk, then ignore my recipe and follow the link above. If you're in the market for a cherry soya yoghurt version, then read on!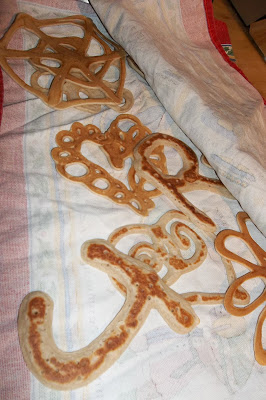 Getting in some early Halloween spiders web practice too...

Cherry Yoghurt Lace Pancakes (how many you'll get from the mix depends how dense you make your lace patterns)

130g Self Raising Flour
pinch salt
1 tbsp golden caster sugar
1 medium egg
1 small pot soya yoghurt (I used cherry)
Approximately 150ml non-dairy milk (I used unsweetened almond milk)
1 tbsp olive oil
If your yoghurt has bits of fruit in, sieve it otherwise they will clog the nozzle when you are making the lace patterns.
Pour the sieved yoghurt into a measuring jug, then add milk up to a total volume of 240ml.
Add the egg and oil and beat until the egg is broken up.
Measure the flour into a mixing bowl, stir in the sugar and salt.
Add the wet ingredients and beat well with a whisk until smooth.
The batter should be a lot runnier than drop scones, but thicker than crepes.
Heat a non-stick frying pan with a tiny drop of oil.
Pour the batter into a squeezy sauce bottle, or even a plastic food bag which you can snip the corner off.
Squeeze the batter out in your chosen pattern, allow to cook for a couple of minutes, and then very carefully turn over and cook for another couple on the other side.
Enjoy!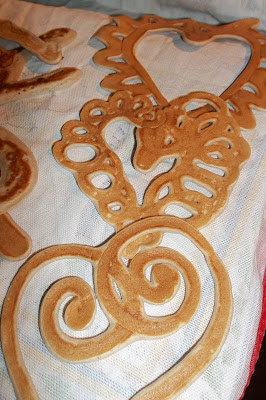 Happy Shrove Valentines day ;o)