Last-Day-At-Work Truffles
After over 5.5 years tomorrow is my last day in my current job - and after a quick Fri/Mon long weekend, I start my new one on Tuesday. So 2013 is kicking off with some fairly large changes, not least working full time again after over a year and half of being a 3 days a week part time slacker!


Over that time my colleagues have been willing guinea pigs for a fair few of my baking experiments, so I thought it was only fair I should bring in some sort of goodies tomorrow.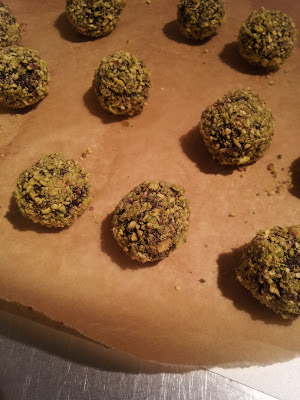 Tonight's baking experiment was some date and pistachio truffles. These are raw, easy and have no sugar added, just the sweetness of the dates. That makes them perfect candidates to be entered into the 'We Should Coco' challenge #29 with the theme of sugar free. It is organised and hosted alternately by Choclette from the Chocolate Log Blog and Chele from Chocolate Teapot. This month it's Choclette's turn, and moments ago when I looked at her blog to find out the posting specifications, I discovered that she's made date truffles too. Great minds think alike or something... and thankfully they're not identical versions!

Chocolate Date and Pistachio Truffles (makes 15-18 depending on size)

150g dates
50g boiling water
60g raw unsalted pistachio kernels
1 tsp vanilla extract
50g unsweetened cocoa powder
20g pistachio kernels ground
Before I start on the method, you might think the above is a typo, but I did actually end up weighing my boiling water, since my measuring jug was on the scales when I added it!
Put the dates in a small mixing bowl or measuring jug. Add the pistachio kernels and boiling water and leave to sit for about 15 minutes.
Next add the vanilla extract then blitz with a hand blender until it forms a thick sticky paste.
Add the cocoa powder a 1tbsp at a time and mix well (don't use the hand blender unless you particularly want to cover your kitchen in a thin film of cocoa dust). Depending on how sticky your dates are, you might not quite need the full 50g.
Roll into small balls. You want to do this when the mixture is still fairly sticky so it will coat well with the ground nuts, so if you don't like the thought of getting your hands covered in chocolatey datey gunk, then you might want to put on some food-safe disposable gloves! I just went with the gunk.
One you've shaped them balls, roll in the chopped nuts then leave to dry for a couple of hours.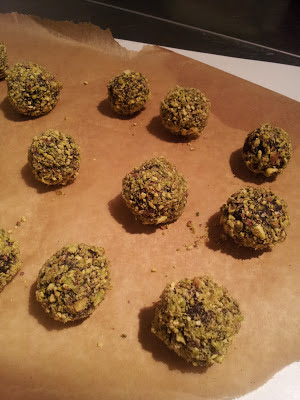 These pack a serious chocolate punch. If you don't it to be quite as intense, you could sub some of the cocoa powder with icing sugar although obviously that very quickly stops it from being no added sugar!





The folks at the office are also getting a rooibos and vanilla banana loaf form the freezer, after the Parma Violet sponge I baked didn't quite make the smooth and easy exit from the tin I'd hoped for!


Fail! Tastes good though and I've got some more parma violets left so will have to give it another shot...