A wee while ago, whilst enjoying a catch-up weekend with good friends (in the not so glamorous, but still rather lovely surroundings of Northallerton!) whilst having a cup of coffee, we challenged each other to bake - or possibly, I pressurised the other two slightly into agreeing to bake, with my general over enthusiasm for all things cake.

Anyway the long and the short of it was, that my baking task was to make brandy snaps (the others were tasked with swiss roll, and lemon polenta cake).

Brandy snaps are pretty much equal quantities of butter, sugar, syrup and flour. As always the butter was a problem! After thinking about it for a while, I decided to go with coconut oil rather than soya margarine, since it's more similar in consistency to butter, and is properly solid at room temperature, which I had a feeling might have been an important factor in the final snap. Whilst soya margarine is fine on toast, it's got quite a lot of water in it, and tends to separate when you heat it, and I didn't think there would be enough flour to bind it.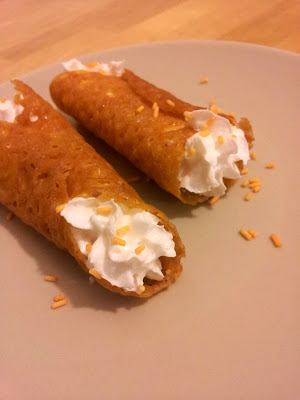 Sprinkles improve everything. Fact!

So here's my recipe, (adapted from the non-dairy-free version on the BBC Good Food Website).

Dairy Free Brandy Snaps (Makes 6-8)

15g coconut oil
25g soft brown sugar
25g golden syrup
25g plain flour
pinch ground ginger
1 tsp brandy
1 tsp lemon juice
Preheat the oven to 180C (160C fan) and line 2 baking trays with greaseproof paper.
Weigh the coconut oil, syrup and sugar into a small saucepan and heat over a low heat until melted.
Sift the flour into a bowl and add the ginger.
Pour in the melted mixture, then add the brandy and lemon juice and beat until well combined.
Dollop 3-4 heaped tsp of mixture onto each prepared tray. (They will spread a lot so leave plenty of space!). Don't worry if you've only got one tray, the mixture will still be fine after the first batch comes out and you can re-use that tray after letting it cool for a minute or two and re-lining with greaseproof paper.
Bake for 8-10mins until golden brown and lacy in appearance. They will still be pretty soft. Don't be tempted to cook them until they are hardened otherwise you'll never be able to shape them!
Leave for a minute, then when they are starting to firm up a little and are just cool enough to handle, roll around the handle of an oiled wooden spoon into tube shapes.
You might need to hold each one in shape for a few seconds to encourage it to set it place.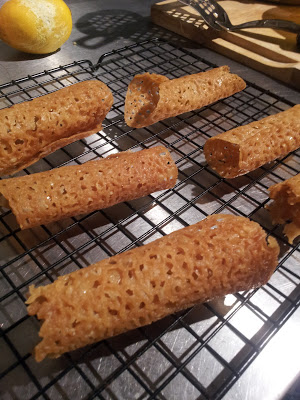 Cooled and kept in an airtight container, these will keep for around a week, however once filled they will soften quite quickly. The traditional filling is lashings of whipped cream - but having substituted out the butter to make it dairy free, it would have been slightly pointless - so instead I filled them with squirty 'SoyWhip' from a can. Sacrilegious in some ways, but it tasted good - and it provided the required cool creamy middle to snap into with each bite.

Unsurprisingly, being a) sweet and b) filled with a fake dairy soya product (she is a big fan of soya milk, yoghurt and custard) they were a hit with Mini-M who particularly enjoyed slurping the cream out through the middle like a giant straw!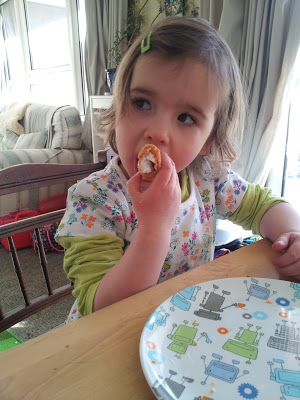 Ready...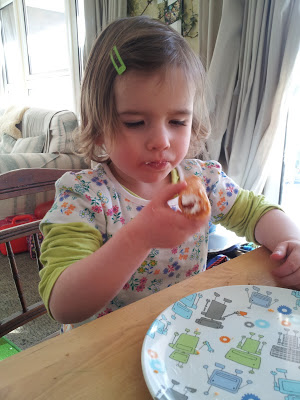 Steady...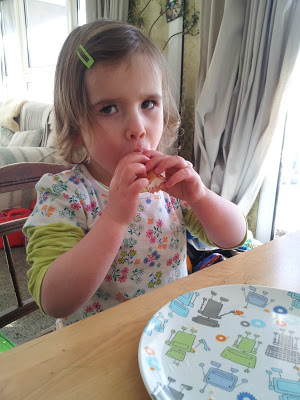 Slurp!

They were definitely a dairy-free substitution success though - no discernible taste difference (from what I can remember, since the last time I actually ate a brandy snap was probably about 10 years ago - they're not a regular feature on many peoples' menu rotations I'd not have thought).