"My having Kitty pirate cake" Oh really?
Mini-M turned 2 a couple of weeks ago.

The weeks running up to her birthday are well and truly party season, as lots of her friends in very quick succession, so by the time hers came along, she was well versed in birthday parties!

We were walking home in the buggy one day and chatting about her birthday party, discussing the fact that we were going to be having a BBQ. "Sausages" she said. "Too hot. Cooling down. Blow on it" I confirmed that there would be sausages, and one of the unfortunate drawbacks of BBQing them (or indeed cooking them any other way) was that for a little while at least they would be too hot. "And cake" she continued. "Having cake". I said there probably would be cake too. "My having Kitty pirate cake" she added. "Pardon?!" I replied (although possibly it came out more like "WHAAAT!?!?" "My having Kitty pirate cake" she repeated very clearly and deliberately. A little more discussion revealed that was indeed exactly what she meant. Hello Kitty pirate cake.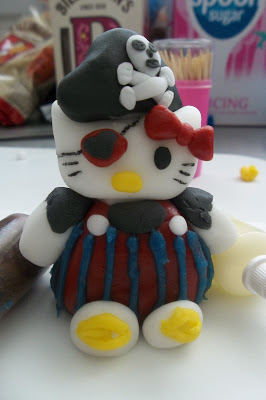 Hello Kitty Pirate says Miaowarrgh!

As soon as Mr E got home, he was immediately questioned. Have you been discussing birthday cakes with Mini-M? Did you put her up to asking for a Kitty pirate cake? etc etc. No, and no.

So Kitty pirate cake it was. Goodness knows how she came around to imagining that concept... but given that she had, my job was to create it in cake!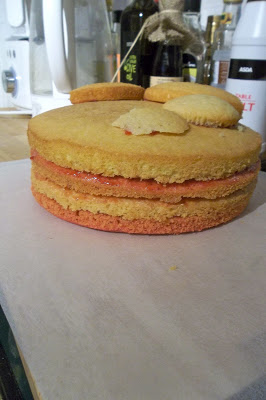 2 layers vanilla sponge and 2 tinted with beetroot, with 'islands' on top

I made the cake 5 days in advance, sandwiched the layers with jam, used some muffins I made with the same mix, then wrapped it in greaseproof paper and tinfoil and froze it until the day before.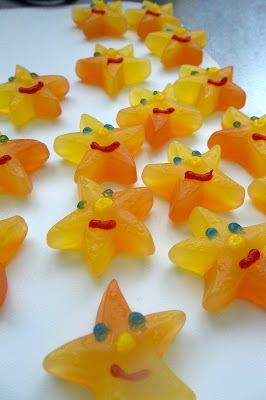 I used coloured writing icing to give some jelly fruit stars faces

And since everyone and everywhere seems to be Olympic daft at the moment, I thought I'd include these two, of some happy starfish synchronised "swimming".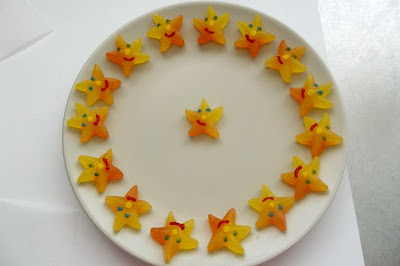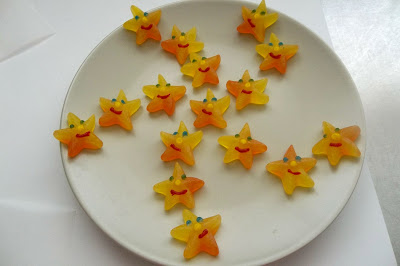 Now on to Kitty herself. I used some ready coloured Renshaw fondant, and a soft toy for inspiration. I did all the modelling for Kitty (in fact pretty much for the whole cake) using just a butter knife and a cocktail stick.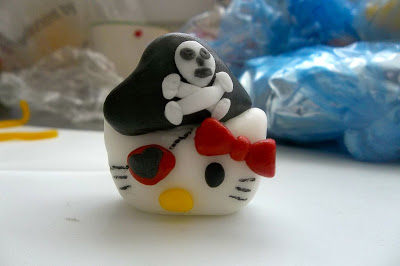 Head - check! Onto the body...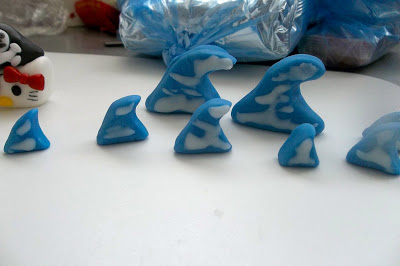 Waves or sharks?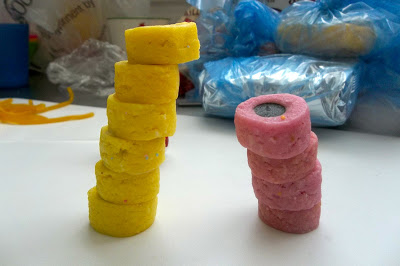 Palm trees in the making

I used some Liquorice Allsorts stuck together with royal icing to make the trunks of some palm trees. I used strawberry laces to top the pink one, and made some fondant leaves plus a foam banana sweet to top the taller yellow one. To get them to stick to the cake, I stuck a cocktail stick halfway into the base of each, which then helped anchor it to the cake. I did the same to Kitty - which seemed slightly brutal, but it did the job, and she survived the 15 mile car journey unscathed.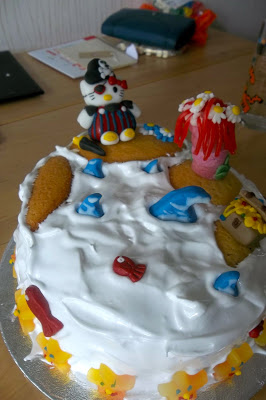 Assembled save the palm trees, which I left off until we arrived.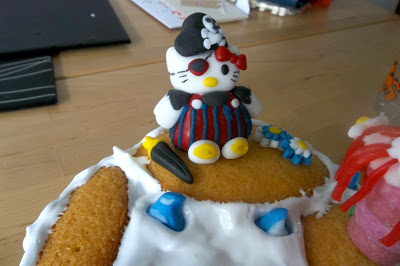 Kitty on her island complete with cutlass.

Looking at this picture, I just realised that I lied - I used some tiny daisy cutters for the flowers. You can do magic with a butter knife and cocktail stick, but possibly not quite that neatly!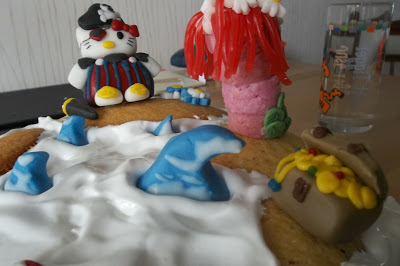 Pirate treasure!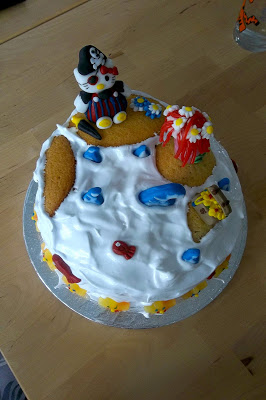 Birdseye view - or perhaps from the crowsnest!

And now for a few cake-in-action shots... (taken by my Dad - Thanks Grandad N!)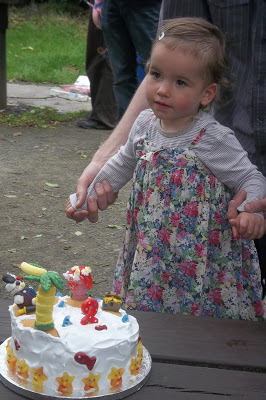 A moment of pre-cake contemplation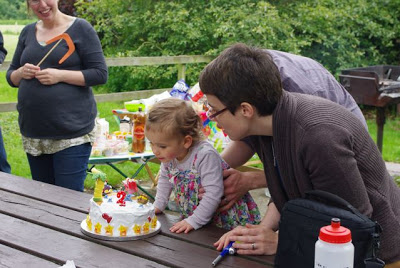 Blowing out the candles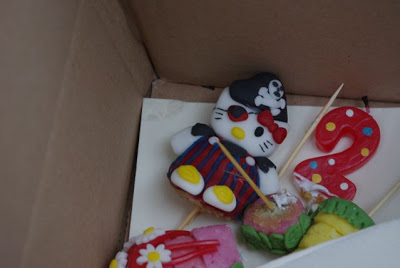 Kitty's work is done!