Not Baking but Faking: Giant veggie sausage roll
There area officially not enough hours in the day.
I'd personally like about 28 each day I think - if anyone could sort that out it would be much appreciated!
Until then, shortcuts are required: kitchen time is finite, and since I use up a fair amount of it baking birthday cakes for Free Cakes For Kids, what's left has to be quick and easy.

Today's lunch creation is definitely in the category I'm christening "Not Baking but Faking". Really tasty though, so I'm sharing it here.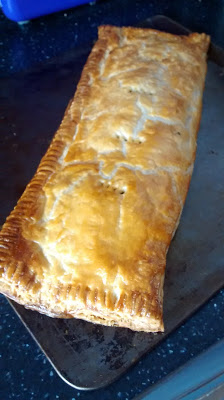 Giant Veggie Sausage Roll (serves 4)

1 sheet ready rolled puff pastry
1 pouch cauliflower rice (I used Cauli Rice Indian Pilau style)
1 single serve instant grain pot (I used Artisan Grains mint tabouleh pot)
1 small snack-size humous pot
1 egg, beaten
Take the pastry out of the fridge about 30 mins before you want to use it.
Preheat the oven to 180C.
Make the grain pot according to the pack instructions.
Mix together the rehydrated grains, cauli-rice and humous together.
Unroll the pastry.
Spread the filling in a line down one half long-ways, leaving a centimetre gap all around the edge for sealing.
Brush around the edge very lightly with beaten egg, then fold over the other half.
Seal by pressing down with a fork.
Brush all over with the rest of the beaten egg.
Pierce a few fork holes in the top to allow steam to escape.
Slide onto a baking sheet and bake for around 30-40m until golden brown and puffed up.
Cool very slightly before slicing and serving.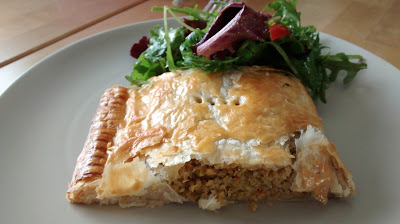 We enjoyed it with a salad. The filling stayed nice and firm - making it a good veggie sausage roll contender, just with a lot more flavour.