October Daring Cooks Challenge: Bitterballen
Two consecutive junk food posts in a row. Jeeps! Once upon a time I posted healthy recipes.
We still eat a lot of really good healthy food, just that time is as always short, and often it is just not that photogenic! It's hard to make cabbage stew look amazing. Particularly now that it's getting dingy for the winter.

But I'm holding up the fact that Mini-M was one of the only kids at nursery to polish off her vegetable goulash at nursery on Monday as proof that healthy food is frequently on the menu.

So whilst I give myself a "could-do-better" for blog content, if not our actual diet, let's return to the junk, and this month's Daring Cooks' Challenge.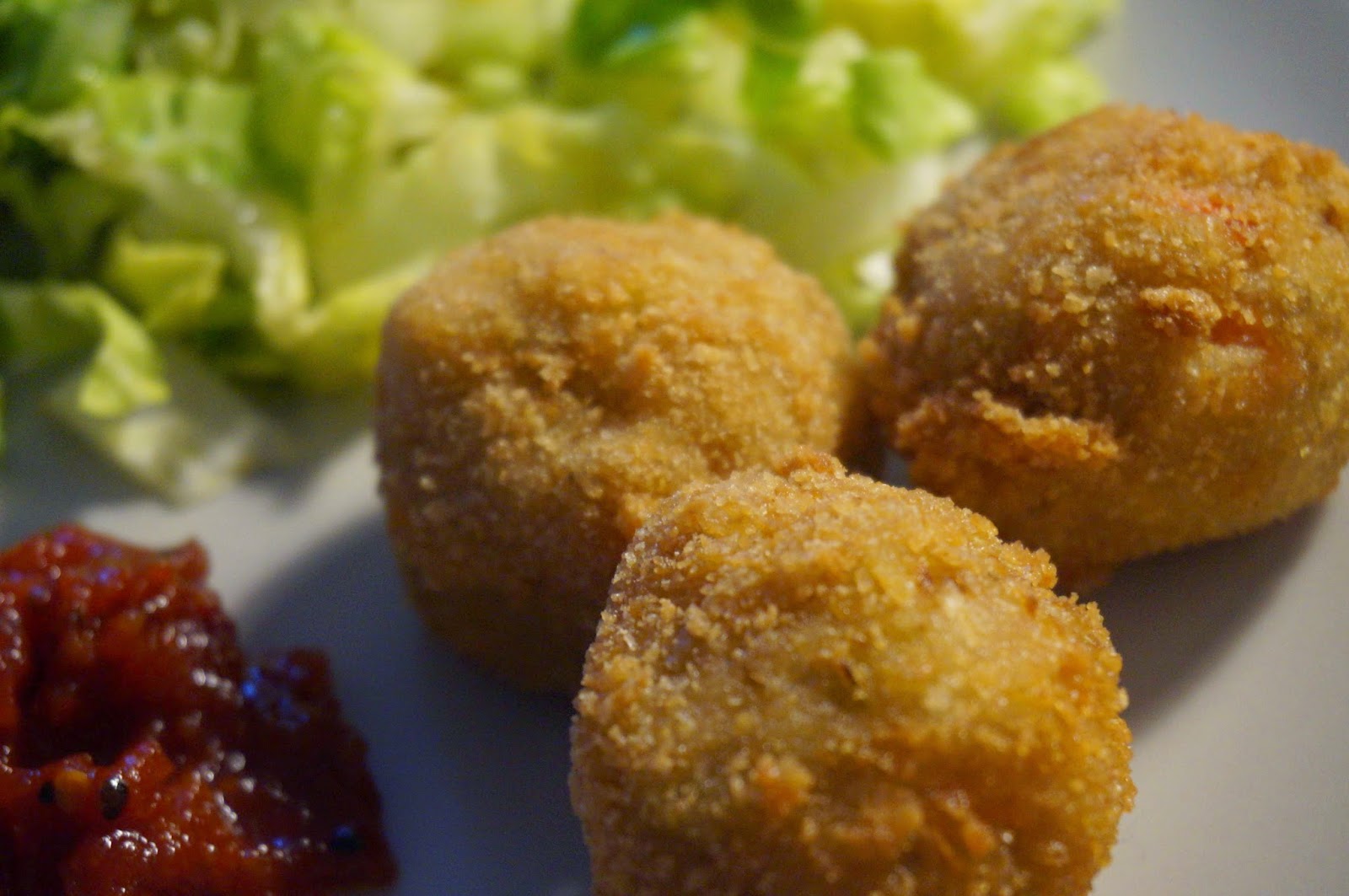 Blog Checking Lines:
"The October Daring Cooks' Challenge was brought to us by Andrea from 4pure. She introduced us to one of her family favourites which is soon to become one of yours, too. Welcome to the world of Dutch Bitterballen!"

These are small deep fried croquettes and are traditionally filled with meat, seafood or cheese. They are a popular snack bar item, and apparently your average Dutch person eats around 25 per person per year.

The filling is held together in a thick roux, which is then chilled, rolled into balls, crumbed and deep-fried.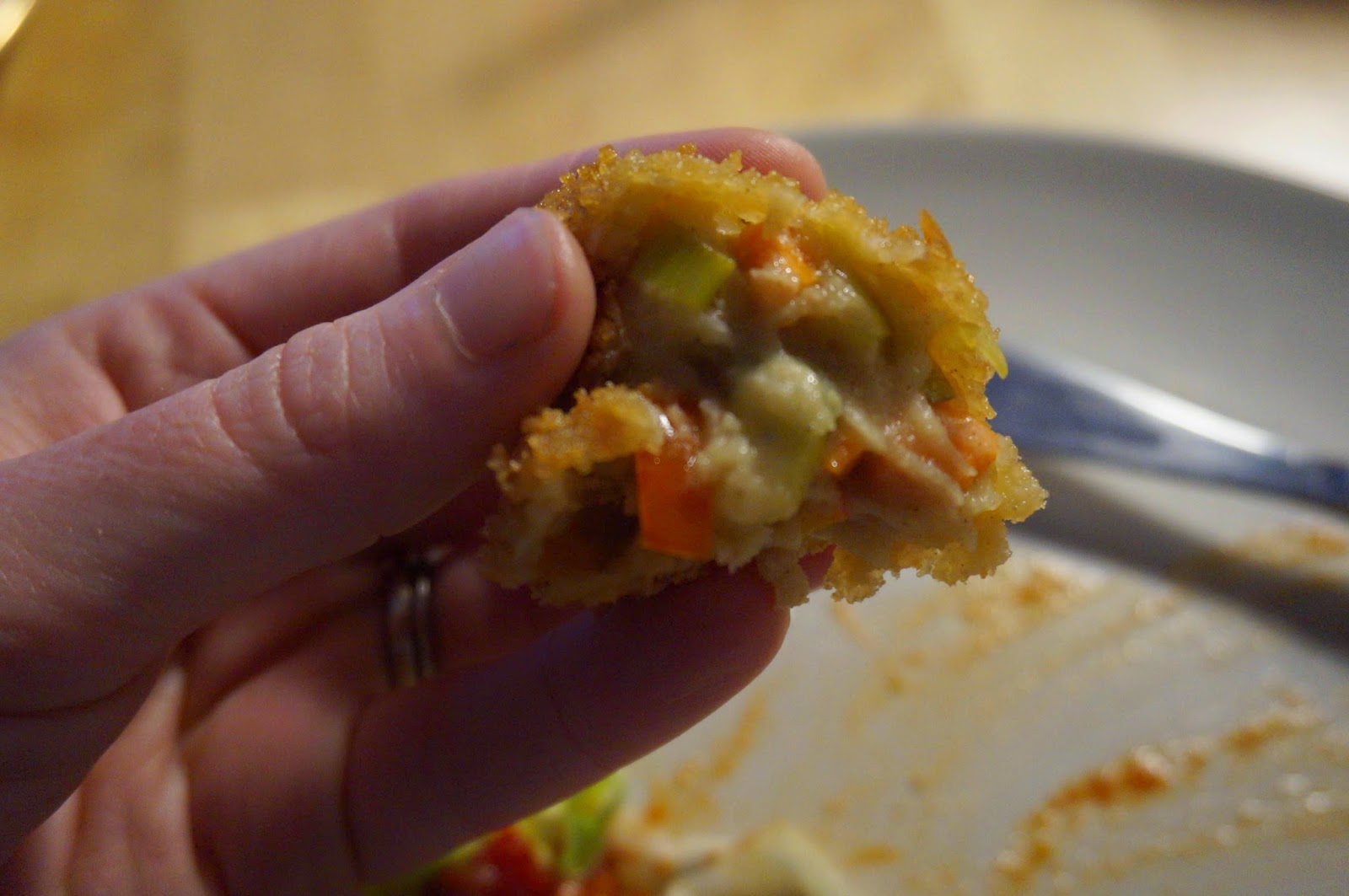 I halved the recipe since it was just for our family dinner, and made a spicy vegetable version. They were really tasty, so I'm sharing my recipe here.

Spicy Vegetable Bitterballen (Makes around 15)

1 small leek finely chopped
1 medium carrot finely chopped
1 very small pepper or 1/2 regular sized one finely chopped
6 cherry tomatoes finely chopped
1 tbsp Rendang spice paste
60g olive oil
70g plain flour
500ml vegetable stock
salt and pepper
1 egg
flour and dry breadcrumbs for coating
Heat a little splash of the oil in a small frying pan and fry the Rendang spice paste for a couple of minutes, then add the chopped leek and sauté. Next add the carrot, pepper and tomato and cook until just softened, then take off the heat.
In a small saucepan, heat the rest of the oil, add the flour and cook for 2-3 minutes, then add the stock, salt and pepper and stir until smooth and thick.
Take off the heat, stir through the vegetables, then pour into a tupperware box and chill for 3-4 hours in the fridge.
When you are ready to cook the Bitterballen, heat oil for deep frying in a pan or fryer. I used sunflower oil, and had about 700ml oil in a small saucepan which gave just enough depth. Check it is hot enough by dropping in a little piece of bread and seeing if it turns golden and crispy.
Whilst the oil is heating up, beat an egg in a bowl, and set up a production line with a bowl of egg, one of flour and one of breadcrumbs.
Take the chilled mixture out of the fridge and roll into golf-ball sized balls.
Coat each ball first in flour, then egg and then breadcrumbs.
Fry for around 3-4 minutes each. The filling is already cooked so it just needs to be heated through and the outside browned.
Drain on kitchen paper and enjoy hot.

We had them served with salad and chutney (or ketchup for Mini-M). It was delicious, if not exactly traditional!

It was great to be able to make a challenge recipe without extensive modification to omit the dairy - just the olive oil instead of butter, because even in the original recipe the roux is made with stock.

Thanks Andrea for a very tasty challenge.