Random Recipes 27: Number Generator Muffins
The theme of this month's Random Recipes Challenge, dreamed up and hosted by Belleau Kitchen, was to use a random number generator to come up with the cook book number, and page number to determine which random recipe to cook.

I was full of enthusiasm at the start of the month when the challenge was launched, used the number generator, found my book and recipe, then did nothing until the middle of last week. Oops! By which point I'd forgotten entirely what my random book number had been. The recipe page number was a bit easier, as I'd bent the corner over - 56!

My book was the Australian Womens Weekly "Muffins" book. I've made a fair few of the recipes in this before, however not the one on page 56 which was for Hazelnut Plum Muffins.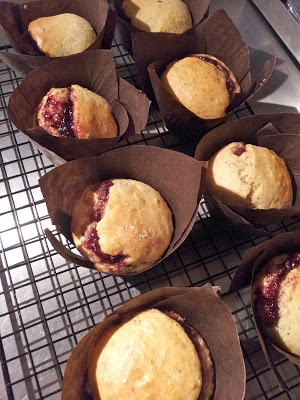 I did remember to buy hazelnuts for this - success, however my shopping didn't stretch to plum jam, since we had a jar of 'Country Berry' open in the fridge and needing to be used up (it's too seedy to meet with Mini-M's seal of toast approval!).

As usual, I switched ingredients to make it dairy free, and reduced the quantities. So here's my version:

Jammy Hazelnut Muffins (Makes 8 medium muffins)


45g dairy free margarine
185g Self raising flour
30g hazelnuts (mine had skins on)
75g caster sugar
1 egg
110ml soya milk
8 tsp jam

Preheat the oven to 180C (160C fan).
Line your tin with cases (I used large cases in a bun tin to get medium sized muffins).
Blitz the hazelnuts in a food processor or with a hand blender until they resemble coarse ground almonds.
Melt the margarine in your mixing bowl by giving it a quick zap in the microwave.
Stir in the sugar and hazelnut meal, then beat in the milk and egg.
Add the flour and beat until combined.
Put a small dollop of mix in the bottom of each case, then top with a teaspoon of jam, and another dollop of mixture.
Bake for around 18mins until risen and golden on top.
Cool on a wire rack (unless you like scalding your mouth with burning jam, in which case dive straight in...)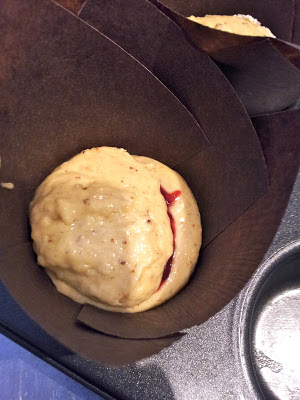 Oops - didn't do a very good jam hiding job - no wonder it oozed out during baking!


I really liked these - the hazelnuts give it a great flavour, even from a relatively small amount, and the jam makes them fun. In fact, if I'm really lucky, there might still be one lingering slightly stale in the bread bin to take to work tomorrow and rejuvenate with a quick zap in the microwave come coffee time! That'd make for a happy Monday morning :o)

I wonder what next month will bring...?