Random Recipes #35… My Mum's Kitchen Cupboard
Yet another last minute Random Recipes post. Thankfully this time no last minute cooking was required!

The theme for Random Recipes #35, hosted and masterminded as ever by Belleau Kitchen, was dare to bare - of the larder rather than body variety you'll all be relieved to hear.

However… I forgot to take any pictures of my own larder, before heading down to spend a few post-Christmas days with family, so instead, I give you all a last minute virtual tour of my Mum's larder. The chaos of mine shall remain hidden for another day.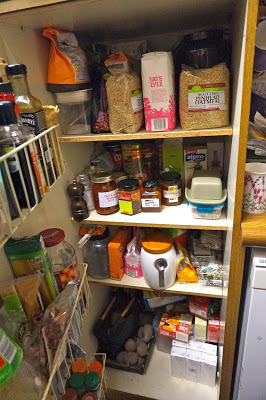 Top shelf…. extra strong wholemeal bread flour, then some icing sugar sandwiched between LOTS of oatmeal (well we are Scottish after all!).
Next shelf down - jams, chutneys (a fair few homemade from a variety of grown up children and friends - myself included), some soya custard, manuka honey and real butter.
Next shelf down - dried fruit, nuts and seeds galore (by the look of it another half-pack of icing sugar too. Clearly stockpiling icing sugar is a family trait - I think I have 3 boxes in my cupboard).
Bottom shelf - muddy allotment potatoes, cartons of juice, some vintage rice crispies that Mini-M hasn't noticed are possibly slightly stale, and some free-from strawberry macaroon slices.
In the door there's an assortment of spices, vinegars, oils and sauces, plus a bit tub of muesli just out of the shot.

Indeed one of the bottles on the top shelf is some rosehip syrup which I used today to make some cake with - however since I've not taken a picture of it yet, that'll have to wait until another post - if it's any good.