Random Recipes: Tangerines and Tea!
It's time to blog March's Random Recipes challenge. The event as always is hosted at Belleau Kitchen, and the theme this month was Cuttings, Memories and Clippings.

We were encouraged to randomly delve into our stash of recipe clippings and tonight I did. I have to confess the randomness was slightly less than random... It needed to be something sweet, since main course was already taken care of.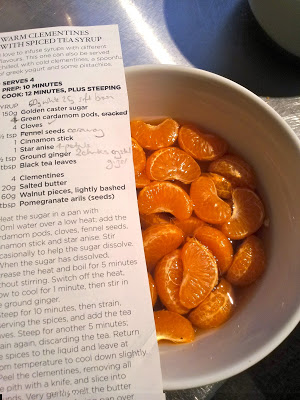 Better than tinned mandarins!

I duly tipped out all of my pudding and baking recipes and kept picking at random until I found one that was a) convertible to make it dairy free and b) I had enough of the ingredients to give it a shot without having to go to the shop. After about 8 failed random picks (some of which did sound lovely!) I ended up with this one: Warm Clementines with Spiced Tea Syrup.

I've snipped it from a magazine at some point in the past 10 years, and based on the typesetting I had a hunch it was probably a Waitrose Food Illustrated. A quick google search confirmed that - here's a link to the recipe on the Waitrose website.

I thought I should provide you with a link to the 'real' recipe, since as usual I changed a whole bunch of things! I abandoned the whole toasted walnuts bit, and the sauteeing the oranges in melted butter (for obvious reasons!). I also just peeled and segmented the oranges as usual, rather than paring off the skin and slicing, because they were teeny and I'd probably have ended up mutilating my hands in the process. I missed out the cinnamon stick because we didn't have any, used crystallised ginger instead of fresh, entirely missed out the pomegranate - the list goes on! Here's my version...

Tangerines and Tea (aka Warm Clementines with Spiced Tea Syrup) Serves 3


4 small tangerines (or clementines but I used tangerines because that's what was in the fruit dish)
50g caster sugar
25g soft brown sugar
4 green cardamom pods
4 cloves
4 star anise 'petals' (or a whole one, but I was using up the broken bits at the bottom of the jar!)
2 chunks of crystallised ginger
1/2 tsp caraway seeds
1 tbsp black tea leaves
200ml water

Put the sugars and water in a small saucepan and heat on low until the sugar has dissolved.
Add the cardamom, cloves, star anise, crystallised ginger and caraway and boil fairly vigorously for 5 mins.
Take off the heat and allow the boiling to subside, then add the tea and steep for 5 mins.
Strain through a fine sieve to remove all the bits and pieces.
Peel and segment the tangerines (remove any pips you can see) then put them in a bowl and pour over the syrup.
Allow to steep for at least another 10 mins.

We enjoyed ours over some dairy free coconut ice cream, with teeny mini pancakes.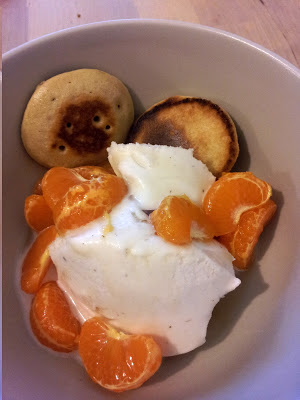 I didn't think Mini-M would be a fan of the syrup, but she was - I guess as well as tasting of tea and spices it was fairly sweet which to a 2 year old probably overrides everything else! Indeed immediately after finishing her last spoonful, she asked if there would be the same again tomorrow - and I breathed a sigh of relief that I'd kept a little bit back just in case.

This is a quick and easy recipe, with very little fuss, and is a great way to fancy up a few little oranges - a good Random Recipes find!