It's time to write up my Spring Surprise Ingredient Swap entry post - a whole week before my self imposed posting deadline - phew! As the swap instigator, it would have been slightly awkward (although not unlikely!) to be late.

I was paired with the lovely Lou who blogs at Please Do No Feed The Animals.

She sent me some gold decorating glitter, and a dairy free chocolate Easter egg, with a lovely message instructing me to try the egg, and if the chocolate was any good just to eat it, rather than baking anything - and I took her at her word!

I had been pondering how to use the gold glitter dust since her package arrived, and I was undecided, however the arrival of a new baby (most definitely not ours but some lovely friends'!) at the weekend seemed like a good reason to break out the glitter - and indeed it played an integral part of the Saturday morning entertainment for the new-big-brother whilst his parents were at the hospital. I'm not sure this is entirely the level of sophistication that was envisaged when Lou chose and posted her ingredients, however it most definitely brought some extra sparkle to our weekend!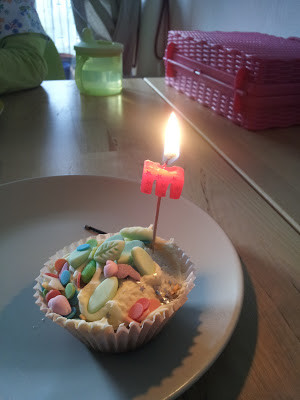 A mini-M for Mini-M

The cake recipe I used was a new one to me, and came from 'French Children Don't Throw Food' which is not a recipe book in any way, but a comparison of Anglo-English and Parisian parenting. And whilst the book was interesting, I was probably disproportionately intrigued by the one recipe it did contain, for a cake that is apparently made by small children all over France and is an important symbol of French childhood - Yoghurt Cake. Not only does it contain yoghurt, it is measured using yoghurt pots instead of scales, and that simplicity made it an ideal candidate for double toddler baking.

As usual I made the recipe dairy free, and halved it since we were making 2 different flavours of cupcakes.

Dairy Free Yoghurt Pot Cupcakes (makes 12)


1 small pot of flavoured soya yoghurt (raspberry and blueberry both worked well)
1 pot caster sugar
1/2 pot milk olive oil
1 egg
2 pots self raising flour

Preheat the oven to 180C (160C fan - or if you are doing this with little ones, on the floor, in front of the oven, just leave it cold and turn it on once the cakes are in - they still worked fine - phew!)
Line a 12 hold bun tin with paper cases
Tip the yoghurt pot into a mixing bowl - small people can begin mixing whilst the yoghurt pot gets a quick rinse.
Add the oil and egg and mix.
Next add the sugar and give another mix
Then the SR flour.
Adults had to give a helping hand after the flour was added so that it did actually get mixed in and there weren't big clumpy bits in the finished cupcakes.
Drop spoonfuls of the batter into the cake cases - don't fill more than halfway as they puffed up a lot!
Bake for 15-20 mins until risen and golden and springy to the touch.
Cool on a wire rack.

There was great concentration during the ingredient measuring - spooning the sugar and flour in until the pot was full and tipping it in the bowl. And also general excitement that the 'egg got hidden by the yoghurt' after mixing.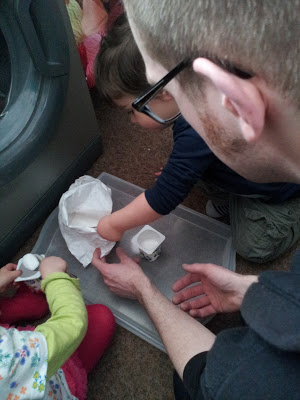 Sugar spooning operation in progress

As for the icing - well I had a some white chocolate butter icing left over from a wedding cake I had made at the end of last week, so that went on half, and the other half got some slightly less delicious, but conveniently dairy free instant Betty Crocker ready mixed vanilla frosting. I know - I hang my head in shame and wait to be struck down by the baking gods!

During the general hubbub I forgot to take photos of the combined masterworks, but did take a few pictures just before we ate one each for pudding that night.

And so to the gold dust - it was liberally sprinkled along with a variety of other less glamorous cake topping flotsam - and some of it even landed on the cakes. Every cake needed a candle too (well, it was a birthday after all) - some more than one.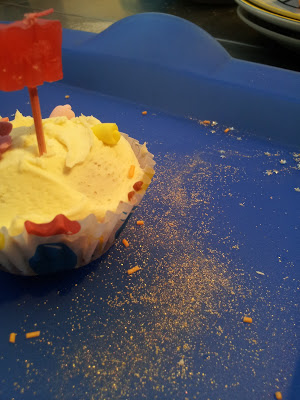 Low accuracy on the glitter sprinkling for this one...

So thank you Lou for a fantastic surprise ingredient!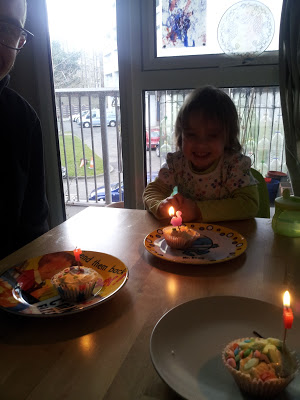 Time to blow out the candles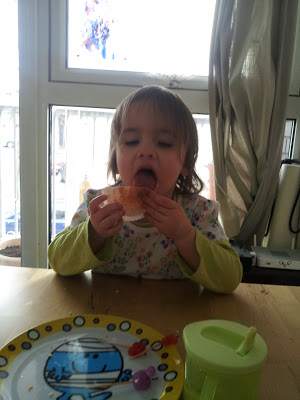 Hoovering up every last crumb from the cake case!

PS - a very unrelated side note... how do you spell yoghurt?! Blogger spell check does not like mine - but I'm sticking to my guns :o)

I'm also entering these for April's Tea Time Treats challenge, where the theme is Fairy Cakes, Cupcakes and Muffins which is hosted alternately by What Kate Baked and Lavender and Lovage. It's Kate's turn this month - thanks for picking a topic that was easy to get on board with!