Sprouts & Carrots with Orange, Honey & Hazelnut
Sprouts - the most divisive of vegetables.
I love them. Mr E tolerates them without too much fuss, because he knows they are healthy - and 2 veg box winters significantly increased his sprout tolerance.

However… lots of people out there are avid sprout haters, yet seem to feel obliged to eat them because they are traditional at Christmas. I'm kind of the opinion that if you hate them that much, then just don't eat them! If you're able to make the autonomous choice to try to find a recipe to disguise them, then pick another vegetable instead that you do actually enjoy, and eat lots of that, rather than a token brussel sprout.


Delicious - sweet, nutty, sprouty goodness

A fair few of the recipes for sprout haters make them more palatable by adding lots of bacon. Which I know is a delicious taste combination, but I've also got a bit of a thing about vegetable side dishes that have meat in them. Or gallons of cream and cheese (aside from the obvious dairy issues). I think veggies should be primarily vegetarian, and reasonably healthy.

Before I get too carried away with my opining, I think I'd better crack on with my recipe!

This recipe enhances the sprouts without trying to pretend they are bacon. It's vegetarian, and if you used maple syrup instead of the honey it would be vegan too. I'd see it more as a gentle introduction to those that are a little uncertain about sprouts, rather than a dish to covert haters!


Proper Sunday dinner comfort food

Sprouts & Carrots with Orange, Honey and Hazelnuts (Serves 3 as a side dish)


12 medium brussels sprouts
1 medium carrot
1 tbsp olive oil
1 tbsp honey
juice of 1 satsuma / clementine
1 heaped tbsp skin on hazelnuts
Salt & pepper

Peel the carrot, and trim the outer leaves and base off the sprouts.
Slice the carrot thinly, and shred the sprouts (or quarter them - whatever you find easier).
Heat the oil in a large frying pan.
Sautee the carrot and sprouts over a medium heat until they are starting to become tender but still with a good crunch.
Add salt and pepper to taste, then squeeze in the juice of a small orange (I used a satsuma - clementine would give a more orange-y flavour), add the honey and the hazelnuts.
Stir well to combine, then cook for a few minutes longer.
Serve hot with your chosen main.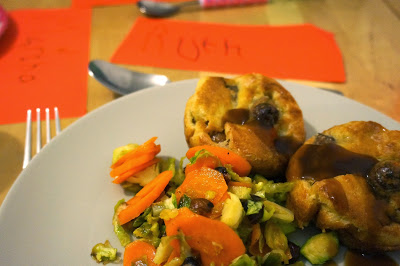 Place cards carefully written by Mini-M whilst waiting for dinner to be ready

We ate this along with cocktail sausage toad-in-the-hole and gravy which was fantastic comfort food after a very cold day outside.

The big question… did Mini-M eat them? Well, sort of. She ate several pieces of sprout and quite a few bits of carrot. The hazelnuts we soundly rejected - even though she'll happily eat them in snack mix. Kids are a law unto themselves in so many ways!