Stale Bread (and mushroom) Soup
Stale Bread Soup. Doesn't sound very appealing, but tastes lovely when you add mushrooms, sweetcorn and onion into the mix.

It tastes like a Pot Noodle - but in a good way - the momentary niceness of a pot noodle before all the weird stuff makes your mouth/insides go funny. I think it's probably the creamy mushroom and sweetcorn combo doing its delicious thing.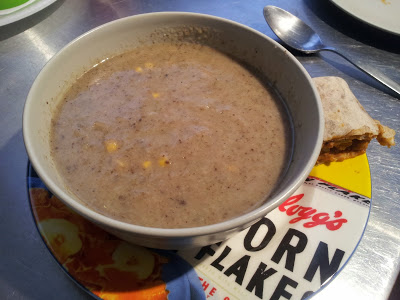 Tasty - but not so pretty

And it's also creamy - but still dairy free - magic! The magic of oat milk.

As an aside, Mini-M is into magic at the moment - she thinks she is a bit of a magician - her latest superpower is being able to use the electric windows in the car - she's not yet realised that actually Mr E has control over them... She's also a fan of magically making things disappear by either a) dropping them on the flood behind her back, or b) flinging them very very unsubtly off to stage left. And there's a magic word to pass her at the top of the stairs on the way to bedtime. We have to guess. The other night it was apparently 'Towel Carpet Budgie' - it can be a lengthy process sometimes!

Back to the soup...
I'm submitting this for the September No Croutons Required challenge hosted by Tinned Tomatoes, which is to create a veggie soup or salad using Mushrooms. Job done.

Creamy Mushroom Soup (Serves 4 as a main meal or 6 as a starter)


4 slices of stale wholemeal bread (I used Polish wheat & rye sourdough)
2 small onions
1 tbsp olive oil
350g mushrooms
1 corn cob
500ml oat milk
500ml water
1 veggie stock cube
salt and pepper

Heat the oil in a large saucepan.
Chop the onion and sautee for a few minutes.
Meanwhile cut the mushrooms into chunks, strip the kernels off the corn cob with a sharp knife, and tear the bread into pieces.
Add the mushrooms to the onions and cook for a few minutes more, then add the oat milk, bread, water and stock.
Simmer for about 15 mins, then take off the heat and blend until smooth.
Return to the pan, add the corn kernels and simmer for another 5 mins.
Season to taste and serve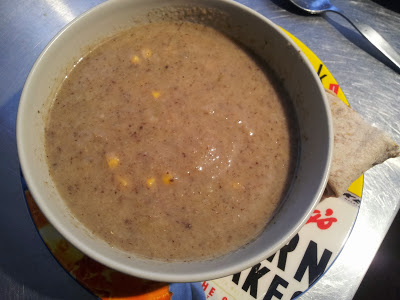 Soup to match the current weather - a bit murky!

This is definitely the most convincingly creamy non-dairy creamy soup I've tried. It doesn't have that weird soya milk taste, and also doesn't taste like porridge (just in case you were wondering!).

And it's ready in half and hour, and uses up stale bread (sorry ducks...) - a winning combo.

As such, I'm also going to submit it to the No Waste Food Challenge, masterminded by Turquoise Lemons and hosted this month by Elizabeth's Kitchen Diary. And let's face it - soup that delivers a little bit of the moral high ground, as well as being hearty and warming is even tastier.