Super Spicy Squash & Split-pea Soup
Now that I've got all that alliteration out of my system, here is a recipe for a really delicious soup I accidentally invented a few weeks back, when we got a knobbly orange pumpkin-y squash-y thing in our veg box from East Coast Organics.




It's hearty, creamy, spicy, filling, tasty, economical and orange. All great soup attributes! I'm sure it would work equally as well with any type of squash or pumpkin.

Super Spicy Squash & Split-pea Soup (Serves 4)


1 onion
1 garlic clove
1 small hot red chilli (thanks Mrs H!)
1 sachet of creamed coconut
3 tbsp yellow split peas
1 large squash or small-medium pumpkin
1 tbsp olive oil
600ml chicken or vegetable stock (from a cube or powder is grand)

Heat the oil in a large saucepan, crush the garlic, chop the chilli and the onion and fry until softened.
Peel, deseed and chop the squash and add to the pan.
Add the split peas, then pour in the stock.
Add the creamed coconut and stir until dissolved.
Bring to a boil and simmer gently until the squash and split peas are cooked.
Allow to cool slightly, then blitz with a magic wand, or liquidise.
Enjoy the spicy orange deliciousness!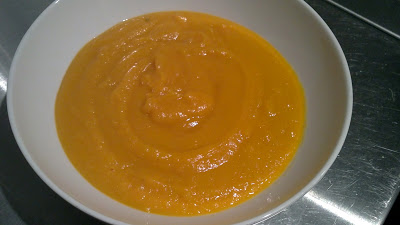 Apologies for the less than glamorous photos - they really don't do it justice, but soup is a tricky thing to photograph, particularly with no natural light!