Time has gotten the better of me this week - I had good intentions that this would be Monday's post - but somehow it's Friday already!

On Sunday last week, I organised and hosted a raw truffle making workshop as part of the Edinburgh Health Socialising Group calendar of events, which saw eager truffle-makers turning up on my doorstep, armed cake tins to take home their spoils, to learn how to make some healthy truffle treats.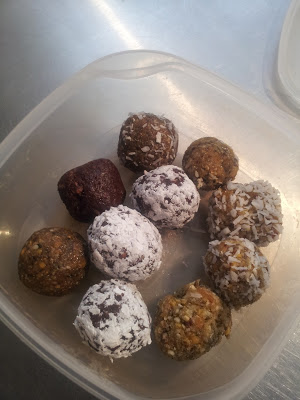 A veritable raw truffle selection box!

It was the first time I've organised a group workshop like this, and the first time any of them had attended such an event, so it was new for everyone, and I think (hope!) I'm not alone in saying it was a fun afternoon.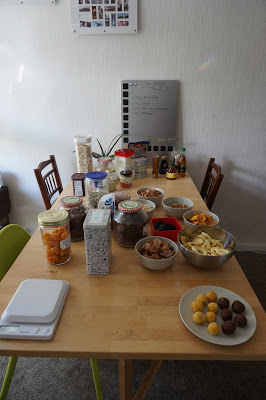 Ingredients set out and ready to go

There was chatting, tea drinking, measuring, mixing, blending, discussing, rolling, and of course tasting.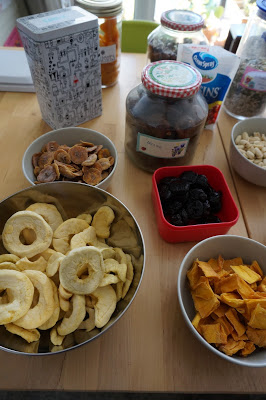 The fruit choices: apple, mango, prunes, banana, figs, dates, raisins, apricots, cranberries

Everyone made different varieties to suit their own personal preferences, choosing from the array of nuts, fruit, seeds, flavours and flakes on offer.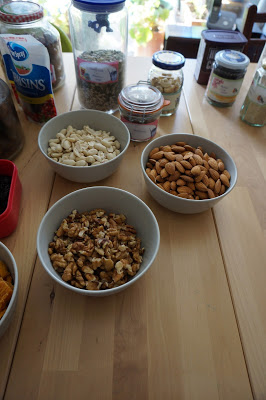 The nut selection: Almonds, walnuts, peanuts, hazelnuts, cashew nuts, sunflower and pumpkin seeds

Raw truffles are so easy to make - you really can't go wrong - it's not so much a recipe as a blueprint that you can modify in an infinite number of ways.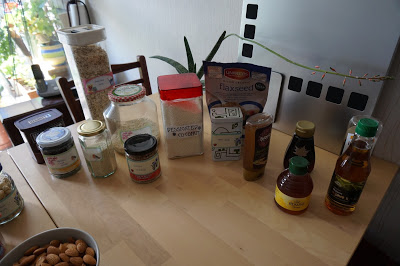 The 'other': cocoa, linseed, flaxseed, chia seed, coconut, poppyseed, rolled oats, quinoa flakes, agave, honey, maple syrup, rice syrup

Here's the 'Recipe'
Raw Truffles
Makes 12-16 depending on size


150g dried fruit
60g nuts
50g other dry ingredient
50g boiling water
1 tbsp liquid sweetener (optional) e.g. honey, agave, maple syrup

Put all your ingredients into a bowl and let soak for about 10-15 mins.
Blend - either using a food processor or hand blender until it forms a single sticky mass.
Roll into balls and coat if desired.

Enjoy instead of a biscuit and feel healthy!

I made a couple of examples for everyone to taste - coconut, apricot and cashew (using 150g dried apricots, 60g cashews and 50g unsweetened dessicated coconut) and chocolate peanut date and oat (using 150g dates, 60g peanuts, 45g rolled oats and 5g cocoa powder).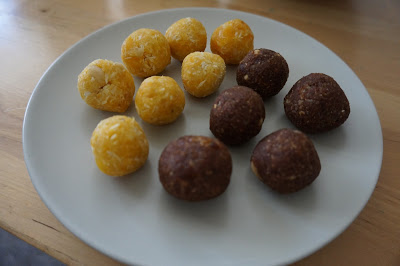 Coconut apricot and cashew on the left, chocolate peanut date and oat on the right

So how healthy are they: well, let's get the first thing straight - healthy isn't the same as low calorie - they are full of nuts and dried fruit - they have calories! But they aren't full of junk, so they aren't empty calories - they provide nutrition as well as sugar!



I did a quick online nutritional breakdown, entering my recipe ingredients and serving size, and they generally are about 50-60 calories each - similar to a biscuit, (or 1/5 of a Mars Bar).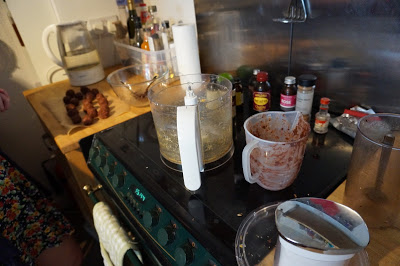 Sticky!


But unlike most biscuits and definitely all Mars Bars, they are full of fibre, pack a little bit of protein in, and depending on which fruit, nut and seed combinations you use, can be loaded up with Vitamin C, Vitamin A, Iron, Calcium - you can tailor your ingredients to provide the nutrients you need.



Thanks to those that came and tried something new!