The Daring Bakers' March 2013 Challenge - Hidden Veggies
I thought I should put in an extra concerted effort to post this month's Daring Bakers' challenge on time, since I was in fact the host!

Here's the obligatory challenge post blurb to prove it...

Ruth from Makey-Cakey was our March 2013 Daring Bakers' challenge host. She encouraged us all to get experimental in the kitchen and sneak some hidden veggies into our baking, with surprising and delicious results!

Yep - I was the evil mastermind behind this months challenge which saw bakers around the world going to great lengths to disguise some veggies in their cakes, bakes, puds and sweets. And boy did folk get creative - in fact I'm going to post a roundup of some of the most inspiring offerings tomorrow, once everyone has published their posts.

In the challenge specification I gave everyone free reign to use whatever veggies they wanted, however they felt like it, although I also gave them a couple of suggestions - Banana and Spinach Muffins, Chocolate Cashew Kidney Bean Brownies, and Parsnip and Caraway Cake which have also previously featured on Makey-Cakey.

As well as encouraging others to get creative in their veggie hiding, I obviously had to join in too, and got a little bit carried away, squeezing in three different hidden veggie experiments this month.

Firstly, I thought I'd pay tribute to my Scottish-ness and make traditional Scottish Macaroons. These are a million miles away from the elegant French macarons which are delicately flavoured, pastel coloured sandwiches of crisp sweet almond perfection. In fact, they are traditionally made with mashed potato!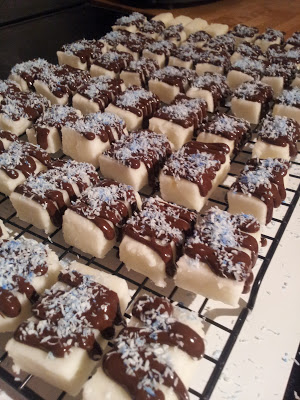 What's with the blue coconut - I was feeling Braveheart-ish!

In their most basic form, Scottish Macaroons can be made form just mashed potato and icing sugar (crazy, but believe me it works!). I fancied them up a bit, and added a drop of glycerine to help it set without going crunchy. I also added a little zap of lemon extract for flavour.

Scottish Macaroons (makes 1 8x13 inch tray which cuts into 40-50 pieces)


225g mashed potatoes (floury is good - waxy isn't so great)
Icing sugar (around 1kg)
A couple of drops of glycerine
1 tsp lemon extract
100g dark chocolate
2 tbsp dessicated coconut

Take your mash and beat them with an electric whisk until smooth - you need them to be as lump-free as is humanly possible.
Gradually add the icing sugar, sieving it in each time and beating well - I added it 150g at a time.
Don't worry when you add the sugar and your mash immediately turns into runny potato soup - it will thicken back up eventually.
After a couple of additions of sugar, add the glycerine and lemon too.
Keep adding icing sugar until the mixture becomes stiff and doughy.
Press into a greased swiss-roll or brownie tin and leave to set overnight.
Cut into pieces and turn out onto a tray, then leave upside down for a couple of hours to let the bottoms firm up too (if only firming up real bottoms was this easy!)
Melt the chocolate and drizzle over the top of the squares, then sprinkle with coconut and leave for the chocolate to set.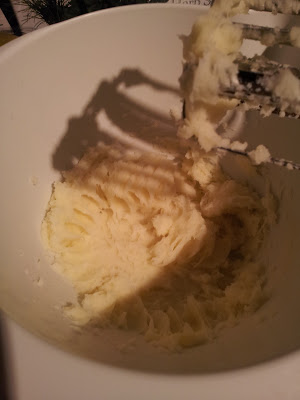 Well beaten mash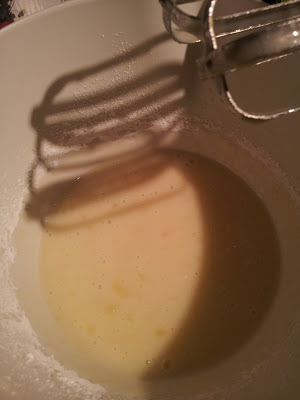 Interim stage - potato and icing sugar soup!

We shared this with friends and family on a very cold day when a whole host of crazy people (Mr E, Grandad E, Uncle P and Auntie L included) were competing in a rather snowy and muddy adventure race - it provided instant pre/post race sugar for the runners, and a proxy to warmth for the spectators!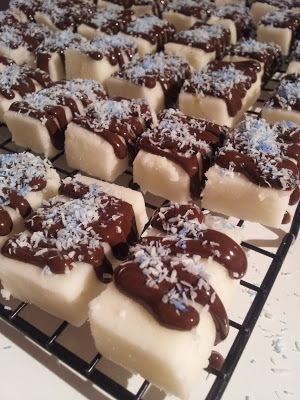 Proof that it all works out OK in the end, if you just keep adding icing sugar - if only the rest of life were that simple...

Next up, I decided to see if swede (or turnip, or rutabaga depending what part of the world you're in!) would work in a cake. I have to say, even I had a certain sense of trepidation whilst this one was baking - was it a veggie too far - but the end result was delicious and no hint of swede detectable. I shared it with my colleagues at work and 0/12 guessed swede, or indeed any veggie at all in it, and 3 folk asked for the recipe - so I'd definitely hailing this a success. Oh yes, and it's gluten free and dairy free :o)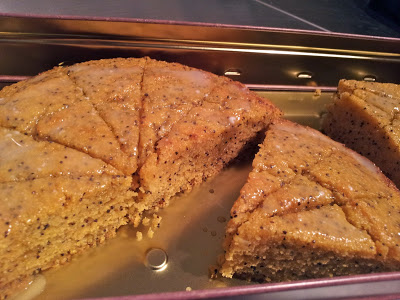 Well hidden swede - yum!

Lemon Polenta Poppyseed Swede Cake (Makes 1x 8 inch round cake)


200g peeled raw swede
110g polenta
25g brown rice flour
100g sugar
50g dairy free margarine
1 egg
1 tsp baking powder (gluten free)
1 tsp vanilla extract
1 tbsp poppy seeds
3 tbsp lemon puree (mine came from a jar I got in a health food shop)
2 tbsp icing sugar
2 tsp lemon juice

Preheat the oven to 180C (160C fan) and grease and base-line an 8 inch round cake tin.
Cube, boil and mash the swede (don't salt it!).
Add the margarine and mash it again.
When you think it's mashed enough, mash it a little bit more - bits of unmashed swede will give the game away!
Mix in the sugar and vanilla, then add the egg and lemon puree.
Finally add the rice flour, polenta, baking powder and poppy seeds and stir well.
Pour into the prepared tin and bake for around 30 mins until risen and golden, and springy on top.
Cool in the tin for 5-10 mins then turn out onto a wire rack.
Mix together the icing sugar and lemon juice for the glaze, then drizzle over the top and allow to dry before sharing and amazing your friends or family when you reveal the hidden veg!

And lastly... I made a tomato soup cake, which I'm not going to share a recipe for here, because I pretty much just followed this one for 'Tomato Soup Phoenix Cake', just that instead of the cinnamon, I added 25g cocoa powder. I wasn't able to taste it, since the Campbell's Cond

ensed Cream of Tomato Soup I used isn't dairy free. Mr E was duly dispatched to work with it, to see if anyone there could guess what was in it. One person did - and even once they knew, the rest still happily ate it - another hidden veggie success.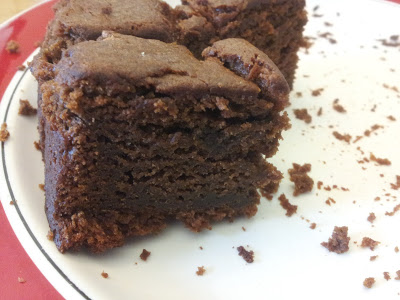 Chocolate Tomato Soup Cake