The Daring Cooks January and February Challenge - Sausages!

It's Daring Cooks posting time (and also Valentines day). I am typing quickly whilst Mr E is in the kitchen concocting some form of cocktail in honour of the date, that seems likely to involve Pepsi, mango sorbet and lime - I'm intrepidly intrigued...

But back to the sausages.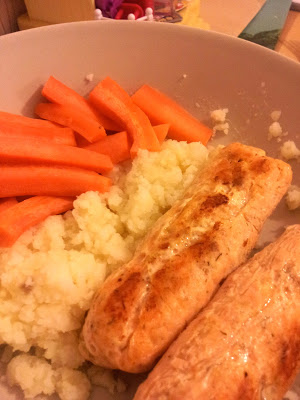 Sausages, mash and carrots... guess the sausage variety (clue - it's not horse!)

Here's the challenge description from the Daring Kitchen website...

For the January-February 2013 Daring Cooks' Challenge, Carol, one of our talented non-blogging members and Jenni, one of our talented bloggers who writes The Gingered Whisk, have challenged us to make homemade sausage and/or cured, dried meats in celebration of the release of the books Salumi: The Craft of Italian Dry Curing by Michael Ruhlman and Brian Polcyn! We were given two months for this challenge and the opportunity to make delicious Salumi in our own kitchens!

At the outset I ruled out all of the meat curing options - you need cool, airy houses for that. Ours is a concrete box with damp problems. All that was going to be achieved was some rather nasty mouldy meat.

Instead I went with the fresh sausages options.

First up I tried to make some veggie ones which were really vile. Yuck. Yuck. Yuck. After tasting one, they went in the bin.

I decided I needed to have a second attempt and went off piste, making up a recipe for salmon sausages as I went along. The end result was thankfully not only edible, but really tasty and Mini-M even ate some (although she did possibly say "Mmm I like this chicken Mummy" whilst eating it - but I'm not taking that as a slight on my cooking - both Mr E and I thought they most definitely tasted of salmon!).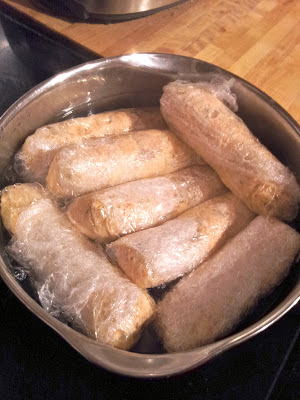 After mincing salmon, onion, egg, breadcrumbs and dill, the mixture was formed into sausages, wrapped carefully in cling film and poached for 15 minutes.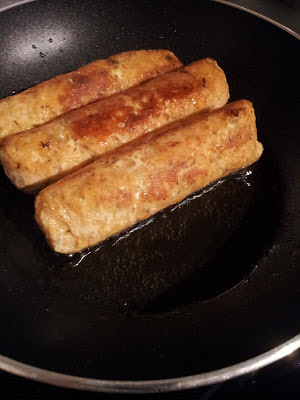 Before being fried in a little olive oil to crisp up on the outsides
Inside - definitely salmon, not chicken (or horse!)

I did jot down the recipe for these, but since I'm a) already a day late for posting and b) visiting my parents for the weekend so don't have it to hand, I figured I should just post without the recipe, and add it at a later date once I'm reunited with my kitchen notebook!

PS - I'm looking for people to get involved with the Spring Surprise Ingredient Swap I'm arranging. It's open to everyone, bloggers and non-bloggers alike from all around the world. You can find a little more background info here - and here's how it works...


You have from now until 28th February to register your interest - by commenting on this post, the original post, tweeting me @MakeyCakeyRuth, or emailing me ruthie.ellis AT gmail.com
On 1st March, I'll pair everyone up and let them know their swap partners. People can then get in touch to exchange addresses, discuss likes, dislikes, allergies, price limits etc
You then have until 15th March to send your swap ingredient winging its way to your swap partner and vice versa
Once you receive it, you've got until the 15th April to bake up something delicious and vaguely spring-y with it, and send me a link to your completed post (or email me a photo if you don't blog)
On 16th April (or thereabouts) I'll post a roundup of all your sure-to-be-beautiful-and-mouthwatering offerings!
If you Twitter, then mention me (@MakeyCakeyRuth) and use the hashtag #surpriseingredient and I'll retweet all that I see
You don't have to have a blog to join in - it's open to everyone that wants to get creative in the kitchen!