Tonight it has been the Great British Bake Off Final - a nail biting finish, and what a monumental final challenge - 6 hrs to make and ice a 3 tier wedding cake. I have made 2 three tier wedding cakes, and I think it probably too me a lot closer to 6 days rather than 6 hours. Mind you that's probably why those guys are in the GBBO final, and I'm not ;-)

So to counteract their 3 tiered triumphs, I'm posting something at the opposite end of the sophistication scale. For that sake of alliteration, I'm calling it Toddler Trifle Tart. Mini-M was heavily involved in the making of it and we had it for pudding when Uncle P and Auntie P came round for tea on Sunday. (Apologies - that was a little accidentally rhyme-y).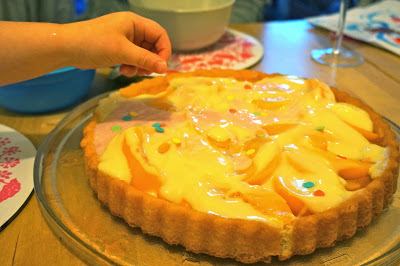 Last minute sprinkle sprinkling

This is unashamedly unsophisticated, and really more of an assembly of ready made ingredients than any triumph of home baking. But it did taste nice, and Mini-M was very proud of her efforts.

Toddler Trifle Tart (serves 6-8)


1 ready made sponge flan case (quite a few brands are dairy free, since they are a very dry sponge - check the ingredients)
1/2 block strawberry jelly
1 tin peach slices in juice
1/2 carton soya custard
4 tbsp plain soya yoghurt
1 tbsp icing sugar (we used strawberry flavour Silver Spoon)
Sprinkles

Place your flan case onto your chosen serving dish.
Make up the jelly according to the packed instructions (remember to half the liquid quantities too).
Pour the jelly all over the flan case (it will soak in) and chill for a couple of hours until it has set.
Drain the peach slices well, and arrange them all over the jelly soaked flan case.
Dollop the custard on top, and spread out a little.
Mix together the yoghurt and icing sugar and drizzle over the top.
Refrigerate until you are ready to eat, then sprinkle with the sprinkles (!) just before serving.

Obviously, if you don't need to keep the finished tart dairy free, then use thick regular custard and whipped cream on top, and it will probably end up being slightly less sloppy!