Tonight I carved a melon…
A rock and roll Saturday evening chez Makey-Cakey tonight...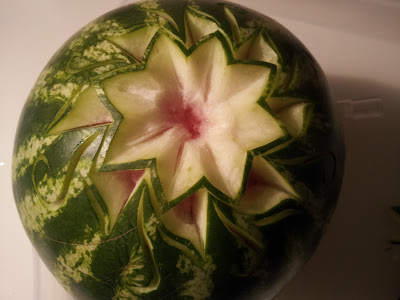 I carved a watermelon, as an alternative to a 2-day-late wedding anniversary card for Mr E. (Note - I did NOT forget it was our wedding anniversary, just that I had been lacking the time/inspiration to come up with something appropriate). Apparently in the UK, your 4th year wedding anniversary is traditionally celebrated with fruit. Or so Mr E said - if I find out that is total nonsense and he was playing to my very gullible side, then I shall have to revoke the watermelon. Anyway, I did think about grafitti-ing a banana to pass time on my train journey back from Birmingham earlier in the week but thought that would probably just make me look like a crazy to the person sitting next to me on the train.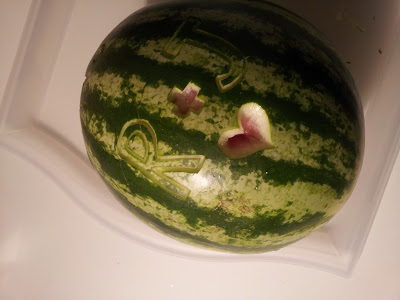 So instead I carved a watermelon tonight and shared the tale here, making me seem like a crazy in blog-land instead. Clearly a better plan...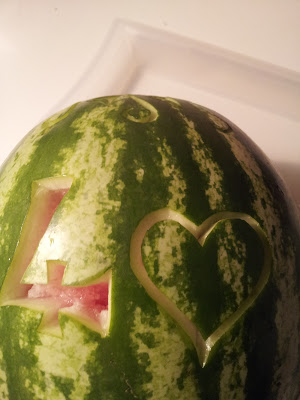 From time to time I also indulge my geeky side by checking my Google Analytics keywords, which lists what search terms people have used and ended up on Makey-Cakey. I also quite like the thought that by writing about some of the weirder ones here, it's a self fulfilling prophecy, because if anyone searches for the same weird combo again, this post will increase the chances of them ending up here! Hello confused internet users :o)

Onto the search terms:


"can I get dairy free donuts in Glasgow" - I have no idea! But I hope for the sake of the searcher than answer is yes. They like frying things in Glasgow. There's a good chance!
"Cheezly muffins" Don't do it!!! They are horrid. I have done it, take my word for it.
"fondant rowan berries tutorial" Surely you just roll up little balls of red fondant. There you go - tutorial done!
"fondant squirrel" Beyond my fondant modelling skills. Although fondant and squirrel as separate words probably do feature relatively often on this blog, never in the same sentence!
"fudge porridge" I've never made it, but it strikes me as something that would appeal to Mr E...
"how to make naked wedding cake" The mind boggles. How to make wedding cake whilst naked? Carefully. I am assuming the person actually meant un-iced, which is easy. Make a wedding cake. Don't ice it.
"I'm making a wedding cake in advance" That's nice, but you're not special - most people do! Perhaps whoever searched for this got Google confused with their diary?
"ideas to fill dead space in kitchen" Clearly asked by someone who doesn't cook very much, because everyone I know who does has absolutely zero dead space - it's all packed full of books, spices, pans, tins, etc etc
"imperfect wedding cakes" I'm slightly insulted by this - I think Google is poking fun at my cake decorating skills!
"marzipan before or after royal icing" BEFORE! ALWAYS! Although I would love to see the end result of someone attempting to put marzipan on after covering cake with jaggy hard set royal icing
"paving over front gardens" Nooooooooooo save the flowers and grass.
"romanian flag love heart" Honestly, I have no idea
"vanilla fudge pyjamas" another ?!?!!?!
"vegetable = pi" Mathematically untrue
"what quantity" that's a rather esoteric question to ask Google I can't help thinking. I'm going to go with 150g. A fairly useful quantity - not too much or too little
And with that, it's time for bed. (And to my Mum who will read this and wonder... no I've not been drinking!)