We Should Cocoa - Mango and Orange 4 Ingredient Chocolate Brownies
I should be writing this recipe as a guest post for Mr E's 4 Ingredient Recipes site... but I'm keeping it for myself, since it's a good one!

Sometimes you want healthy, sometimes you want challenging, sometimes you want pretty... sometimes you want very easy, very quick, decadent, no scales involved and great for gift giving, still warm from the oven. This falls into that latter category (and definitely not the first!).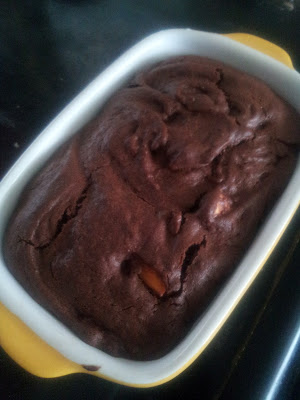 Smudgy lens (courtesy of Mini-M's sticky fingers) = unintentional soft focus!

Recipes that involve 1 bowl and no scales are onto a winner when life is busy and time short. Add to that that they only take 20 mins in the oven and they tick even more boxes.

You could use any chocolate spread to make these. I used Plamil Organic Orange Chocolate Spread, with a little reluctance in my heart... I shall explain: I'd bought myself a jar to have in the cupboard as a dairy free treat (and putting chocolate spread on toast or bread is a sure fire way to make it instantly unappealing to Mini-M who's still resolutely a chocolate hater). But when I opened it was super runny. Delicious, but it would lead to soggy sandwiches. So I decided to use it to make these brownies for my lovely sister-in-law's birthday, and I have it on good authority that it worked - and she's a chocolate connoisseur! However my secret chocolate toast supply has been somewhat diminished!

Mango and Orange Chocolate Brownies (Makes 8 small / 4 medium brownies)


1/2 cup chocolate spread
40g dried mango
1 egg
5 tbsp self raising flour

Grease a small baking dish, or some cupcake moulds, and preheat the oven to 180C (160C fan).
Chop the dried mango into small pieces.
Add the chocolate spread and mix (or beat until softened depending on the consistency of your chocolate spread to begin with).
Crack in the egg and beat again.
Lastly, sieve in the flour and mix until well combined.
Pour into the prepared dish and bake for around 20 mins, until risen and cracked on top, but not too firm - you want to leave a gooey brownie centre too.

I'm submitting these for May's mango-themed "We Should Cocoa"challenge which is hosted this month by Shaheen at Allotment 2 Kitchen, and masterminded by the Chocolate Log Blog and the Chocolate Teapot.