What started as a walk to feed the ducks…
What started as a walk to feed the ducks this morning very quickly turned into a catalogue of all the dumped rubbish in our neighbourhood. It's not the most salubrious of locations, and there's usually a mattress, door, bed frame or TV lying about somewhere, but it was slightly ridiculous today.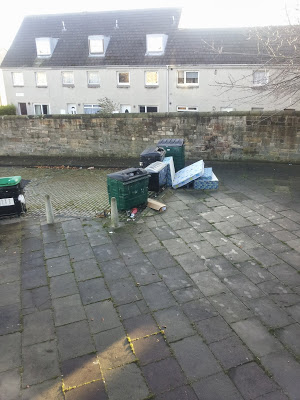 Bed bases and mattress at the top of Cromwell Place

Maybe I've missed out on the memo, and the point of St Andrews day (which was yesterday) is not in fact to celebrate the Patron Saint of Scotland, but instead to chuck your unwanted furniture out in the street.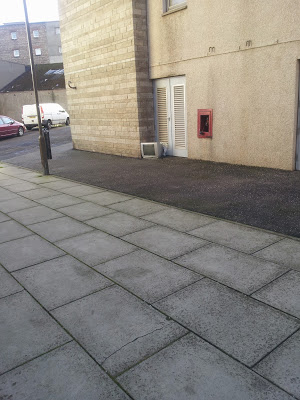 Abandoned TV at the top of Couper Street. I suppose we should be thankful the screen hasn't been smashed everywhere yet...

It resulted in some interesting discussions with Mini-M, applying her 3 year old logic to things, and wanting to find out who the 'bad people' were. There was also a run through of all her friends and family, whilst she questioned me on whether they correctly disposed of their rubbish.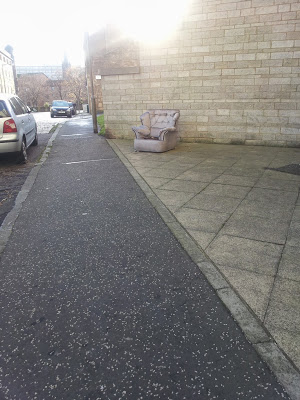 About 20 yards further on in Couper Street - a chair - perhaps to sit in whilst watching the TV above?

She seemed very impressed when I told her that not only did Grandad A take his broken things to the dump, he sometimes came home with other interesting things that he had found there.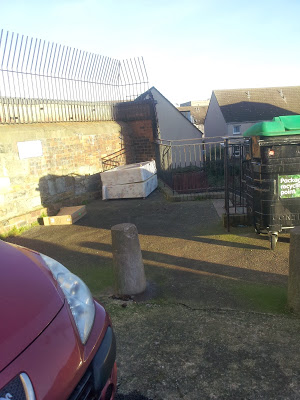 And on the other size of Couper Street, 2 more bed bases

Anyway, I digress. It's a shame that a few folk can have such a significant and quick negative impact on an area.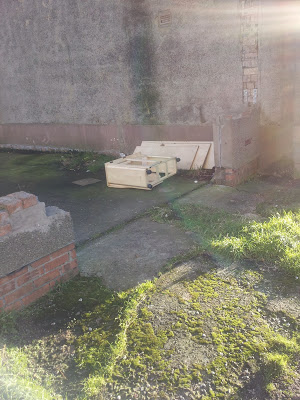 Couper Street again - this dining table was abandoned at the side of Coburg Street in the middle of last week - it's not travelled far...

Usually I limit my posts to cakes and crafts and other such frivolities, however I couldn't help myself but vent a little bit of my frustration today.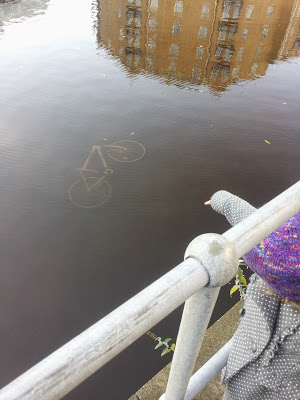 Yet another (and recently added) bike in the Water of Leith just upstream of the Sandport Place bridge

In the absence of having a van to pick it all up ourselves and take it to the dump, I'm reporting it all on www.fixmystreet.com where I've had some success in the past at notifying dumped furniture and overflowing bins. And I'm fervently hoping this isn't a trend that is going to continue.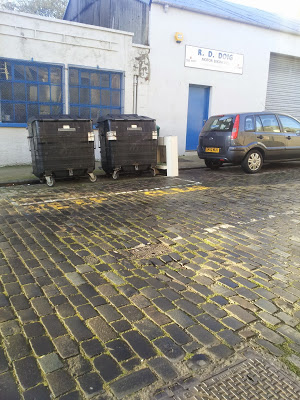 One we missed at the start of our walk - an electric fire again on Couper Street
This one was taken earlier in the week - this decomposing mattress has been sitting in the street now for about a fortnight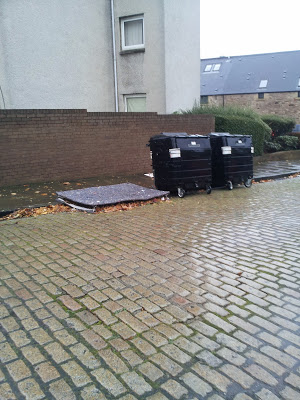 Cromwell Place