14 months with Mini-M in numbers and biscuits!
I had good intentions to do a bit of a 1 year roundup post along with Mini-M's giraffe birthday cake, but as usual with good intentions, they didn't quite come to fruition, so the giraffe cake was posted minus the roundup.

Then last week I was sitting listening to the 'bedtime' music on the over the baby monitor, and wondering how many times I had been subjected to it already, and took it upon myself to do a few calculations, hence the numbers part of this post was born.

But number on their own aren't that photogenic, so I decided I needed to introduce some visual appeal, and thought that biscuits would be the ideal medium to display the numbers, and the second part of the concept was decided.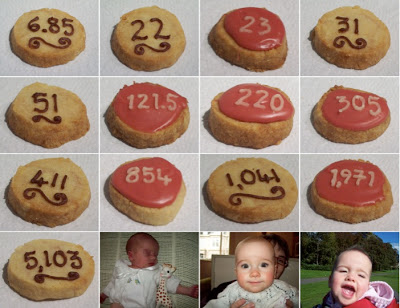 Here goes...



6.85

- The number of kilograms Mini-M has gained since she was born, weighing in at a fairly tiny 2.63kg


22
- The approximate number of centimetres in length Mini-M has grown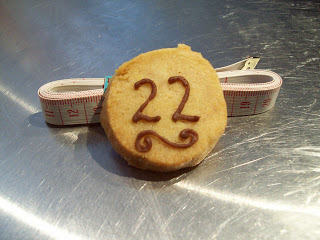 23
- The number of items of clothing belonging to me or Mr E that Mini-M has trashed through a variety of means...!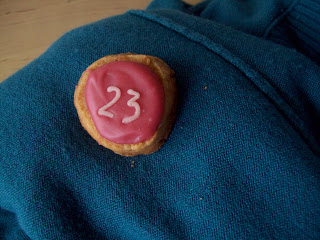 31
- Estimated number of hours spent playing 'Hat on, Hat off' over the last 2 months




51

- Estimated number of hours spent blowing raspberries with Mini-M over the last 10 months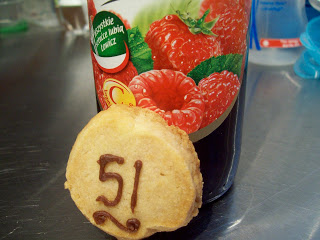 121.5

- Estimated number of hours we have listened to the 'bedtime' music over the monitor during the last 8 months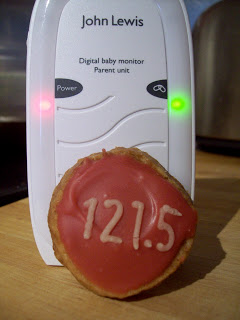 220
- Number of thank you letters written on Mini-M's behalf!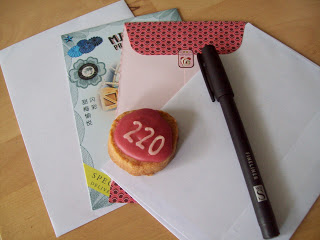 305
- Number of extra loads of washing we've done since Mini-M was born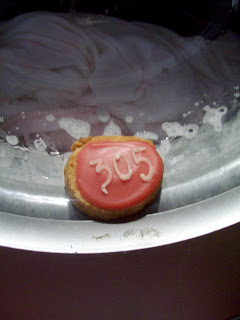 411
- Number of hours on one-handed blogging and web perusing I did whilst rocking the car seat, feeding and generally snuggling during Mini-M's first 9 months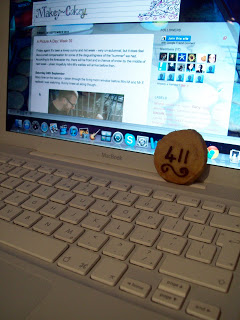 854
- Estimated number of times I've sung 'The Wheels on the Bus' since Mini-M was born. This scares me quite a lot, since it's definitely not the only song in my repertoire...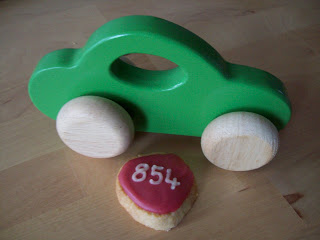 1,041
- Estimated number of miles of aimless miles buggy walked during Mini-M's first 8 months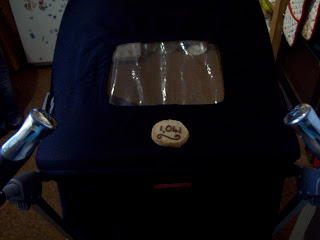 1,971
- Number of millilitres of Domperidone Mini-M has had to take for reflux. This number makes me really sad!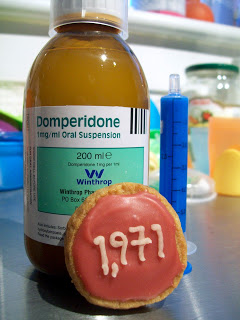 5,103 - Number of times we have heard to the music played by the toy we used to distract Mini-M during nappy during her first 8 months!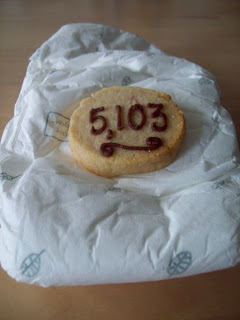 And finally, some more useful numbers for anyone who has read this far... the biscuit recipe!
They are vanilla and raspberry shortbread biscuits, and according to Mr E they are good - they're still a bit too buttery for me to brave eating.
Vanilla Raspberry Shortbread Biscuits (makes approx 36 small biscuits)
325g plain flour
200g chilled salted butter
125g granulated sugar
2tsp vanilla extract (not essence - you'll only need a few drops of that)
4tsp raspberry cordial
2 medium egg yolks
Put the flour into a food processor, then cut the butter into chunks and add it, then blitz them together until they resemble breadcrumbs.
Add the sugar, egg yolks, vanilla extract and cordial and whizz together until they form a reasonably stiff dough.
Half the dough, and roll each half into a sausage about 4cm in diameter, and place each sausage on a piece of clingfilm.
Roll the dough in the clingfilm, and then stick in the fridge to firm up again, for at least an hour (you can leave it in the fridge for up to 24hrs, and it also freezes well at this point).
Preheat the oven to 180C (160C fan) and line 2 oven trays with baking parchment.
Take the dough out of the fridge and with a sharp knife slice it into rounds approximately 1cm thick.
Place a few centimetres apart on the baking trays (they wont spread very much).
Bake for approximately 20 minutes, until they are just starting to go golden around the edge (one batch of mine got a bit overdone as you can see in the pictures!)
Transfer to a wire rack to cool.
You could vary the type of cordial used here to flavour the biscuits differently - I've got a bottle of ginger cordial stashed away at the back of the cupboard that I might bring out and give another batch a shot :o)