Whilst keeping up to date with my blog reading list last night, I read a lovely post by
luvinthemommyhood
with a snapshot of what she was thinking/dreaming/making/cooking/yearning yesterday. And as she suggested, I thought I'd give it a go and share a snapshot of a slightly rainy Thursday morning in Edinburgh. So today I am sharing my 28 pieces of slightly self-indulgent trivia! But first, my current favourite photo, taken on Sunday evening at Cockenzie harbour.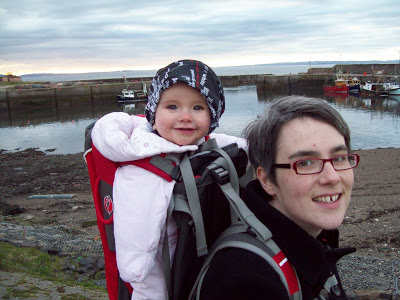 Making:
woven scrap fabric bowls on a hula-hoop "loom"
Cooking:
something to use up the jerusalem artichokes left over from last week's veg box, although I've not yet found recipe inspiration
Reading:
this month's 'Lonely Planet' magazine
Wanting:
another hour or so of sleep, as usual!
Looking:
at the carnage Mini-M and I have created in the living room, and it's only 10am
Playing:
Kate Rusby on my iTunes
Wasting:
time and energy getting angry at things I can't change
Sewing:
a cross-stitch that I started about 5 years ago
Wishing:
there were more hours in the day
Enjoying:
watching Mini-M learn new things every day
Waiting:
for my bargain eBay Hippy Chick baby seat to arrive in the post so I can carry Mini-M around the house without wrecking my back any more
Liking:
that my second post got accepted for
Foodgawker
yesterday, and I've had almost two hundred site visits since then :o)
Wondering:
if the childcare arrangements will work out when I go back to work in a week and a half...
Loving:
the lighter evenings now that the clocks have changed
Hoping:
that Mini-M decides to behave on the epic bus trek to Balerno we have to do later today, and doesn't scream every time the bus stops.
Marvelling:
that I have an almost-9-month-old baby. Seems only a few weeks ago she was born!
Needing:
life to calm down just a little bit - the current level of craziness is probably not sustainable in the long term.
Smelling:
my shampoo after my shower this morning
Wearing:
grotty jeans and a jumper that are covered in all manner of baby yuck
Noticing:
that the leaves are starting to open on the cherry trees outside our house
Knowing:
that very few folk will actually read this!
Thinking:
that it's suddenly very cold again today - or maybe that's just me!
Bookmarking:
lots of lovely recipes with cheese or chocolate or cream in them that I will make when I am allowed to eat dairy again
Opening:
my front door in a minute to go take in this week's veg box
Giggling:
over Mini-M blowing raspberries at every opportunity
Feeling:
that all things considered, life's pretty good at the moment