Adding a Scottish Twist - Cheese and Haggis Scones!
Watching the "Great British Bake Off" on TV recently got me thinking about scones - and whether I could do better than some of the contestants, or just whether I thought I could. And then there was some left over haggis in the fridge from the night before's dinner (yes, it's not just a stereotype, Scottish people do eat it regularly at home) and plenty of cheese, which both coincided with a snoozing baby in the sling, and a visit from my sister who lent a helping hand, and so these bad boys were born!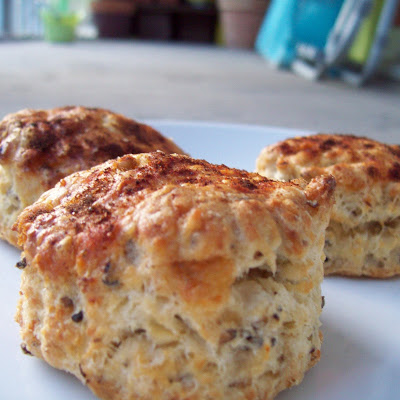 We had them buttered with soup for tea and they were lovely - definitely a successful experiment!
Here's the recipe I used...


Cheese & Haggis Scones

(makes approx 24)

500g self-raising flour
150-200g cheese, grated (I used a mix of strong cheddar, and cheddar with chillies)
100-150g cooked and cooled haggis
2 eggs beaten
100g butter, plus extra for greasing (I reduced the butter quantity from 125g in normal cheese scones, as the haggis has fat in it)
1.5 tsp baking powder
300ml milk plus extra for glazing
Paprika for sprinkling
Preheat oven to 200C (fan, or 220C conventional) and grease a couple of baking trays
These were made in the food mixer, but could equally be done by hand.
Add the flour and baking powder to the mixer and blitz briefly. Put in the butter and pulse until it resembles breadcrumbs. Add the haggis and whiz it together again.
Tip the mixture into a bowl and stir in the cheese, then make a well in the centre of the mix and add the beaten eggs and half of the milk. Mix with a knife until the mixture forms a sticky but firm dough. Add more of the milk if required.
Bring the mixture together with your hands and tip the dough out onto a floured worktop.
Roll out until about 1.5cm thick and cut into rounds. Don't twist the cutter as this will seal the sides and prevent the scone rising properly.
Brush with a little more milk and sprinkle with paprika.
Bake for about 10 minutes until risen and golden, then cool on a wire rack.
Enjoy :o)
PS - thanks Lisa for the baking assistance!