Daring Bakers - Sugar Cookies
The September 2010 Daring Bakers' challenge was hosted by Mandy of "What the Fruitcake?!" Mandy challenged everyone to make Decorated Sugar Cookies based on recipes from Peggy Porschen and The Joy of Baking. The theme of the cookies was to be September - and whatever inspiration that conjured up.

I had great plans for tasteful Autumn leaves and squirrels, but quickly realised that with a 9 week old baby I had to be a bit more realistic! So I went for autumn spiced cookies, flavoured with cinnamon, cloves and ginger, topped with orange flavoured orange and white royal icing.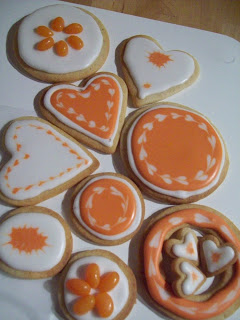 It was my first shot decorating with royal icing, and it went fairly well, considering they were done very last minute (as usual) and in between very frequent baby feeds! A smaller piping tip would have helped with the precision, but I didn't have one, so just bashed on with the slightly larger than ideal nozzle, and I'm quite pleased with the results :o)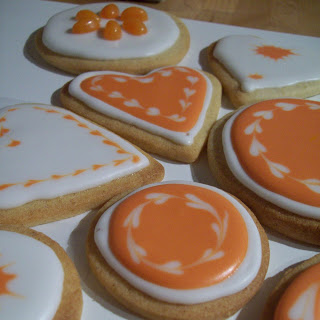 The overall impression is not helped by taking the pictures at 11.30pm, in awful light, on my kitchen worktop, with my camera on Auto, but if I don't post now, it may well get forgotten about in the chaos of life at the moment!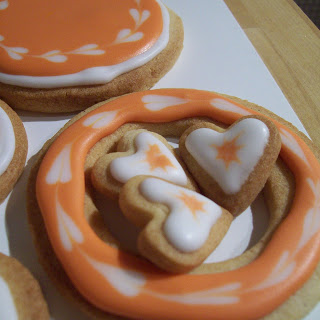 (And yes, I did cheat and just stick jelly beans on top of some of them! They were orange at least...)