"Oh" said Mr E, coming into the kitchen "I didn't realise you were planning on making birthday cake"

"Well, I wasn't" I said "But the grapes in the fruit dish were needing used up"

There was a moment of silence, then Mr E said "You do know that most normal people would just eat the grapes, right, and not try to bake with them"

"Yes" I replied "And your point is...?"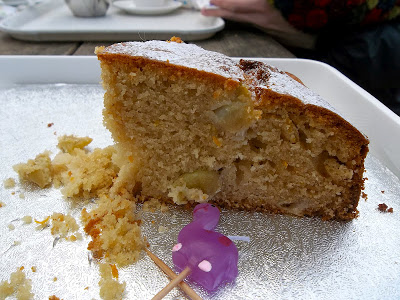 So we had some grapes that were starting to look a little bit sad. Grapes are fairly near the top of the fruit pedestal in our house, and are generally reserved for Mini-M, so there was no chance of them being allowed to continue on their journey to past it wrinklyness. And yes, I know, we could have just eaten them, but where's the fun in that!





I'd seen grape cake recipes before, but most seemed to be for black grapes. One I found online claimed to be easy, then contained 17 ingredients (and I'm not exaggerating). So I went recipe off-roading on my own... and it turned out really well.

So if eating your bashy grapes seems too boring then I strongly encourage you to give this recipe a go!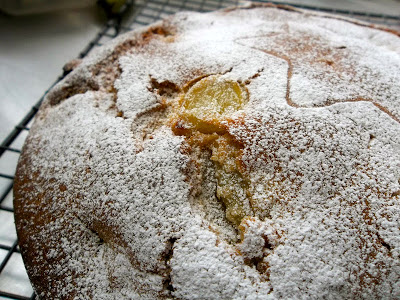 Grape Cake (Serves 10)


225g Self Raising Flour
100g Rapadura (or sugar)
50ml Ginger Cordial
50g Ground Almonds
175g Green Seedless Grapes
200ml Oil (I used rapeseed)
Zest of 1 Orange

Preheat the oven to 180C (170C fan).
Grease and base line an 8 inch loose bottomed cake tin.
Wash and half the grapes.
Sieve the flour into a large mixing bowl, and stir in the ground almonds and rapadura.
Beat together the oil, eggs, orange zest and ginger cordial until well combined.
Add the wet ingredients to the dry.
Mix well and then stir in the grapes.
Tap to level and then bake for about 35 minutes, until a skewer inserted comes out clean.
Allow to cool in the tin for about 10 minutes before turning out onto a cooling rack to finish cooling, then dust with icing sugar.

This is a robust cake - it survived being transported at a 45 degree angle under Mini-M's buggy around the Botanic Gardens and emerged unscathed to be enjoyed with a hot cup of tea in one of the first 'picnics' of the year. Shame it was a little too windy for the kitsch dinosaur candles to light - thank you Poundland!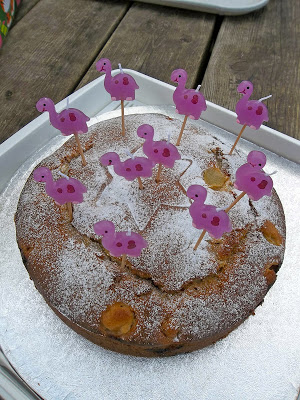 It went down well all round. Mini-M in particular was a fan. In fact as soon as cake was being handed around, she literally launched herself at a piece, then wolfed it down at top speed - she tends not to get 'real' cake and clearly was making the most of the opportunity! Since then, she's asked hopefully on several occasions about 'moar cick' (excuse my attempt at writing her pronunciation. Just imagine that more has 2 syllables, and cake has no vowels and you'll pretty much be there) but she'll have to wait until there's another birthday to celebrate!