Last weekend we all got together to celebrate Uncle P and Auntie L's birthdays.

Mini-M spent a happy half hour sprinkling the kitchen floor with oats and raisins helping me rustle up some birthday muesli mix.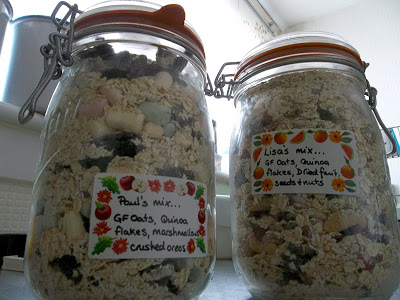 I used a mix of gluten free oat flakes and rolled quinoa flakes as the base for both, then added some polar opposite extras...

To one jar I added dried dates, apricots, raisins, goji berries, prunes, cashews, almonds, sunflower seeds and pumpkin seeds. To the other I added mini marshmallows and crushed Oreos.

They may be twins, but they have different approaches to breakfast...