And for my next trick I give you Mango, Coconut and White Chocolate Cheesecake… with no dairy!
Love cheesecake, can't / don't eat dairy? Then look no further - your cheesecake conundrum is solved. In a very much more realistic way than non-dairy "cheese", which - let's face it - isn't exactly overwhelmingly convincing or delicious. This "cheesecake" is both convincing and delicious.




What's orange and swirly? A dairy free Mango Coconut and White Chocolate Cheesecake - of course!
So how to you make a dairy free cheesecake? The answer, is with a few carefully chosen substitutions.
For my biscuit base, I substituted butter for coconut oil which also gives it a fantastic flavour. (I used some
Fushi organic coconut oil
which I was sent to try).
For the creamy "cheesecake" layer, I substituted the traditional with dairy free "cream cheese". There are a number of different brands on the market, even including some supermarket own-brand ones now, however for this one I used
Tofutti
as it is smooth and mild - which is important. Choose one that is as mild as you can find so that it doesn't impart too strong a flavour of its own and overpower the flavour of the filling.
Since I was making this for a special occasion - as part of a wedding pudding buffet, I pushed the boat out and added finely chopped dairy free white chocolate, and decorated it with a white chocolate coconut ganache, however you could completely miss out the chocolate for a more every-day treat (if such a thing exists!). For the chocolate coconut ganache on the top, I used the thick top layer of a chilled tin of coconut milk along with some of the white "chocolate:. I used "Organica White Bar" which melts quite well, but any non-dairy white chocolate would be fine.
All three key ingredients should be easily available in most health-food shops.
So here's the recipe
Mango, Coconut and White Chocolate "Cheesecake" (serves 10-12)
For the base: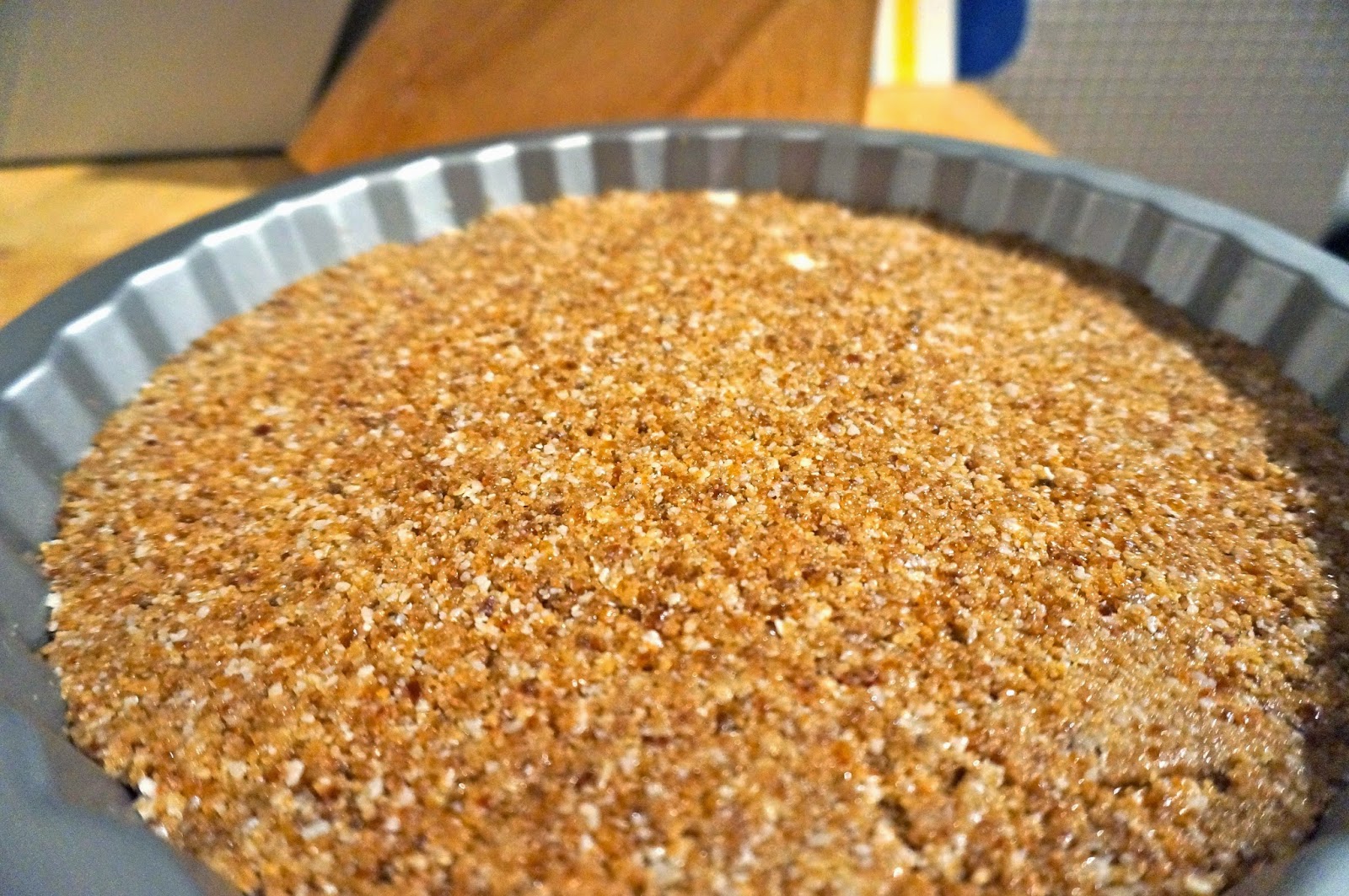 Chilled and ready to go
100g flaked coconut
100g stoned dates (around 20 medium dates)
100g digestive biscuits (ensure they are dairy free - not all brands are - Doves Farm definitely is)
4 tbsp coconut oil
4 tbsp liquid syrup (I used golden syrup, however maple syrup or honey would be healthier and just as tasty, I just didn't have any to hand!)
For the cream cheese layer: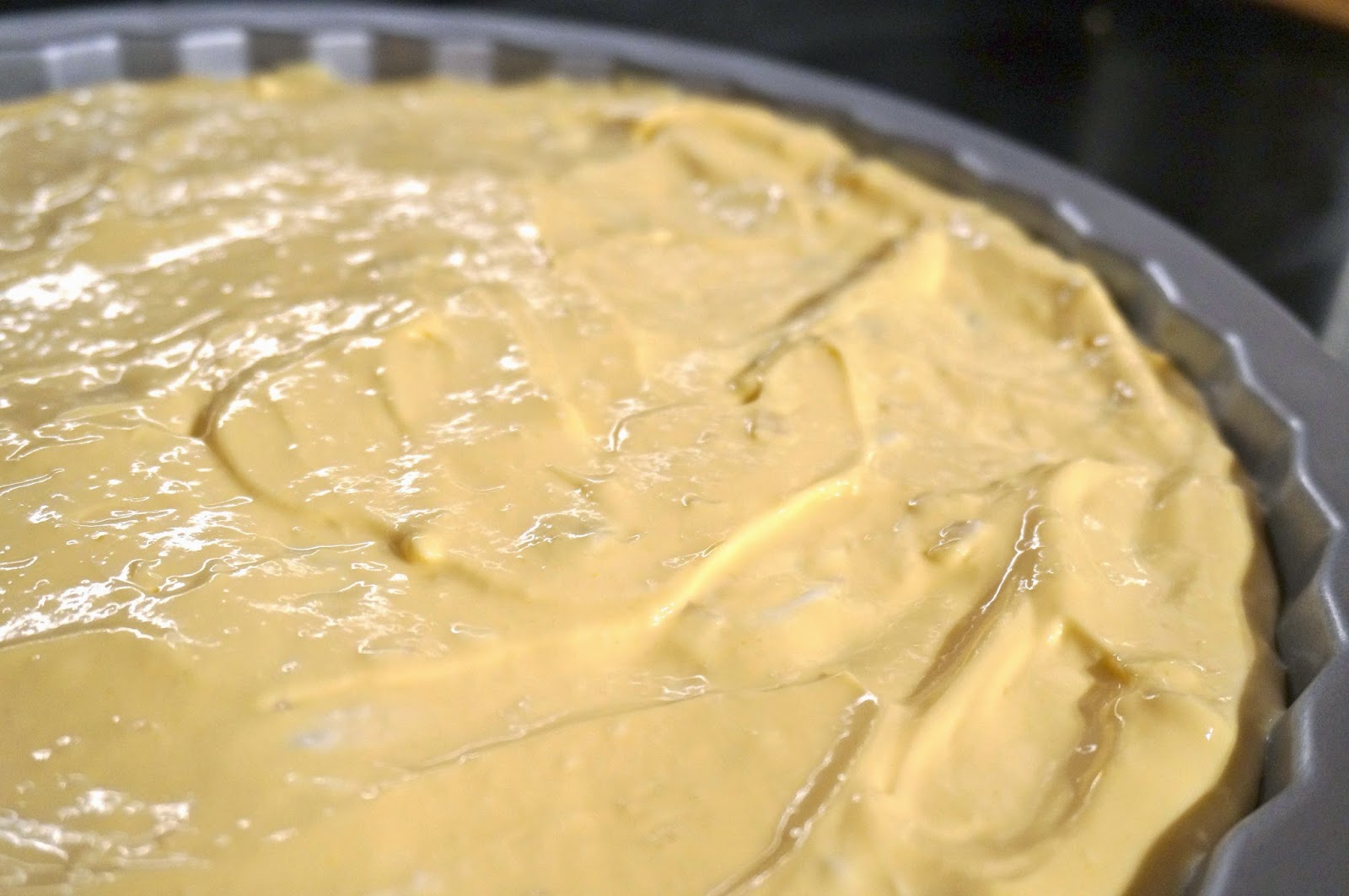 Unbaked...
250g dairy free cream cheese (2x tubs in this case)
10 tbsp mango puree
4 tbsp unrefined caster sugar
50g dairy free "white chocolate" finely chopped or coarsely grated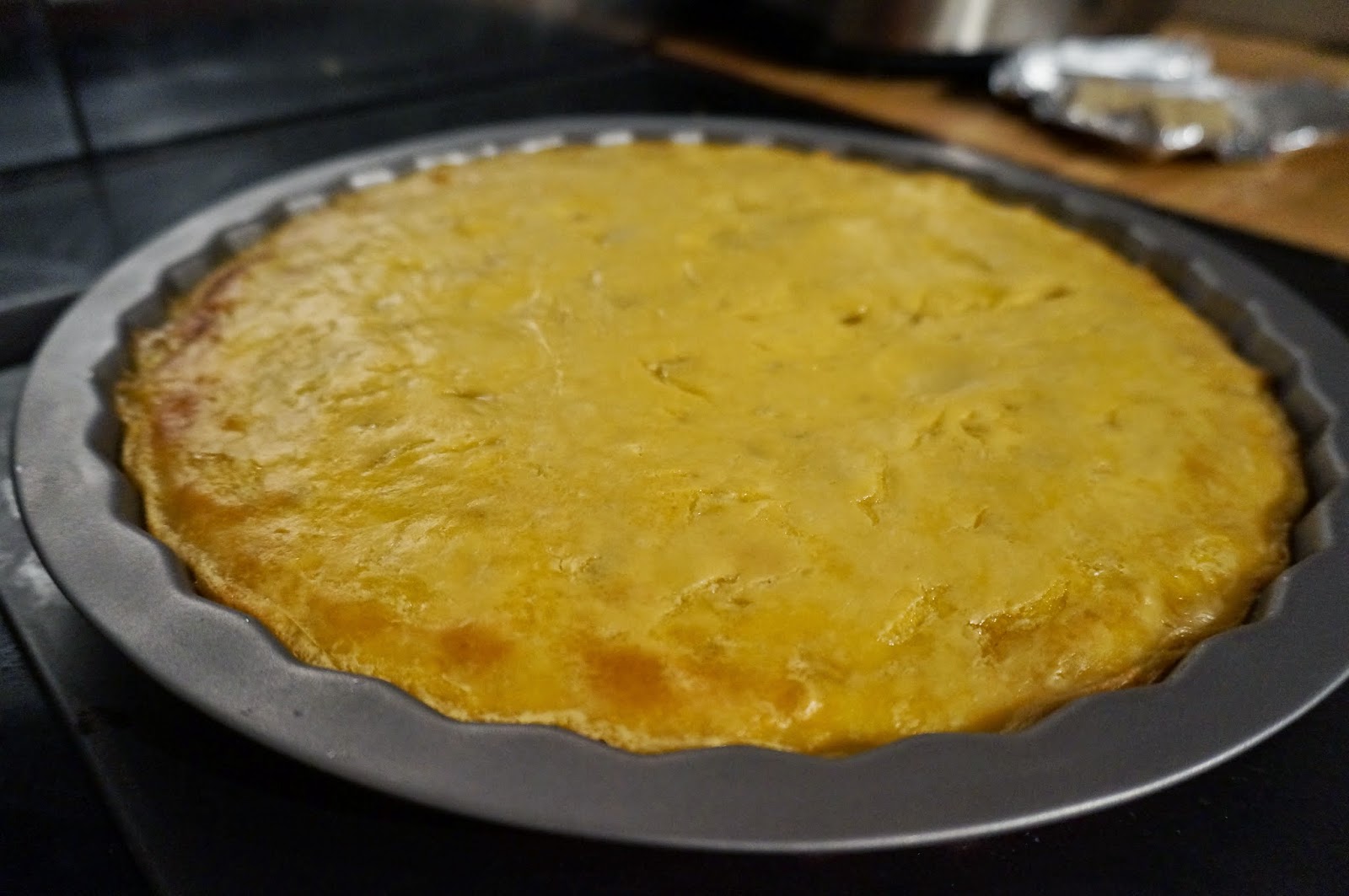 … and baked
For the mango layer: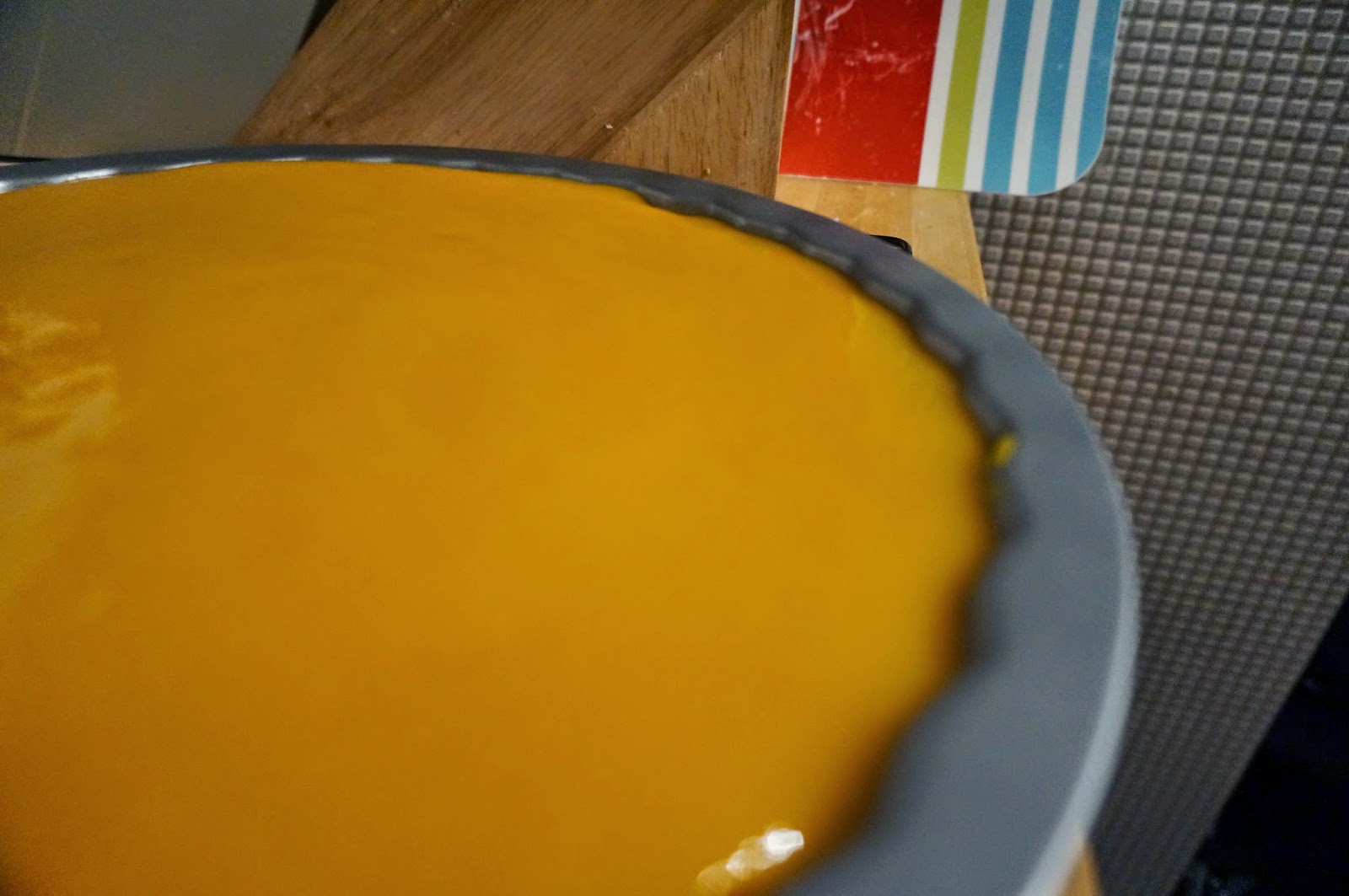 Mmmm mango jelly :o)
500ml mango puree (I used an 850g tin which was enough for the cheese layer, the mango layer and a little bit left over for chef's perks ;o)
1 sachet Vege gel (vegetarian gelatine)
For the white chocolate coconut ganache:
50g dairy free white "chocolate"
30ml thick coconut milk
First, toast the coconut flakes in a hot dry pan for a few minutes, stirring constantly, until they begin to turn brow, then cool.
Grease (with a little smear of coconut oil) a 12 inch loose bottomed tart tin.
Blitz all of the base ingredients together in a food processor until they are well broken up and start to stick together, then press into the bottom of the prepared tin and chill for 30 minutes.
Preheat the oven to 180C (160C fan).
Next mix together the "cheese", 10tbsp mango puree, caster sugar and chopped chocolate and pour over the base and smooth over.
Bake for around 30 minutes until golden on top and just set.
Allow to cool for around 30 minutes.
Using the instructions on the vege gel packet, prepare the mango puree. The instructions on my pack said it would set up to 568ml (1 pint) - so I erred on the side of caution with 500ml - and to whisk it in to the liquid, then gently bring to the boil and simmer for 2 minutes before pouring.
Pour over the cheesecake layer and allow to cool in the fridge for at least an hour to set.
To make the ganache, zap the coconut milk in the microwave until boiling, then break in the chocolate and stir until melted. Don't panic if it goes slightly transparent - it will become opaque again as it cools! Pop the the fridge until it thickens to a pipe-able consistency, and use to decorate the top.
Chill the whole thing until you're ready to serve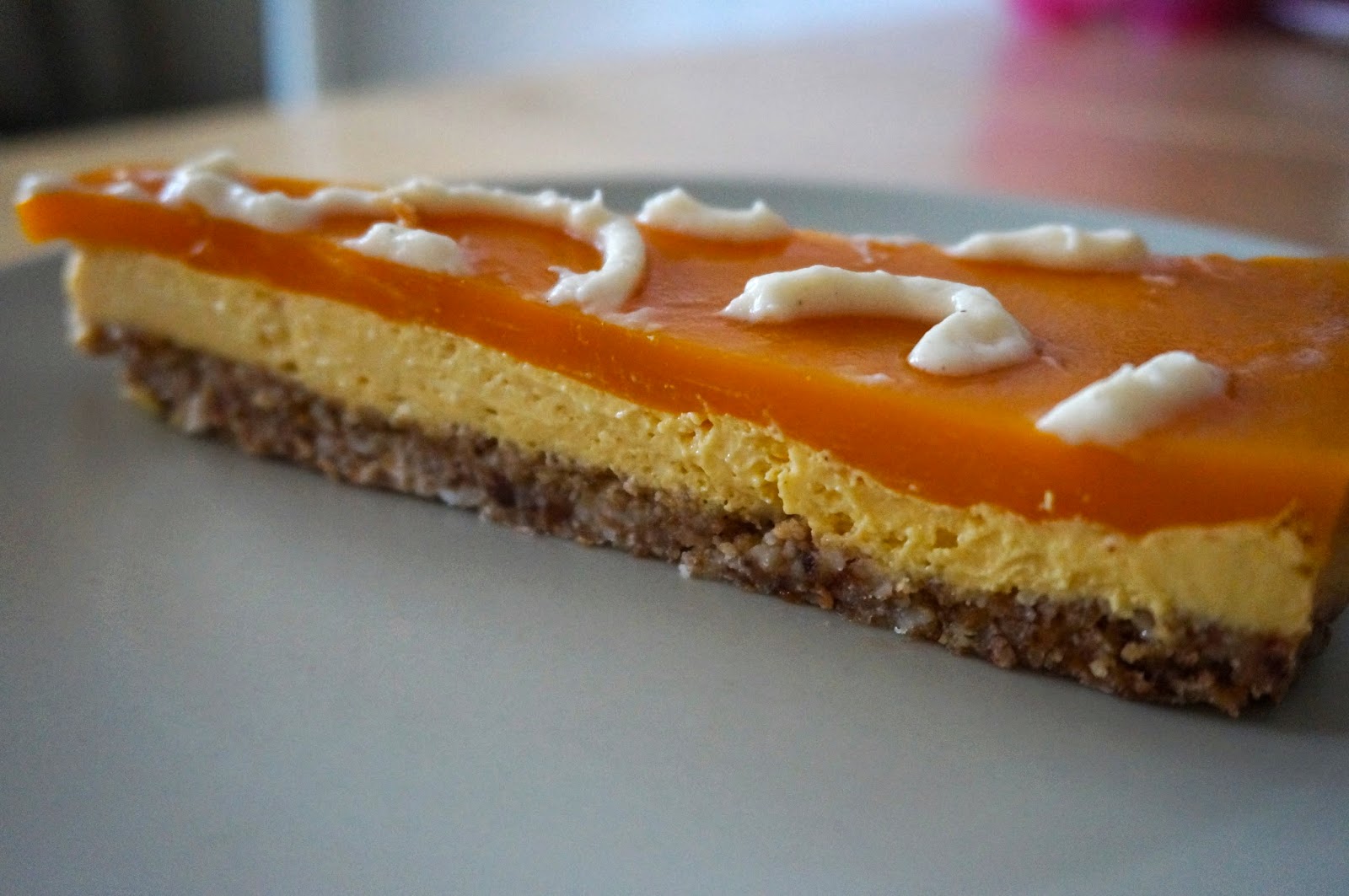 So excited - I have finally made something the cuts neatly!
Enjoy!
Reading through this recipe as I type, it's also nut-free and vegan. And with some alternative biscuit selection for the base could very easily be gluten free too.